Charity Check: Jamie Kerstetter Marathons for Weezer and Crouton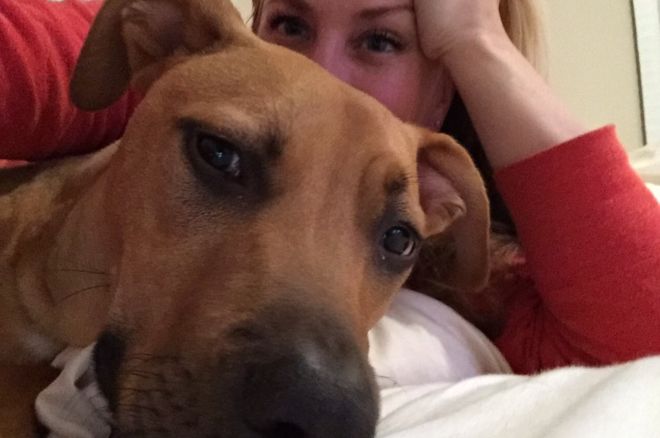 Everyone who has had a dog knows the huge void that's left when they're gone.
Jamie Kerstetter, a professional poker player with just over $600,000 in live earnings to her name, is no different.
Her family adopted an Animal Rescue Force dog after he had been saved from a kill shelter, in the typical way – with kids begging for a puppy – at 1.5 years old. Weezer, a lab mix, had a long and happy life until he passed away at 15 years old.
Now, she has Crouton, a name recommended by @girlhowdy7 on Twitter because Kerstetter couldn't decide between Yoshi and Colonel Mustard.
After finishing a cash session at Borgata, she and her boyfriend met at Humane Society of Atlantic City and met 3-month-old Crouton the day he became adoptable. It was love at first sight.
"He was super drugged up from surgery, stumbling around in the kitten room, and was easily the cutest thing I had seen in my life," said Kerstetter of her pit bull mix. "We signed his adoption papers immediately without looking at another dog."
A self-proclaimed animal lover on Twitter and beyond, Kerstetter realized that she hadn't been doing enough for the animal charities she supported with nominal donations or small percentages from tournaments.
After four marathons, joining her passion with a "pastime" seemed like a no-brainer. She plans to run the TCS New York City Marathon as part of Team ASPCA this November and is raising $3,500 for the American Society for the Prevention of Cruelty to Animals (ASPCA).
Already, she's reached $3,071, committing to $3,500, and keeping a personal fundraising goal of $5,000, which goes directly to ASPCA.
"I am so grateful for organizations like the ASPCA, full of caring people who fight to improve the lives of helpless abused animals."
"I am so grateful for organizations like the ASPCA, full of caring people who fight to improve the lives of helpless abused animals," Kerstetter said. "I want to raise as much money as possible to support their efforts."
While the former attorney has heard an omen that you shouldn't sign up for a marathon until you forget how the last one felt, she recognizes that it's been eight years and it's time for her overcome herself.
"I don't want to wait until some distant time when I can afford financially to do more - the opportunity to run for Team ASPCA came at a rare moment when my motivation to help was higher than my instinctual laziness," she said.
Kerstetter will run this race "solo," just like her first marathon, the Detroit Free Press Marathon, partnering with her running buddy, Crouton.
"I like the mental torture that comes with the end of a marathon," she said about choosing a marathon over other charity efforts. "It's pretty interesting what the mind does to itself when the body is just completely done."
Though Kerstetter will be in Vegas for most of the training period with her team, she will complete the runs largely on her own (and plans to do so annually "if I don't die on the first go"). She'll train by building her mileage from 10-15 miles a week to 40-50 by race time. She'll also have a familiar face around.
"Danielle Moon is going to try to kill me with CrossFit this summer, too," she said.
Besides animal charities, Kerstetter supports charities benefitting kids. She supposes that she should shift to the environment and civil liberties soon "since they are taking the biggest beating politically this year."
During her time in college, she paired with lonely elderly people for weekly visits and worked with soup kitchens. As a lawyer, she provided various pro bono legal work.
Kerstetter did more charity work as a college student and busy lawyer than she does now, she admits, mainly because she spent time waiting for the big score to give her a break and kept making excuses for herself.
She plans on getting involved with the Humane Society of Atlantic City, even if they waitlisted her a year ago.
"Sometimes all it takes to get an animal adopted is the right person seeing a picture and falling in love at first sight."
"Although I'm disappointed, it's actually pretty heartening that there are too many people wanting to help their shelter," she said. "When I finally get my foot in the door, I plan to revamp their social media efforts to get their adoptable pets more views. Sometimes all it takes to get an animal adopted is the right person seeing a picture and falling in love at first sight."
Kerstetter does have favorite charity tournaments she plays in, like the WPT Foundation "All in for Kids" event, raising close to $1 million every year for the Children's Hospital of Philadelphia, and the Charity Series of Poker event at Borgata (which she won the same week she brought Crouton home).
While Kerstetter doesn't have any other charities on her radar this year, she says she'll have four painful hours to think about this one in November. She isn't sure this small effort will do much for poker, but nods to some of her friends who she thinks have largely impacted the view of the poker community.
She looks to Dan Smith who matched six-figures of his own money to what he raised in a massive charity drive, Liv Boeree and the other high-stakes pros involved in REG Charity and Derek Tenbusch raising money on his Twitch Poker channel for rescue beagles.
These are only a few, but they uplift and change the perception of the community.
"There are so many worthy charities that I would donate money to, but I want to donate my time and effort to one that is close to my heart so I stay motivated," she said about choosing the marathon.
Your donation will help the ASPCA provide life-saving programs and services to millions of animals nationwide, to give abused and homeless animals a second chance at life. Please support me by making a donation (no matter how small) and help make a positive impact in the lives of animals!