Natasha Mercier and Baby Bump Hit the Felt at the WSOP

Brandi Williams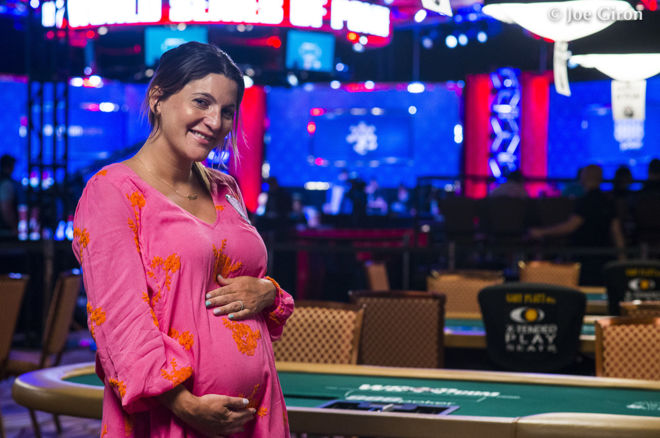 Even though the Tag Team events ended after the first week of the 2017 World Series of Poker, one player has been playing a special kind of tag team the entire summer.
Natasha Mercier is currently six months pregnant with her and husband Jason Mercier's first child. Natasha began the WSOP in the middle of her second trimester, and is now in her third trimester. Throughout the series she has not only experienced the ups and downs of poker, but the effects of first-time pregnancy on her game and life.
The grind of poker can be grueling, especially during the WSOP, but Natasha said she's been able to get through her usual summer routine without much disruption.
"I actually have a lot of energy," she said. "Especially at the beginning of the series, I had a lot of energy. I would finish a tournament and then go play cash until 2 a.m. I've probably never been home before 2 a.m. So, I've been wanting to play, I've had a little bit of adrenaline and a lot of energy so it's been helping."
Mercier said that she has been swimming laps 40 to 50 minutes a day to help give her the energy to power through long days, which has also helped to wake her up and to get ready for the day.
"I would finish a tournament and then go play cash until 2 a.m. I've probably never been home before 2 a.m."
Food, along with exercise, is essential during the long days of poker and can be a struggle during the WSOP for any player. The lack of food options can be problematic for anyone that spends every day at the Rio, but especially for someone who is pregnant. A pregnant woman may have cravings that cannot be satisfied by the Rio's offerings, which is what Natasha experienced.
"I started with All-American Dave and then because of cravings it got old really fast, so I started ordering through UberEATS and Postmates. I tipped them 10 bucks and they come straight to my table. So, I've been ordering whatever I want pretty much. it's been great!"
This serves as a solution for anyone who wants more variety in their meal choices during the WSOP. Also, a great tip can get them to deliver to your table.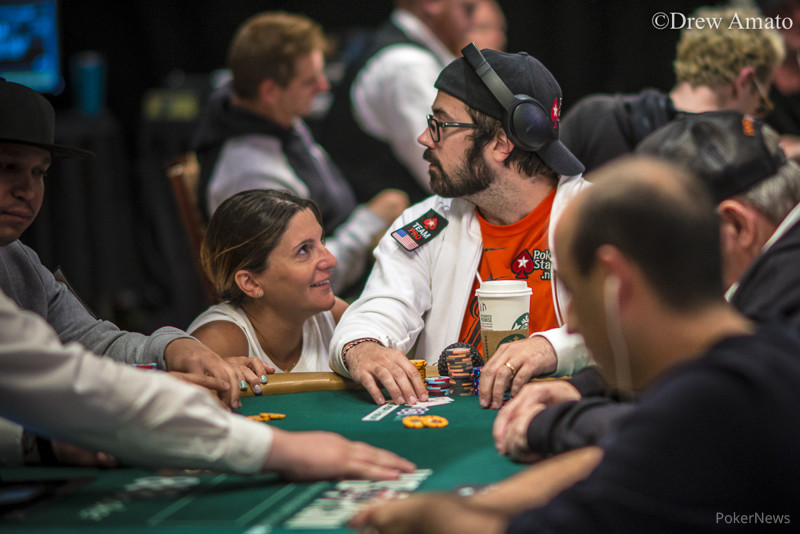 Pregnancy is a time of hormone fluctuations, so it is no surprise that Natasha has felt some negative effects on her game because of her pregnancy.
"In the last couple of weeks I feel it has affected me, because I am normally able to keep my cool after a bad beat or after getting called down or after losing a hand, and now I feel like I'm steaming and I can't control it," she admitted. "So it has affected me a little bit negatively."
But, she said Jason helps her to compose herself. "Somehow, he's like the only person that's keeping me so calm. When I see him, I calm down if I'm tilted at the table."
Natasha is aware of how her game has been affected, and she laughs it off because she knows that it is because of her pregnancy. She recalled a moment from a recent tournament when she called the clock on a player after only a short time, and said that was something she would not normally do.
Natasha does not plan to stop playing, but will be taking a few months off after the baby is born. When asked why she would continue to play long hours at six months pregnant, her face lit up and she confidently said, "Because I love the game. I'm excited to be here, it's not like I'm here because I have to. I'm here because I want to be, and every day I wake up even though I busted a tournament the night before because I haven't had that great of a summer. I wake up and the first thing I want to do is go play. And I look up what tournaments are available and I just go."
She also added that if she wasn't pregnant this is exactly what she would be doing, so why would she do it any differently?
Finding a trustworthy room to play online poker can be a monumental burden. That's all the more true if you're just looking for a place to play poker for free. We've listed five of the best play-money poker sites to enjoy and help hone your skills.