A Look at Some of the Biggest Movers on Day 3 of the WSOP Main Event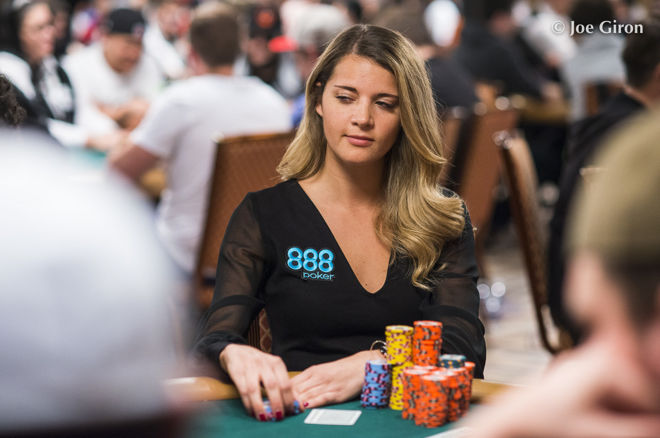 Day 3 of the World Series of Poker Main Event started with the announcement that the players would play until the money bubble burst. The goal of the majority of players in the Main Event is to reach the money, so Day 3 is always an exciting day.
It's exciting for the amateurs as they try to hold on tight to their chips. And it's exciting for the professionals as they seek to pry them away from their opponents. One thing is for sure as the play progresses closer to the money bubble, the play will slow down, and those players with stack will capitalize on their position.
We monitored where the chips were headed throughout the day and talked to one player every level who some significant growth in their stack.
Level One - Allen Cunningham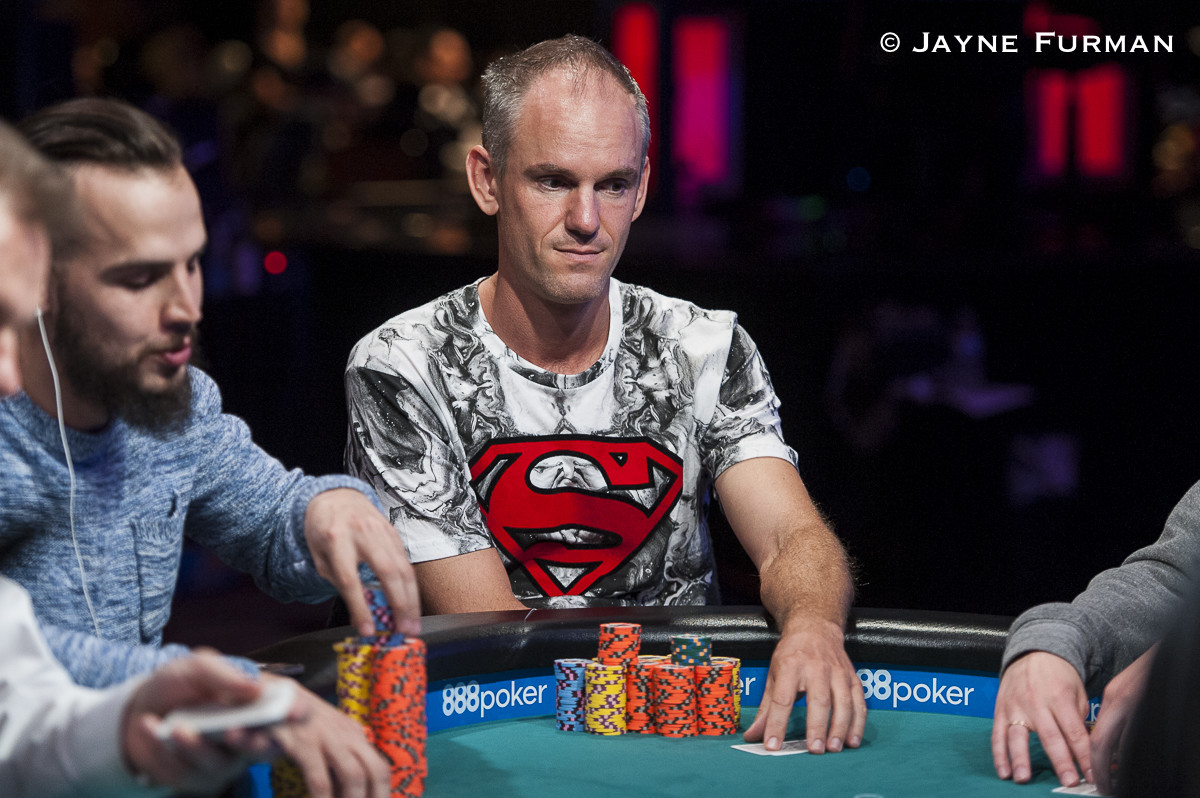 Allen Cunningham wasted no time making his move early in the day. He started the day with 131,000 and had 630,000 heading into the first break. Maybe being on the feature table brought attention to it, or maybe it was the fact that he more than quadrupled his holdings. Whatever the reason, the usually quiet pro, couldn't avoid the scrutiny.
Cunningham explained his quick rise in the chip counts.
"It was a good five hands. I started with 130,000 and five hands later I had 550,000. The very first hand of the day, I won a nice 30,000 pot in the big blind. On the second hand, I had aces versus someone's ace-king and broke her for another 100,000-plus. The third hand, I think I stole the big blind. The next hand, I flopped fives full of deuces. My opponent made four deuces on the turn and I rivered quad fives. He was one of the guys at the table who covered me."
When asked how he felt, Cunningham just smiled, and said, "Honestly, I'm a little bit chip drunk right now. I'm not even sure how to play. I have to regroup and create a new game plan."
After we talked with Cunningham, we kept an eye on him and his stack and he seemed to hover around the 600,000 mark for most of the day. He lost a bit in the later levels to end the day with 427,000.
Level Two - Matthew Moss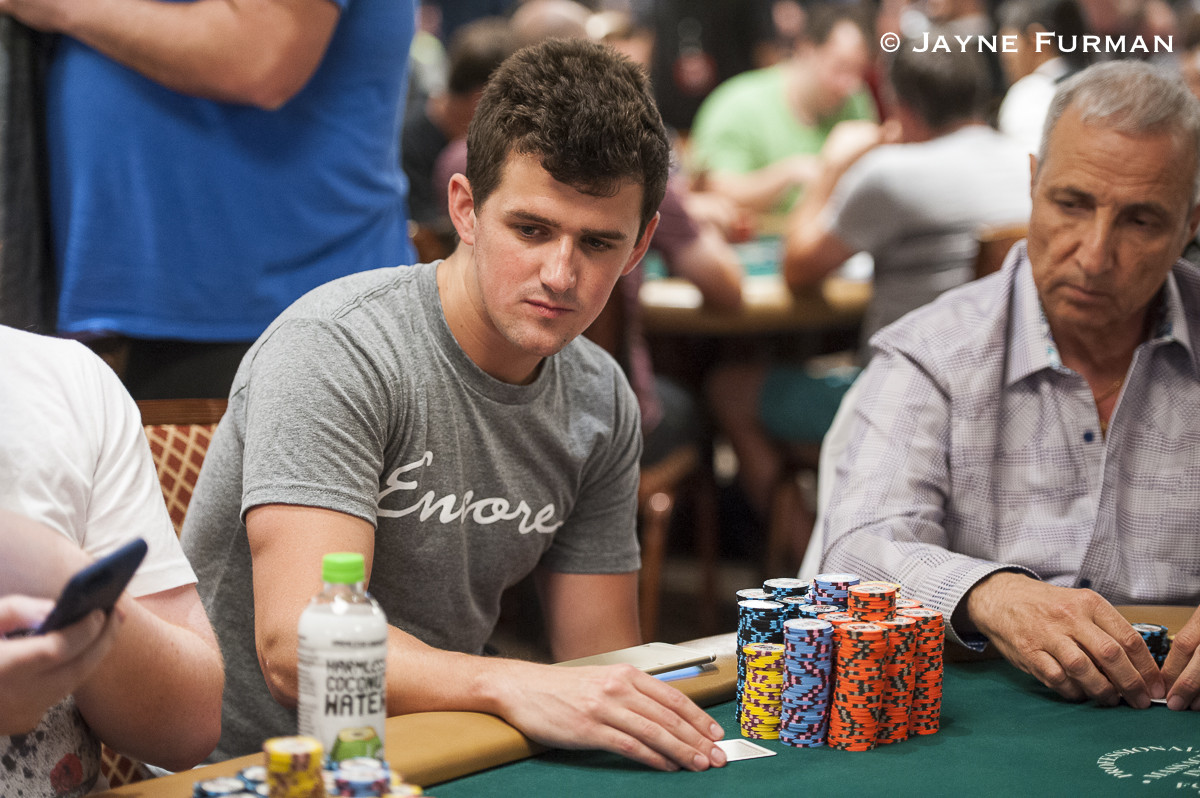 As the players headed into the second break of the day, we caught up with Matthew Moss, who has the distinction of being the first player in the tournament to reach a million chips after starting with just 300,200.
"It feels pretty good," said Moss when describing what it's like to be atop the chip counts. "It's been an epic day. Everything has gone really, really well so far. I've just had a bunch of really good hands."
When asked how he plans to capitalize on his stack, Moss didn't even hesitate, "I'm definitely going to have to put the pressure on in the next couple of levels. I'm not a tournament player so much, so I'm not used to that. But I've been told I have to start bullying some people. I'm going to have to get on that."
The tournament's first millionaire isn't a millionaire any longer. Moss seemed to have a lost a little ground since our conversation early in the day. He is sporting a healthy 872,000 going into Day 4 and will try to run it back up.
Level Three - Patrick Clarke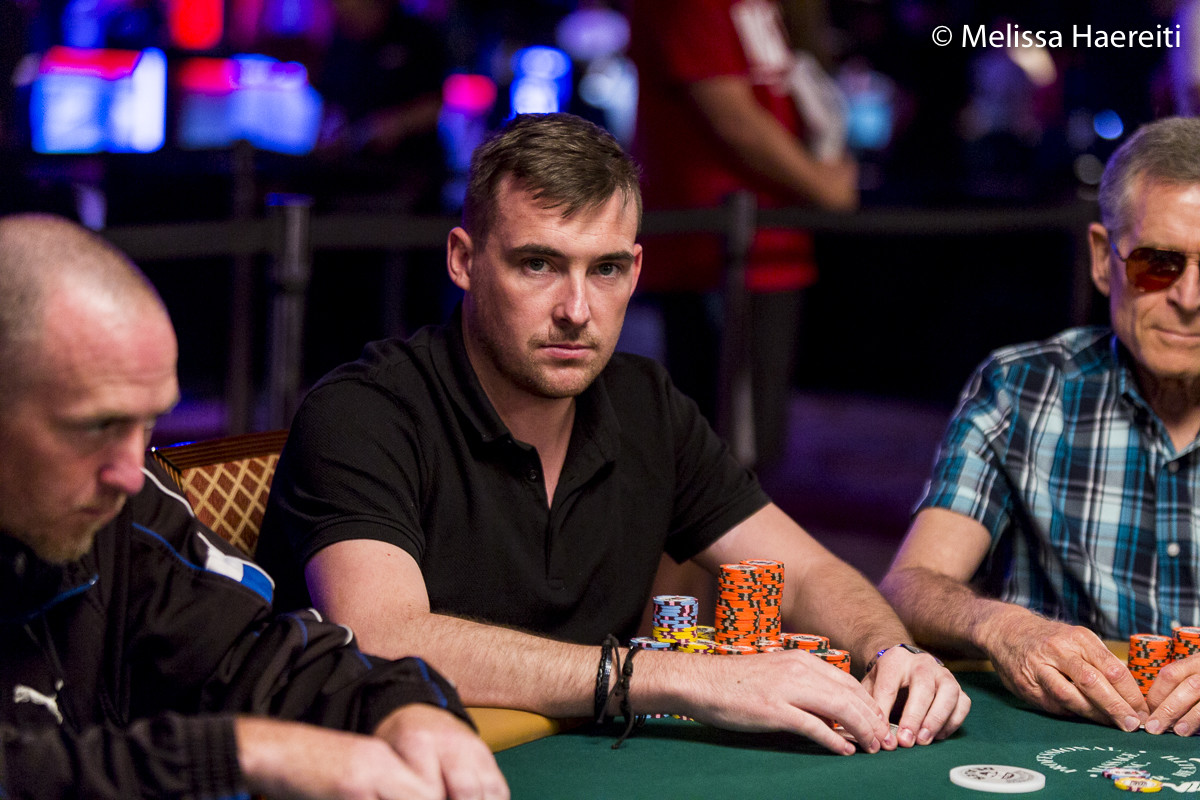 It was late in Level 3 when the stack of Patrick Clarke caught our eye. The Irish poker pro seemed to have a strong command of his table as we caught up with him heading into the dinner break.
He won two big pots, to help him go from 262,00 to 978,000, but mostly he just chipped away at his opponents to add to his big stack.
When we asked about his table draw, Clarke seemed very pleased.
"I'm very happy with my table today. I've had great tables for the last two days but I don't feel like I've been tested that much. I've been very happy with my draws."
Pros like to use their big stack to bully their table. We asked Clarke if this is his strategy.
While laughing, he said, "A little bit, maybe, but I can afford to be. No one is playing back at me, so I'm just going to keep playing my game."
Clarke continued to chip away at his opponents and added to his stack. He's bagging up 1,200,000, good for one the top stacks in the field.
Level Four - Ben Jacobs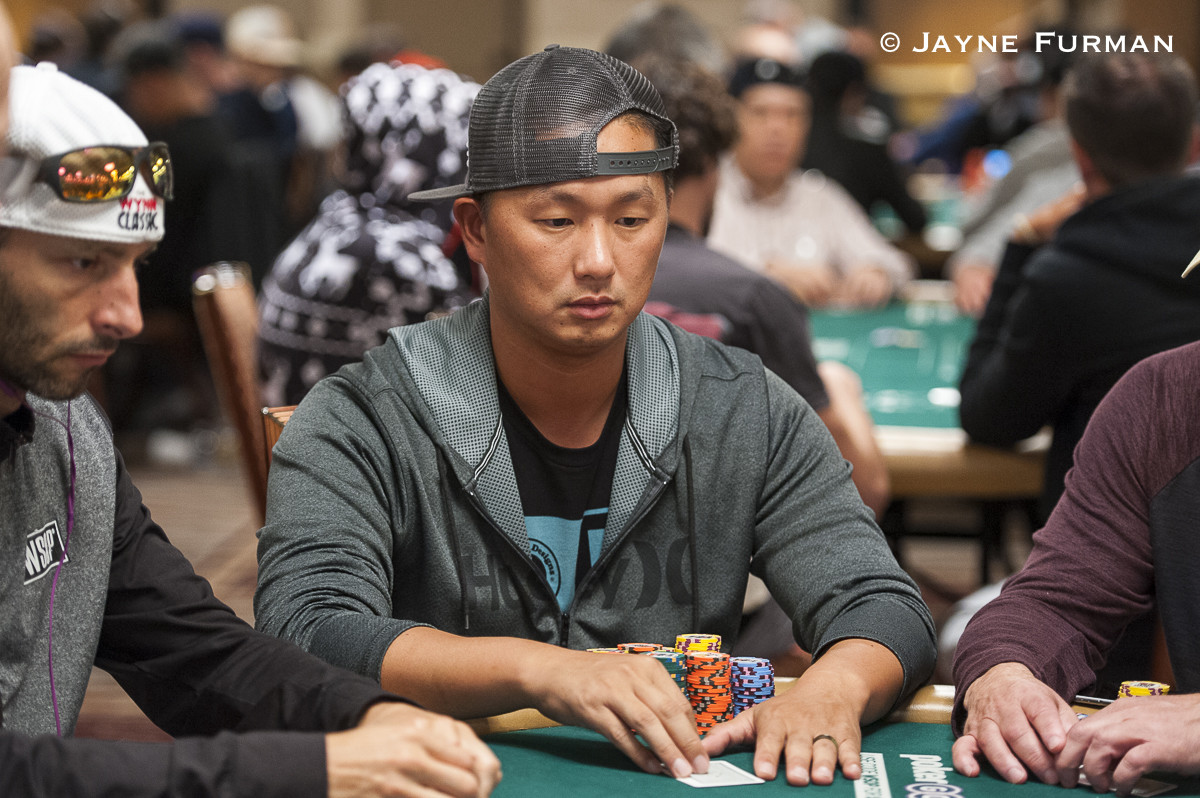 Ben Jacobs, or "Honolulu Ben" as his friends know him, is visiting the desert from Kaui, Hawaii. He started Day 3 sitting with a stack with 204,000 chips and early in level four boasts a top-five stack of 850,000.
This primarily Hawaiian home-game player was lucky enough to double and then double again early in the day and continue chipping up throughout.
Playing in his first Main Event, we asked Jacobs what his strategy was to ensure he makes the money.
"It's a pretty standard table. As the big stack, the other players have to fit into their roles. There's not a lot they can do about it. I'm just trying to play my position and play smart. I'm going to keep playing my game. I'm getting cards, and the deck is hitting me hard which helps. My plan is to keep riding this lucky wave."
Jacobs had a bit of a rollercoaster ride after we met up with him. He would lose some, win some and lose some more. But he ended on a high note with 956,000, his highest count of the tournament.
Level Five - Michael Krasienko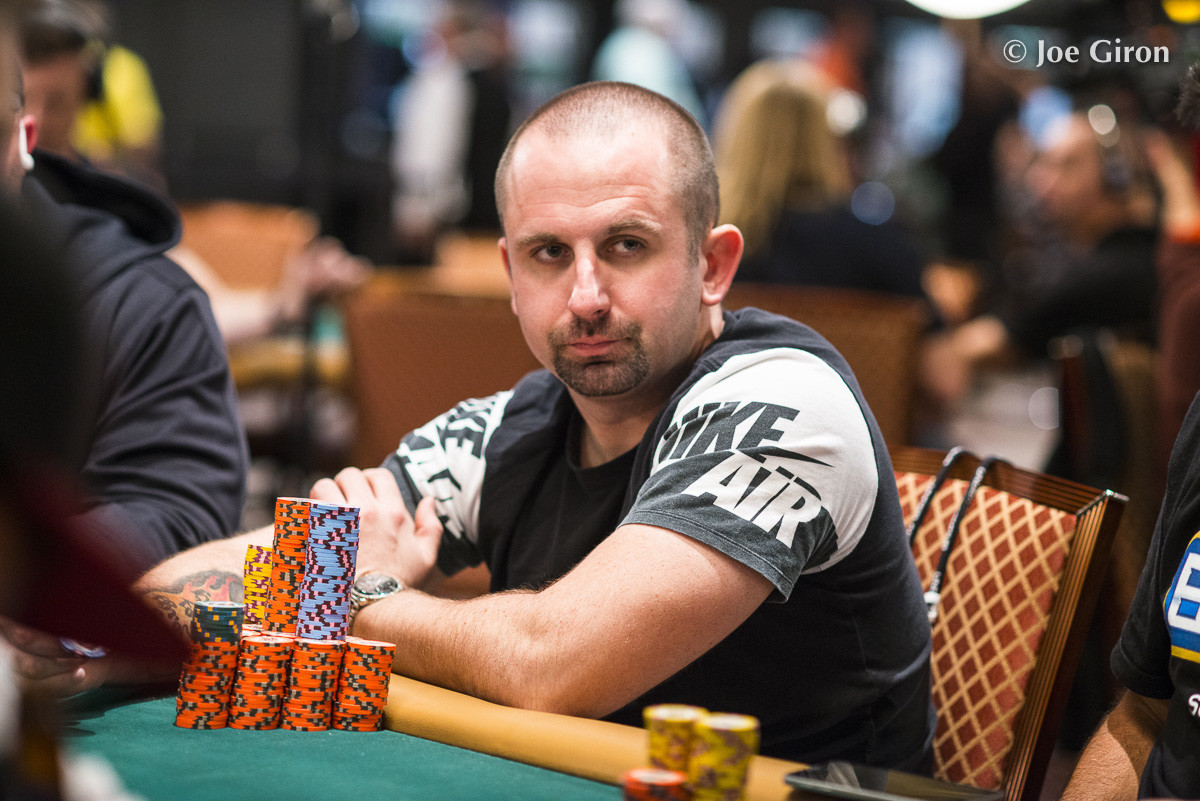 Michael Krasienko started Day 3 with about 561,000 ... and the flu. Nothing's worse than sitting through a 12-hour day at the tables, playing the premier event of the year, when you feel awful.
But that's not stopping Krasienko as he's built a solid stack of 1,200,000. He's using the adrenaline that comes with playing the Main Event and nearing the money to push him through.
When asked what his secret was to building an epic chip tower, he responded, "Basically, I played tight most of the day, made some hands, and ran pretty well."
This mainly PLO cash player has only played the Main Event twice. What about the Main Event entices him to pony up $10,000?
"It's such a great tournament. It's the best tournament in the world. The best structure. The best field. I just really enjoyed it when I played it last year, so here I am. Outside of this pretty much all I play is PLO cash."
When we caught up with him during the last break of the day, Krasienko had just moved to a new table. And this was what he had to say about the last level.
"I'm going to feel the table out and see how they're playing. Mostly, I'm just going to play my game, and play solid poker. Nobody's super short, so I just need to keep it solid and see what happens."
While not the chip leader anymore, Krasienko ended the day nearly where he was we met up with early in level 5. He will be bringing 1,246,000 into Day 4 of the Main Event. Not bad for a PLO player.
Other Day 3 Movers
Antoine Saout opened his bag to 341,400 and claimed 1,529,000 at the end of play.
Dominik Nitsche: 888poker Ambassador, came into Day 3 with a measly 53,800 and ran it up to 829,000.
Sofia Lovgren, 888poker Ambassador, started the day with 133,200 and ended the day holding 996,000.
Kenny Hallaert grew a stack of 331,800 into 1,258,000.
Ben Lamb began play with a stack of 327,800 ended up bagging 1,150,000.
Now that the money bubble has burst, you can expect a lot more chips to be flying on Day 4, as players position themselves to make a deep run. Follow all the action right here at PokerNews.com.
Finding a trustworthy room to play online poker can be a monumental burden. That's all the more true if you're just looking for a place to play poker for free. We've listed five of the best play-money poker sites to enjoy and help hone your skills.