The Dominik Nitsche Experience: 888 Pro Running Deep in WSOP $5,000 NL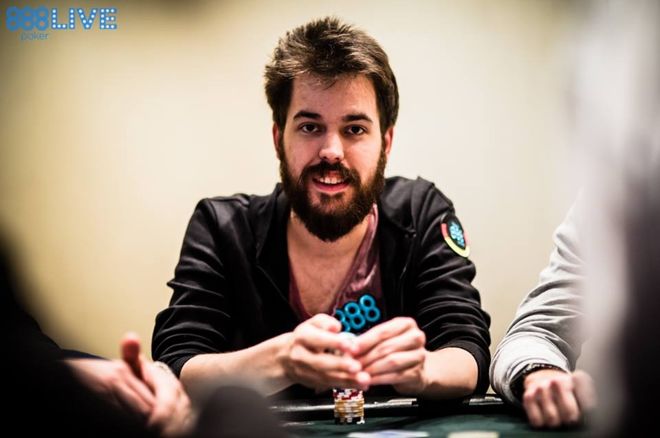 When the final 10 players in the 2016 World Series of Poker Event #59: $5,000 No-Limit Hold'em broke for dinner on Thursday, 888poker ambassador Dominik Nitsche found himself in a rather familiar position. He sat with a contending stack in the middle of the pack, threatening to make another run at a WSOP bracelet.
Two years ago, a then 23-year-old Nitsche became the youngest player to win three bracelets at the WSOP. And while it might seem strange to call a 25-year-old man the most experienced player at the table, because of all those deep runs, and a background deeply rooted in the online game, it's almost always true when Nitsche takes a seat.
"Experience is crucial," Nitsche said of running deep in WSOP events. "It helps me stay calm. This whole tournament has been really up and down for me. At one point I was down to five big blinds, then I had 100 big blinds, and then 10. In these roller coasters, it's just very important to stay patient. I've seen a lot of people who just fire their chips off after they get short, and [experience helps you not do that]."
Players who spend years honing their games online understand that you can pack decades of poker experience into just a few short years because of the speed and accessibility of the game. It turns youth into grizzled vets. Nitsche is certainly in that camp, and believes all that online play translates well to the live game, too.
"I'm kind of an old man," Nitsche laughed. "I've probably played more hands of poker than almost anyone. I've been playing poker professionally for seven or eight years now, and [online experience] does help. You play a lot more hands, you get into tougher spots more often, and it helps you to figure a way out of those spots that obviously translates well to live poker as well."
The experiences Nitsche has had have also had on an impact on his image at the table, and even more importantly, his confidence.
"The experience of going deep in big live tournaments also helps me a lot in that people tend to play less crazy against me," he said. "They steal my blinds less, and are less likely to three-bet me. Those things add up, and even if they do three-bet me, I don't care, because I'll probably just call and then maybe bluff them. I don't know.
"Once you've been in this spot enough times, you're also not afraid to risk all your chips on a bluff. When you battle all these great players in super high rollers and other big tournaments you learn a thing or two, and a lot of it is about confidence. The confidence to run a big bluff in the end. A lot of people make a big bluff and they can't hold it together. If I make a big bluff, I'm OK with it because I've done it so many times. I have the right hand to bluff with and I'll be OK. Even if they call, it's OK, on to the next one and let's build up a stack again. That's how it has worked out today, and it has actually been a great experience."
Speaking of the experience, as Nitsche takes his seat again in Event #59, hunting a fourth WSOP bracelet and the more than $800,000 first-place prize that will come with it, this is one he cherishes.
"It's awesome," he said. "These days I mostly play online cash games. I've kind of switched it up from playing tournaments to online cash games to make some money, but tournaments have always been a lot of fun for me. That's why I've always played. There's nothing like it. Cash games are a boring grind, but tournaments are exciting.
"There's always something new. Even if you've played as many tournaments as I have, there are always unique situations that come up and they can be really interesting. I really enjoy that."
Heading into the fourth and final day of the $5,000 No-Limit Hold'em event, Nitsche will have 3.665 million in chips. That's good enough for second on the leaderboard with six players remaining from the original starting field of 863. Thing is, Nitsche's is quite a ways behind the chip leader, Yue Du, who bagged an incredible 11.73 million. We'll see if Nitsche can overcome the deficit and grab bracelet No. 4.
As the 2016 WSOP rolls on, be sure to stay tuned to PokerNews for continued coverage, brought to you by our sponsors, 888poker.
Want to stay atop all the latest in the poker world? If so, make sure to get PokerNews updates on your social media outlets. Follow us on Twitter and find us on both Facebook and Google+!