Tom McEvoy Reflects on Early Days of the World Series of Poker Main Event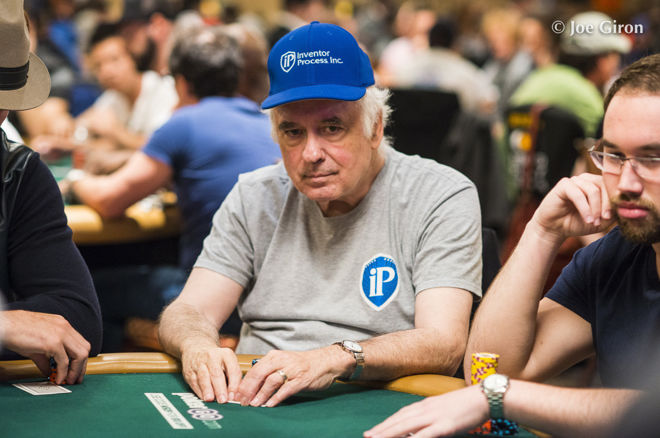 When Tom McEvoy won the World Series of Poker Main Event in 1983, 'Grand Rapids Tom' (as he was known) was awarded $540,000 and the famous gold bracelet. The basic facts are known from that year, but what you may not know is that McEvoy won the longest Main Event heads-up battle the tournament has ever seen, even now, 34 years on from his win. McEvoy was back playing Day 2 of the Main Event at the Rio on Tuesday, so we caught up with him to talk all about the incredible changes he's witnessed in the game over the last four decades.
"They call me the world's greatest short-stack player because I've had so much practice with one," McEvoy told PokerNews. "I may have the attendance record for the Main Event this year, though. It's number 34. I think that's even more than Doyle Brunson. When I think about them, to be honest, most of them blur together. I remember the year Jamie Gold won because I cashed the Main Event and I cashed last year too, so I remember a fair amount of that."
When we've spoken with any of the Main Event champions we've sat down with this week, we've really been trying to find out what the differences in their game are to the regular player. Any player who might pitch up and crush his or her weekly home game or consistently make money in their local casino game but who has never considered playing the Main Event would do well to listen to Tom McEvoy.
"There are always bad beats and poker stories. With me, they go in one ear and out the other. I just dismiss them from my mind. Those things drive many others crazy. I'll have an occasional sleepless night if I feel like I made a mistake. But if I feel like I made the right play and lost, it doesn't bother me whatsoever."
"There are always bad beats and poker stories. With me, they go in one ear and out the other. I just dismiss them from my mind."
Immunity to bad beats is a serious edge. But McEvoy has been around the block here at the Rio, and before then at Binion's. His first ever result came in the year before he won the Main Event.
"I finished sixth in 1982; it was my first money finish in the Razz. A few years later I won the Razz WSOP bracelet event."
Who do you think of when you hear the phrase 'satellite' and 'Main Event winner'? Maybe it is Chris Moneymaker, who famously took down the title in 2003 from an online satellite.
"I qualified into the Main Event from a satellite twenty years before he did, it's true. Then when I got heads-up, it was the record for the longest-lasting heads-up in the Main Event. It still is."
Precious little of the footage from that World Series exists. Even if there was a highlights package, it would have been the editing job of the century. McEvoy and his opponent, Rod Peate played heads-up for seven and a half hours.
"It's still the record. I saw the man I beat, Rod Peate here in this tournament this year. He's the forgotten man of the World Series, because he came second such a long time ago. I remember that Doyle Brunson came in third in 1983, and do you know something else? He's never made the final table since. I beat him in a big pot and then I'll always remember that in Doyle's exit hand, Rod Peate had pocket nines. Peate raised on the button. Doyle called with jack-nine suited, I folded and the flop came nine-high with two diamonds. Doyle check-raised Rod, who'd overbet the pot. Doyle, who was third in chips at the time re-raised all-in and Rod wasn't going anywhere with a set of nines. That was the end of Doyle."
It seems incredible that such a moment of history, the two-time winner never getting so close again, has been airbrushed from popular folklore, but McEvoy's face lights up. He's 72-years-old now, but you wouldn't know it from the passion he still has for his moment in the sun.
"Our heads-up battle lasted seven and half hours, which is still a record for the Main Event after all these years. I remember when we started heads-up, Peate had 60 percent of the chips. At one point, I had second and third pair but there was a possible straight on board. I bet the hand and he moved all-in on me. I folded it after thinking long and hard. He had a straight draw, flush draw and top pair. I felt like I could beat him with a long, slow drawn-out process."
The roles were set. Peate trying to finish it off, and McEvoy, prepared to go to hell and back to get the win. After a quick finish in 1982, McEvoy told the tournament staff they might be in for a different night.
"I don't know if another 38-year-old will ever win, these young guys have so much stamina."
"I warned everybody because the previous year Jack Straus and Dewy Tarpo played for about ten minutes heads-up. They played a million-dollar pot with ace-ten off-suit and ace-four of before the flop. That was absurd as far as I was concerned! These were great players, but I would never have done that. I felt that my stamina was my best chance, to play a long, slow grind. I didn't care if the tournament was over quickly or not, just as long as I won. Some of the media who were covering the tournament thought we were stalling, but we weren't. Mike Sexton, who was there, told me 'You've set poker back ten years, Tom.'"
So it was that later than the Main Event had ever finished before, and with players, fans, supporters and family members practically on the felt themselves, the final had was dealt. McEvoy's pocket queens held against Peate's
and the Michigan man went crazy.
"I was so into it that afterward if you looked at the pictures of us both, he looked like a wreck and I got so excited I jumped up on my chair and yelled 'I did it, I did it!', which is not something I would do today. I don't know if another 38-year-old will ever win, these young guys have so much stamina."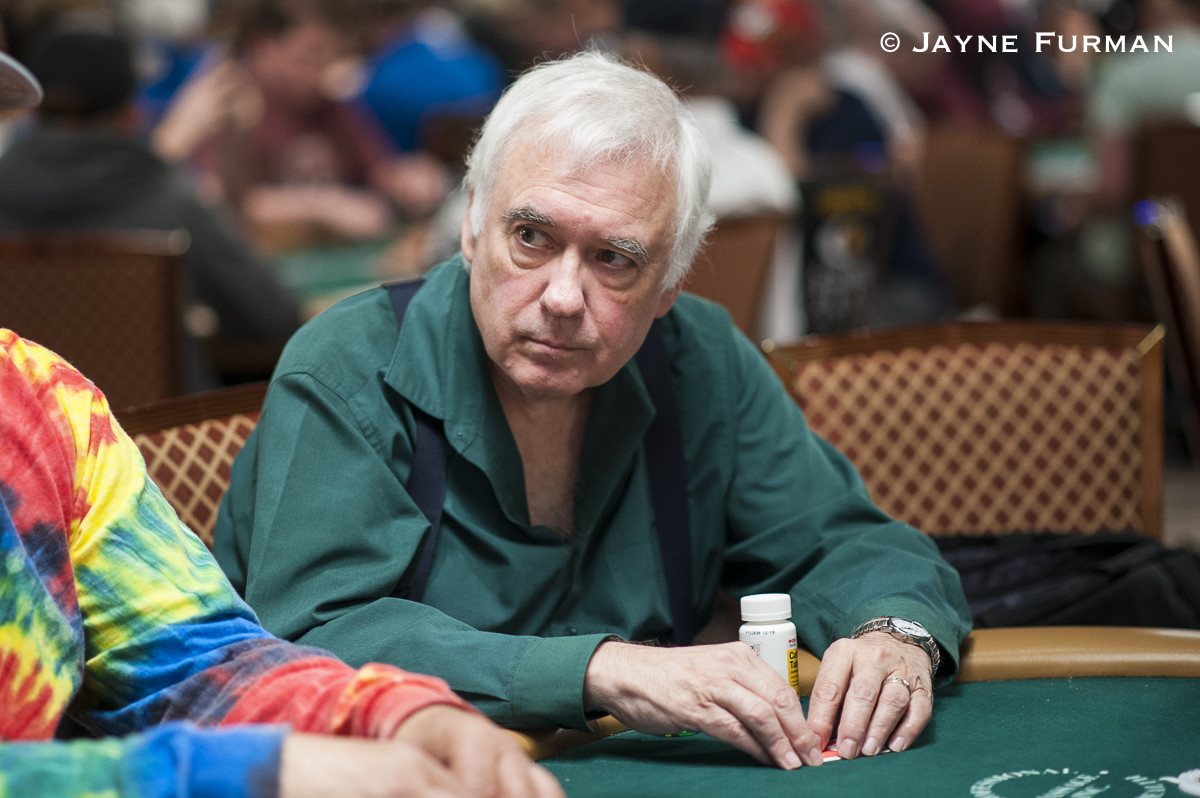 AN INFLUENTIAL VOICE
McEvoy may not have won the Main Event since, despite playing it every year, but he did make one change at the World Series for which thousands of players would probably want to thank him.
"Becky Binion's son played poker at the time. I made a deal with them that I'd teach him how to play poker if they made the tournament a non-smoking venue. At the time, I was spending the worst 53 days of my life being card man at Binion's. I got my schedule in and then lost my position before the tournament started. I got no tips, nothing…but I got it to be made a non-smoking venue."
McEvoy is a passionate anti-smoking campaigner and with no better reason than you or I might have – to want our friends and family to remain with us as long as they can.
"One of my very, very best friends is in the hospital as we speak. He's a little bit younger than me and never smoked a cigarette in his life. But he ran nightclubs and was subjected to second-hand smoke. He's dying. He's not going to get out of the hospital alive. I've known three people I could name who never smoked and who died from being around second-hand smoke. If people think that second-hand smoke doesn't literally kill you if you're around it long enough, they're sadly mistaken. I've had enough first-hand experience."
How bad was the smoking at the World Series of Poker? Well, think 'Rio Flu' and multiply it.
"The WSOP would be so bad with the smoking that players were getting bronchitis and coughing all the time. They used to call it the 'Horseshoe Crud'. Even the smokers preferred it to be non-smoking. In the first couple of years, they let supporters smoke on the rail, even here at the Rio. You needed a gas-mask to get outside. Even now, when you go outside, it's pretty bad."
When we talk of the famous Horseshoe Casino, McEvoy has a simple answer to our asking exactly what it was that he loved about the old venue for the World Series of Poker.
"Benny had enough foresight to see that this could develop into something big. Of course, it developed into something far bigger than he ever anticipated."
"Everything. I really liked and respected Jack and Benny Binion. Benny was a fantastic guy with a lot of stories. He'd hold court with me in the downstairs restaurant. I remember one day I was just walking by. We both knew each other and he didn't speak, he just pointed to a seat as if to say 'sit'. He told story after story and he was fabulous. I loved the guy. Without him, none of this would have happened. Benny had enough foresight to see that this could develop into something big. Of course, it developed into something far bigger than he ever anticipated. I wonder what the Binion's think about selling off the World Series rights so cheap, they threw $100m out the door more or less!"
The World Series Main Event may have eluded him after 1983, but McEvoy was invited back with many other champions to play the 2009 Tournament of Champions. He took it down and won the top prize, which was a 1970 Corvette. He never got behind the wheel, so why was that and what happened to the car?
"My wife is wearing it on her ring-finger. We got engaged and I never actually drove it. I sold the Corvette to Amarillo Slim and my wife got a big engagement ring out of it, which she highly approved of. If I'd had that Corvette when I was younger, I either would have got killed in it or had too many speeding tickets in it!"
Tom McEvoy was never a man to move fast, not in a 1970 Corvette and not at the 1983 World Series of Poker. But he's won four bracelets in four different poker formats and took the big one when it mattered after almost eight hours of the longest heads-up in history. Whether he runs deep this year or not, he'll forget the moment and keep looking forward to next year, his 35th year at the World Series of Poker Main Event.
Finding a trustworthy room to play online poker can be a monumental burden. That's all the more true if you're just looking for a place to play poker for free. We've listed five of the best play-money poker sites to enjoy and help hone your skills.