The Nightly Turbo: Brunson and the Main Event, Laak's Endurance Record Broken, and More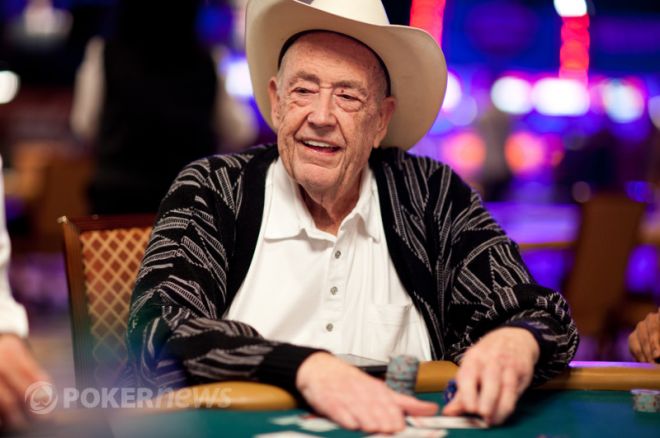 The World Series of Poker Main Event is in full swing, but one of the game's most famous players was on the fence about playing this year. We'll cover that story, plus Phil Laak's poker endurance record being shattered, in this edition of the Nightly Turbo.
In Case You Missed It
Daniel Negreanu and Vanessa Selbst cruised through Day 1a of the World Series of Poker Main Event. Find out who else had big days in the Day 43 WSOP recap.
The PokerNews video team cranks out so many videos every week that it's hard to keep up. Luckily for you, we've compiled some of our favorites from the World Series of Poker in the Video Vault.
Did you miss Sunday's World Poker Tour coverage on FSN? Read our WPT recap to get caught up.
Looking for a fun, behind-the-scenes perspective of life at the WSOP? All Mucked Up has daily stories from inside the Rio, so check it out!
Want to play poker with 30,000 of your closest friends at Wembley Stadium? Find out how to enter the International Stadiums Poker Tour.
No Big One for Big Poppa?
Attendance for the World Series of Poker Main Event went beyond expectations again this year, but the tournament will unfortunately be without one of its most celebrated figures.
On Sunday, legendary poker pro Doyle Brunson announced that he will be skipping poker's most prestigious tournament this month. The larger-than-life Brunson has made a name for himself at the WSOP by winning 10 bracelets, including two Main Events. But the 78-year-old says he needs a break after a long summer grinding cash games. It'll mark only the third time Brunson has missed the Main Event in 43 years.
I'm not playing the main event because I'm really tired after 6 weeks of tough cash games, playing 10-12 hours every single day. Sorry.

— Doyle Brunson (@TexDolly)
Brunson's first cash at the World Series of Poker was a third-place finish in the 1972 Main Event, back when the tournament struggled to draw a full table at Binion's in downtown Las Vegas. He then won the tournament in 1976 and 1977. However, Brunson has struggled adapting to the marathon that the Main Event has evolved into since the poker boom of 2003. He told Time Magazine in 2009 that he "can't overcome the magnitude of the numbers" anymore. He added, "I'd go so far as to say that it's almost impossible for me to ever win again."
UPDATE: Within minutes of publishing the Nightly Turbo, Brunson arrived at the Rio and posted his $10,000 buy-in for the Main Event! As expected, Doyle's sudden change of heart was well received by the poker community. We're glad to see him back where he belongs!
Ok I'm I'n the tournament. Just saw my friend Chuck get broke on a 2 outer. Ouch!

— Doyle Brunson (@TexDolly)
Be sure to follow Brunson's progress during the Main Event on his Twitter page.
Laak's Record Broken
Phil Laak's world record for the longest continuous poker session was broken last week by Barry Denson, an ex-Territorial Army soldier from the U.K. Denson played for 120 hours and 20 minutes at the G Casino in Manchester, besting Laak's record by more than five hours.
"I prepared for the feat by gradually shortening my sleep over the period of a few weeks until I was running on less than three hours sleep a night and this did help tremendously," Denson told PokerNews on Monday. "I expected to experience side effects. Phil Laak spoke after his record of experiencing visual hallucinations but my experience was slightly different in that I experienced aural hallucination. At one stage I was sure that I could hear small children laughing and playing around the slots which were quite close to the table."
Denson's record hasn't been verified by the Guinness World Records, but he is in the process of sending the video footage and paperwork for confirmation. Denson told PokerNews that he's tried to reach out to Laak before and after he finished the challenge, but Laak hasn't responded.
During the marathon session, Denson raised £850 for Help For Heroes, a charity aimed at helping Britain's soldiers that have been wounded since September 11, 2001. Denson says he still hopes to increase that total and reach his target of £1,000.
Laak also played for a charity — campsunshine.org — when he set the record in 2010. PokerNews was there when Laak played in a $10/$20 cash game at the Bellagio in Las Vegas for 115 consecutive hours. He donated all of his $6,766 in winnings.
We'll try to track down Laak this week to see if he intends to re-claim the record. Laak had been absent for all of the World Series of Poker until showing up for the Main Event on Monday.
Living It Loving It
Living it Loving it Ltd., a leading poker event management and consultancy based out of Nevada, has announced some major global expansion plans for 2013
The company, which offers services to for the World Series of Poker, the World Poker Tour, and others, and is planning to double its size over the next 12 months, recruiting more U.S.-based industry professionals in a bid to build further upon its recently agreed U.S. and South American contracts.
"Our goal is to connect online gaming networks and land-based casinos in a way that brings value to all parties, especially players and customers whom are looking for engaging experiences and the best live events across the world of gaming and mind sports," commented Dave Brannan, managing director of Living it Loving it Ltd.
Living it Loving it recently announced plans to establish a series of new poker events in South America, as well as introducing existing high-profile tours to the continent in early 2013. Further details will be announced later this summer.
Read more about the company at livingitlovingit.com.
Face Up!
1983 World Series of Poker Main Event champ Tom McEvoy is the new face of Face Up Gaming, a subscription-based reality gaming social network available for players in the U.S. The network offers a variety of online poker tournaments, as well as live video, audio, and messaging capabilities, and a face-to-face Training University.
Face Up Gaming recently launched its June Poker League, which had a $50,000 prize pool that included Aruba Poker Open packages, cruises, cash, and other various giveaways like Blue Shark Optics sunglasses. The player fields are still relatively small, which means the chances at winning prizes offered by Face Up are significantly higher than many online poker sites.
"Face Up Gaming is a subscription site and is perfectly legal," McEvoy said in an interview this month. "You get to play a lot of tournaments. It's all No Limit Hold'em tournaments right now. There are no cash games or anything, but we're hoping at some point to have legalized internet poker where people can play cash games."
Find out more at FaceUpGaming.com.
Intimacy With a Twi$t
The excitement of the main event is upon us.
Parlay that excitement with a Mutually Beneficial Arrangement with the girls at ArrangementFinders.com
3 Girls to Every Guy - Yes, Really!
Find the arrangement of a lifetime at ArrangementFinders.com.
This is an advertisement.
Jason Alexander In Disguise
We almost didn't recognize actor Jason Alexander in the WSOP Main Event field today. Kristy Arnett caught up with the former Seinfeld star to find out why he's incognito.
Follow PokerNews on Twitter for up-to-the-minute news.