Five Thoughts: Phil Hellmuth Makes it a Dozen at the World Series of Poker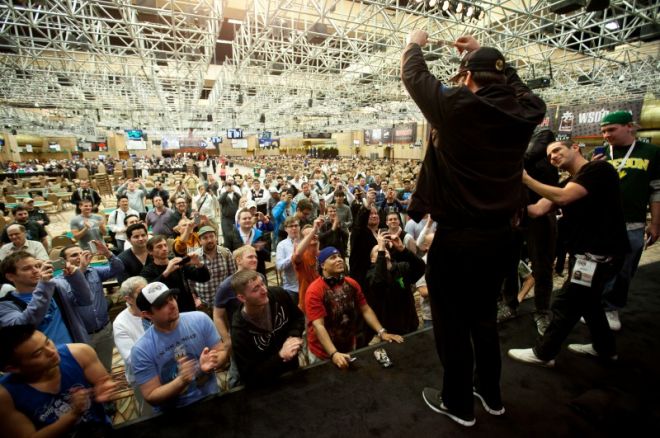 With Phil Ivey and Phil Hellmuth playing heads-up for a bracelet at the exact same time, Sunday was one of the most exciting days in the post-Moneymaker era of the World Series of Poker. The industry was momentarily paralyzed in the moment — that is unless you were a photographer or videographer, and had to run back and forth between the two tables. Hellmuth had an opportunity to break his own record of 11 WSOP bracelets, while Ivey had a chance to grab number nine, and inch closer to the Poker Brat. In the end, both Phils reached heads-up play, but only one Phil won.
1. Hellmuth wins number 12, Ivey falls to Frankenberger
I had the privilege of covering Event #18: $2,500 Seven Card Razz for the PokerNews Live Reporting Team, but on our last break, I sprinted to the mothership to watch Ivey and Andy Frankenberger do battle for the Event #17: $10,000 Pot-Limit Hold'em bracelet. The atmosphere was absolutely electric, and there were more people sweating this match than the other. Back in the Pavilion Room, where the razz final table was being held, very few people could see the cards or follow the action, so they became disinterested. The mothership is designed for crowds, and flop games are much more crowd friendly for three main reasons: (1) more people understand flop games, (2) there's more drama when two people are all-in because you aren't looking at two sets of cards, and (3) crowd members can bet on red/black or other props.
During the few hands I saw, Frankenberger was playing very aggressive, and Ivey was extremely frustrated. After a few hands, I headed back to the Pavilion to watch Hellmuth try and defeat Don Zewin head up. Ironically, Zewin finished third in the 1989 WSOP Main Event, which is the year Hellmuth defeated Johnny Chan heads-up to win his first bracelet. Hellmuth had about 83 percent of the chips in play when the match began, but Zewin strung together a few pots, then nearly doubled. Hellmuth's lead had been reduced to a 1.3-1 chip advantage, and everybody was thinking the same thing; can this man really deal with another runner-up finish?
While Zewin was battling back, we received word via Twitter that Frankenberger had defeated Ivey. Moments later, the majority of the people who were in the Amazon Room made there way to the Pavilion stage. Within minutes, Hellmuth started to separate. Zewin lost half of his stack in a hand where he started with a jack up, was dealt a six on fourth street, and then received running nines. He was unable to call Hellmuth's bet on seventh street and Zewin was left with only three big bets. They went in a few hands later, but he could only muster a king-low. Hellmuth's jack-low was best, and when he realized Zewin's down card was a brick, he jumped into the air with both hands raised.
Hellmuth had done it, and not only had he won No. 12, but he did it on a non-hold'em game — something I thought he would never do. He played solidly throughout Days 2 and 3 when I covered him, and obviously proved me wrong by taking the tournament down.
2. Schaefer's story
When we talk about weekend warriors at the WSOP, we're usually referring to individuals whose bankrolls can only sustain one four-figure buy-in event each year. Some of these players come from poker leagues, so they've played all year for an opportunity to enter, while others simply save a little money here and there until they have enough to make a run at a bracelet.
Brandon Schaefer is far from your average weekend warrior — although he's more "warrior" than most. Schaefer, a former professional poker player who shipped EPT Deauville in 2005, has already completed Officer school for the U.S. Army, and begins flight school training in Alabama on June 15. He came to Vegas for the Electric Daisy Carnival, not to play in a poker tournament. However, when he saw that the WSOP was running, he hopped into Event 14: $1,500 No-Limit Hold'em Shootout because he knew the days would be shorter, and the buy-in was smaller.
Well, apparently Schaefer isn't rusty at all, because he won all of his tables, along with $311,174 and a WSOP gold bracelet.
The news cycle in the poker world can be very negative. Lying, cheating, scamming, and stealing are common, and very rarely are we blessed to talk about something good. Schaefer's story is a welcome change from the norm in the poker industry — we need more refreshing tales like his.
If you want to read more, go check out Marc Convey's excellent article about Schaefer, which includes quotes from the man himself.
3. Three bracelets in three years for Matros
OK, I know that both Phils made simultaneous final tables on Sunday, and that Brandon Schaefer's human interest story is one of a kind, but Matt Matros received very little love for winning his third WSOP bracelet in as many years on Saturday. Matros bested a field of 1,604 entrants, defeated Mark Radoja heads-up, and is now the only player to win three bracelets in this decade. What's equally impressive is that all three wins have come in different variants of hold'em — no-limit six handed, mixed, and fixed limit.
With his win in Event #16: $1,500 No Limit Hold'em — Six Handed, Matros earned $454,835, and now has more than $2 million in career live tournament earnings. Matros' biggest score to date came on the World Poker Tour however — he finished third in the 2004 WPT Championship, taking home $706,903.
Poll
What's More Impressive?
Matros' three bracelets in three years are extremely impressive, and it begs the question: what's more impressive, winning a bracelet each year for three years, or three bracelets in one year?
At first, I wanted to say the latter, because you have to run so hot to be able to string together three deep runs in the same series. Only five players have won three bracelets at the same WSOP: Hellmuth (1993), Ivey (2002), Ted Forrest (1993), Jeffrey Lisandro (2009), and Walter "Puggy" Pearson (1973).
Nine players have won a bracelet in three consecutive years, including the aforementioned Matros, Lakewood Louie (1978-1980), Bill Boyd (1971-1974), Bobby Baldwin (1977-1979), Allen Cunningham (2005-2007), Erik Seidel (1992-1994), Gary "Bones" Berland (1977-1979), Johnny Moss (1974-1976), and Doyle Brunson (1976-1979). However, only Matros and Cunningham have done so in the post-Moneymaker era, where the fields are bigger and arguably tougher.
In my opinion, it's much tougher to be consistent over three years rather than bink three tournaments in one summer, so I'll give the nod to Matros and Cunningham. What do you think?
4. Doyle returns
Doyle Brunson returned to the WSOP to play in Event #15: $5,000 Seven Card Stud Hi-Low Split 8-or-Better last Wednesday. Texas Dolly was more interested in the Oklahoma City Thunder vs. San Antonio Spurs basketball game during the first few levels of play, so he late registered, but eventually the Godfather of poker made his way into the Tan Section of the Amazon Room. Brunson has publicly stated that he plans to play fewer events because he doesn't enjoy the long hours, and who can blame him. Cash games make much more sense for the legend, because when he's tired, he can just go home.
Still, it was great to see Brunson on Day 1, and when his son Todd Brunson made the final table of Event #15, it was nice to see Doyle come out and support him. During the final table, Doyle even made an appearance on the WSOP.com live stream with Dave Tuckman. Unfortunately for the Brunsons, Todd finished runner-up to Adam Friedman, and the family bracelet count remains at 11.
We look forward to seeing Doyle in the future, especially for the $50,000 Poker Player's Championship, which is a big enough buy-in to get him excited to play. His presence in the Amazon Room makes things a little more special, and helps us bridge the past with the present.
5. Hellmuth's winner interview
Enjoy.
Follow PokerNews on Twitter for-up-to-the-minute news.