The Nightly Turbo: Epic Poker League Update, Bet on WSOP, and More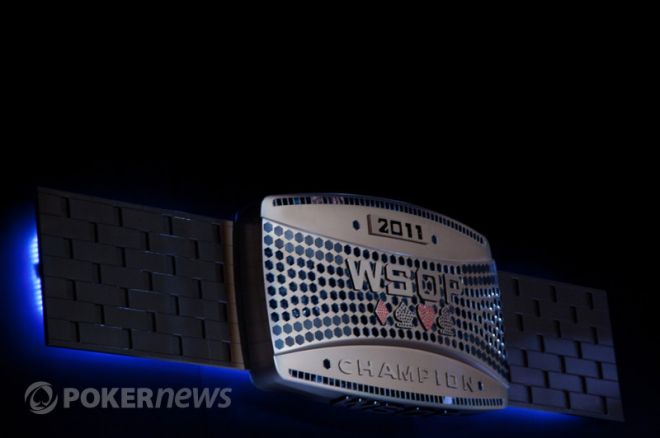 For some reason, our short week felt longer than our regular weeks. Luckily for us, the weekend is here. The 2011 World Series of Poker Main Event has kicked off, and we're sure you're railing the coverage on PokerNews so we won't keep you here for too long. There are some things you need to know to get you through the weekend including an Epic Poker League update, a look at how you can bet on the World Series of Poker, and more. Enjoy!
In Case You Missed It
The online high-stakes cash games aren't exactly as fruitful as they used to be. They're still there though, and Viktor "Isildur1" Blom is in the mix. Find out how much he won in the latest Online Railbird Report.
The 2011 World Series of Poker Main Event kicked off on Thursday, but there were also two other events that attempted to play down to a winner. Who is left in the preliminary bracelet hunt and who showed up for Day 1a of the Main Event? You're going to have to check out the daily WSOP recap for those answers.
Epic Poker League Update
There are plenty of players at this year's World Series of Poker who are doing their best to qualify for their Epic Poker League card. A few weeks ago, we brought you a few names that were on the cusp of getting their cards. Thanks to Andrew Feldman of ESPN, his Epic Poker League Bubble Watch table has recently been updated and we're going to bring you a quick look at some of the movers and shakers.
Phil Laak, Matt Hawrilenko, Chris Moorman, Ben Lamb, Andy Frankenberger, and Mike Sexton have all recently received their two-year category B card. This means that they have satisfied the criteria of earning at least $1.25 million in adjusted lifetime earnings, with the single win capped at $750,000 and have at least nine cashes since January 1, 2008, that total $600,000.
Paul Wasicka needs $3,149 more in earnings to earn his two-year category A card. Kevin MacPhee and Randy Dorfman are closing in on a two-year category B card, falling $2,803 and $8,680 short respectively.
If you want to check out who else is close to grabbing the exclusive card into the Epic Poker League, be sure to check out the Epic Poker League Bubble Watch on ESPN.com.
Bet on the World Series of Poker
We know there are a lot of you out there who like to bet on just about anything. If you followed the coverage of the WSOP earlier this summer, you know that Antonio Esfandiari gave a railbird $200 to touch Tom Dwan's head. See what we mean? If you're following the action at home and your fantasy draft for bragging rights isn't giving you a big enough sweat, then why don't you put some money down on the Main Event.
Matchbook.com is offering various bets such as "What will be the age of the 2011 WSOP Main Event winner?" Under 25 years old is +137 while if you want to take the over, you can at -140. How many players do you think will enter the Main Event? Over 5,375 is coming in at -310 while the under is +225.
There are more bets where that came from and you can check them all out at Matchbook.com.
R-E-S-P-E-C-T
Most of us don't really know what poker was like pre-Chris Moneymaker. But we need to remember that there was poker before the 2003 poker boom and we should respect the greats that have been playing this game longer than some of us have been alive.
Brad Willis reminded us of that in a PokerStars Blog post on Thursday. "In today's field, we've seen the likes of Doyle Brunson, Dewey Tomko, Billy Baxter, Johnny Chan, and T.J. Coutier. These are men who were once part of an exclusive club of gamblers and sharps that has seen its quaint little gambling convention turned into a giant corporate-sponsored machine. They are men who had the respect of every card player who ever lived and now have to deal with 20-somethings who taunt, "Has the game passed you by? Too much three-betting and four-betting for you?"
Up until Thursday, it was unclear whether Brunson would play in the Main Event, but he decided to play anyway tweeting, "OK, I officially am playing the ME. Do I feel good? No. Do I want to play? No. Am I playing my best? No. Am I gonna try my best? Damn right!!" A few days earlier, Brunson had tweeted that he had lost the passion for the game since Black Friday.
Willis finishes his piece by saying, "As the poker world struggles to come to grips with its new reality, it would do well to remember Brunson and the people who came up in the game with him. They are still here. They have survived poker's biggest-ever paradigm shift. In other words, it was their game and their tournament before it was ever ours, and that's something we could probably hold with a little greater respect."
Read the entire post on the PokerStars Blog.
Warne + Hurley =
Whurley. Yes, we just coined the next couple name. Team 888poker captain Shane Warne is in Las Vegas for the 2011 World Series of Poker and he hosted the exclusive 888poker party at Savile Row inside the Luxor Thursday night.
His lady love, actress Elizabeth Hurley was by his side, but it doesn't seem like she'll be partaking in the Main Event festivities at the Rio even though Warne told the Belfast Telegraph, "I'm trying to teach Elizabeth the basics of poker and she's got all the attributes to be a fantastic player."
According to a press release we received Friday morning, Warne will be playing Day 1c of the 2011 World Series of Poker Main Event, so be sure to check the updates on Saturday for Warnie.

For more on the 888poker party and Whurley, head on over to BelfastTelegraph.co.uk.
Calling the Clock: TattyTats
Calling the Clock might just be our favorite video segment that PokerNews produces. On Thursday, Sarah Grant caught up with Tatjana "TattyTats" Pasalic and put her to the test. What's TattyTats' favorite pair? Watch the video to find out.
Be sure to follow us on Twitter for up-to-the-minute news.