Five Thoughts: Fourth Week of the 2011 World Series of Poker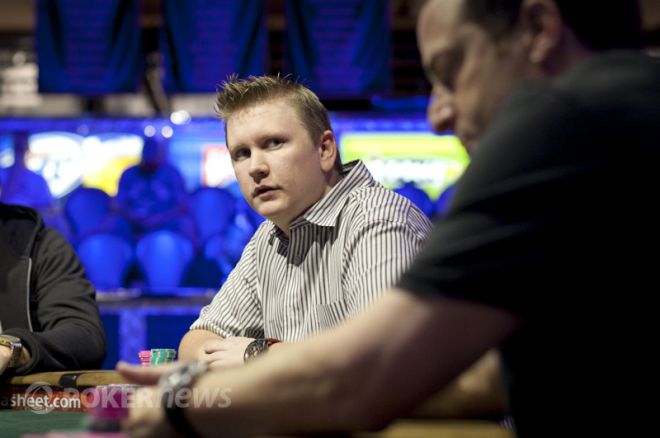 We're already a month into the 2011 World Series of Poker, and the $50,000 Poker Players Championship and Main Event are right around the corner! There is still a lot happening in the preliminary events though, including name-calling, prop betting, and more headphone smashing. There's also a new leader in the Player of the Year race, and, outside of the WSOP, a U.S. Congressman from the 6th District of Texas is trying to become online poker's saving grace.
Let's get in our thinking chair and think.
1. Benba is beasting
Ben "Benba" Lamb shipped Event #42: $10,000 Pot-Limit Omaha Championship, banking $814,436 and vaulting him to the top of the POY race. Lamb also finished second in Event #31: $3,000 Pot-Limit Omaha, giving him 486.25 points* – over 60 more than his closest competitor; Phil Hellmuth. Registration was still open for Event #46 $10,000 No-Limit Hold'em Six Handed Championship after Lamb defeated Sami "larslusak" Kelopuro heads up on Monday, but Lamb wasn't interested in playing. He had a change of heart though.
"They talked me into playing the $10k 6-max for player of the year considerations." he tweeted.
Well, "they" deserve some love, because Lamb has now eclipsed 500 points by min-cashing in Event #46. He is still in Event #46, and stands to gain more points, depending on where he finishes.
*At the time of writing, Ben Lamb was still in Event #46, so we have not added the points he received from this event.
2. Men Nguyen needs to shut up
ESPN's broadcasts may lead one to believe that Men "The Master" Nguyen is just a funny little guy that says, "all you can eat baby." Well he's not; he's actually a self-proclaimed asshole.
He said it, not me.
During the above altercation, Nguyen had the audacity to tell Team PokerStars Pro Vanessa Selbst that she is "not a woman." Selbst was obviously extremely offended by this, and thankfully both Robert Mizrachi and Matt Glantz came to her defense when the floor arrived to diffuse the situation. Nguyen busted not too long after the altercation and had a few more choice words for the table. Glantz stepped in again, and Nguyen left the tournament area.
Nguyen is notorious for his ill-temper – especially when he drinks – and last year I saw this firsthand when he was heads up with Jeffrey Papola for a WSOP bracelet. Nguyen lost a series of hands, eventually busting, and as his stack got smaller, his attitude got nastier.
There's also the cheating scandal Justin Bonomo mentioned in his blog back in 2008.
Nguyen's cruel and disrespectful reputation precedes him, and the only way for him to riddle the situation is to just shut up. He is a very skilled player and a potential Poker Hall of Famer, but if he continues to act so distastefully, he will never be held in high opinion within the poker community.
3. Antonio Esfandiari needs to prop-bet even more
Everyone knows that Antonio Esfandiari loves prop betting. From Johnny Lodden Thinks, to push-ups, to all the crazy things he and Phil Laak did on I Bet You, Esfandiari will do nearly anything for a sweat.
Well, in the most recent $1,000 event here at the WSOP, Esfandiari challenged a railbird named Andrew Chevalier to one of the most epic prop bets of all time. For $100, Chevalier had to run into the tournament area and touch Tom Dwan's head for ten seconds. He did. Dwan then joined the gag, offering another $100 for the man to touch Freddy Deeb's head for 10 seconds. He did.
Dwan and Esfandiari then offered one more challenge: rub Phil Hellmuth's shoulders for another ten seconds. He did.
For Chevalier it was a dream come true, and he profited $300. These types of interactions between fans and players make poker great. Without hole cards, poker really isn't a spectator sport, but where else can you run onto the playing field, touch your favorite player, and win money in the process.
Had the Chevalier done this at Citizen's Bank Park, he would've been tased.
Dan "Jungleman12" Cates hasn't challenged anyone to any prop bets yet, but he recently held a contest for a seat into this year's Main Event. The winner was a local Las Vegas grinder named Bob "PokerGrump" Wooley.
Hats off to Esfandiari and Cates for making the WSOP fan-friendly place to be. Deeds like these truly make the Series a special and unique experience.
4. Headphones are not for smashing
Daniel Negreanu started the trend when he smashed his Beats By Dre headphones in Event #27: $10,000 Limit Hold'em Championship, and on Monday, Chris Oliver repeated the act, tossing his Beats after handing his chips to Ben Lamb.
I understand that poker is frustrating – especially limit hold'em, Mr. Negreanu – but destroying your headphones in the middle of the tournament floor is childish. Oliver's actions are a little less surprising because he's still young, but both of these players should be ashamed of themselves. I'm not saying that players should shake hands with their opponents and wish them luck when they bust, all I'm saying is act like a reasonable human being at the table.
Oh, and the next time you're going to smash a $300 pair of headphones, don't. Instead, hand them to a Chevalier on the rail; he will really appreciate it.
5. Our savior just might be a conservative Republican
Representative Joe Barton announced the, "shuffle up and deal" at the Rio this past weekend. Rep. Barton recently introduced a bill that would legalize online poker, which is a bit ironic seeing that he's a conservative member of the Republican Party. Poker players are so used to supporting Barney Frank – a very liberal, openly Libertarian member of the Democratic Party – but at the end of the day we don't care who we support, we just want to grind on the virtual felt again.
Our own Sarah Grant talked to Rep. Barton in the video below.
Want more poker? Follow PokerNews on Facebook and Twitter.