Top Ten Stories of 2010: #6, Dwan Almost Bankrupts Poker's Elite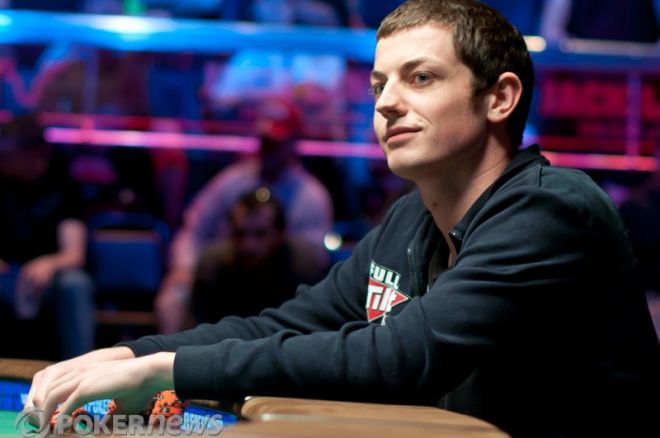 "Amazingly, some random $1,500 no-limit hold'em event on the second Friday of the Series turned out to be arguably the most momentous prelim event in WSOP history."
Those were the words Terrence Chan posted in his blog on June 7, 2010, one day after Tom "durrrr" Dwan finished runner-up to Simon Watt in Event #11: $1,500 No-Limit Hold'em at the 2010 World Series of Poker. Here at PokerNews, we couldn't agree more with Chan.
It was rumored that Dwan was to win $9-12 million if he captured a WSOP gold bracelet. In an interview with our own Gloria Balding earlier that week, Dwan told us that if he shipped his "bracelet bet," it would be his largest one-day win ever.
Obviously, Phil Ivey was a key contributor to this bet. He was rumored to lose $3 million alone if Dwan shipped a bracelet. Many other top pros who were involved included Daniel Negreanu, Mike "The Mouth" Matusow, Sorel Mizzi, Eli Elezra and Huck Seed. Most of the pros were involved at odds of 3.25:1 on Dwan winning a bracelet, with the odds dropping to 3:1 if the WSOP Europe counted. Dwan was also getting 2:1 on winning two bracelets in three years, and all WSOP Europe bracelets would count as a chop. On top of that, Dwan had plenty of bets on most money won and most cashes at the series.
Plenty of other events were taking place during Dwan's final table, including Event #15: $10,000 Seven Card Stud Hi-Low Split-8 or Better Championship. All of the world's top players were playing that premier event, which was set just adjacent to the final table stage. Despite playing one of the toughest tournaments in the world and having $10,000 on the line, the majority of the players were preoccupied with what was going on with Dwan. "Does anyone in poker have any money left if durrrr wins that tournament?" yelled out Matusow. "I know I don't!"
All eyes were clearly fixed on Dwan, not on bring-ins and completion bets, not on high and low hands, and certainly not on seventh street. '"This is so exciting, because I don't have any money on it!" Annie Duke said with a smile. "It's like watching a huge train wreck!"
Duke's comment was made just as Dwan got down to three-handed play with only two players standing between him and a bracelet — and millions of dollars. Earlier in the Stud-8 Championship, Mizzi was asked (by one of his tablemates) when he'd really have to start worrying. "When durrrr has the chip lead and they're three-handed," he responded.
Many of the biggest players in the world were jumping from their seats at every moment possible to run over 50 feet and get a better look at the action with Dwan. Matusow, Negreanu, Elezra and Seed were some of those who were moving back and forth between their event and Dwan's final table. Seed did some other moving of his own though.
Seed bet $100,000 against Dwan's $325,000. When play got down to the final table of nine, Seed sold his bet to Elezra for $82,500. Elezra now had this bet and his original bet, which was his $250,000 to Dwan's $750,000.
Those numbers are all staggering, but it's he numerical breakdown that Chan wrote in his blog that may lead to the most staggering numbers of all.
"Well, suppose Tom stood to win $10 million last night. This probably isn't the correct number, but it's not going to be off by a great deal. The general consensus is that he was getting 3:1 that he would not win a bracelet this year. Let's throw some numbers at the wall and see if they stick. There will be a lot of nits to pick here (mostly simplifications using assumptions, rounding of numbers, speculation on the nature of the actual bets), but bear with me as I scribble on the back of my metaphorical napkin."
"After Tom's elimination in the Stud-8, about 74% of the events of the WSOP remained (42/57). I won't bother to adjust for field size of those events, so just close your eyes and pretend all events offer an equal chance. Suppose 3:1 is the correct line; a fair bet. So Tom was 25% to win at the start of the WSOP. Thus, if he failed to win while heads up against Simon, he would be (.25*.74) or 18.5% to still win a bracelet. His EV from that point in is (.185*$10,000,000-.815*$3,333,333) or -$866,666. If he does win the bracelet, he collects the $10 million."
"In other words, pending the result of the heads-up match against Simon, the value of the bet would be either +$10,000,000 or -$866,666 to Tom. So Tom was playing for $10,866,666. (I'll bet Simon, who was playing for about $230,000, thought he was playing for a lot.)"
"The tournament completed at blinds of 60k/120k. According to PokerNews, there was 11,533,500 in play. That makes 96 big blinds on the table.
"If we accept my number of Tom playing for $9,133,333 then each big blind was worth $113,194.44. That is — from Tom's vantage point — this was a no-limit hold'em game with blinds around $55,000/$110,000 in real dollars. This, friends, was beyond any doubt, the biggest game in poker history."
With so much money on the line regarding Dwan's bracelet, it's no wonder the top pros in the industry weren't too worried about the $10,000 buy-in event they were playing when many of them stood to win or lose much more than that. This was truly the day that Dwan was about to put a severe dent in the bankrolls of poker's elite. What's more is that he was doing so without even playing the same game as them.
When the final river card hit the felt and Dwan had officially finished in second place to Watt, the entire high-stakes poker community jumped for joy, literally. Negreanu and Matusow sprung from their chairs to run over and witness the final hand as did many other top-notch players. When Dwan had lost, all of them came running back cheering, arms flailing and more excited than an eight-year-old on Christmas morning. It wasn't so much that they had won their bets against Dwan, but more so that they didn't lose.
The sweat wasn't over there though because when it came time for Day 3 of Event #55: $10,000 Pot-Limit Omaha Championship, Dwan was heading the returning group of 33 players with a ridiculous chip lead. A massive lead in the event and the fact that Dwan knows PLO like the back of his hand meant the top players in the game were in for another long sweat. Fortunately for them, Dwan failed to make it to the final table this time and shut down the Rio. Instead, he finished in 17th place.
The stir Tom Dwan caused shook up the entire poker high-stakes poker community and ignited tremendous excitement among the media and fans. For one, PokerNews saw an enormous spike in traffic as people across the globe kept glued to their computers awaiting the result. It was one of the most memorable events in all of poker history, not just the WSOP. We can only hope that 2011 provides much of the same excitement on the felt.
Follow us on Twitter for up-to-the-minute news, and also become our fan on Facebook.