The Nightly Turbo: Brian Townsend Steps Down, Doyle's Latest Blog, and More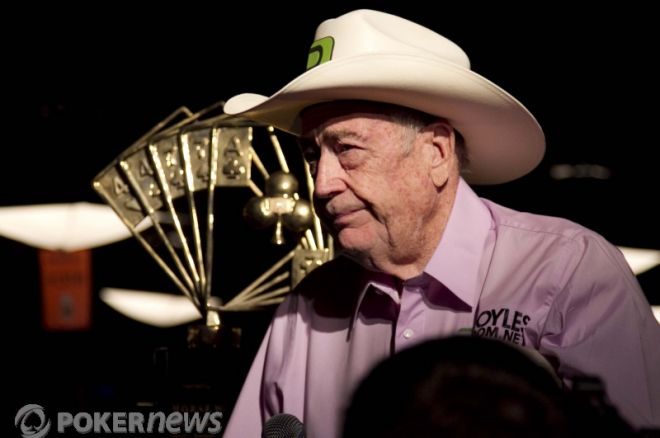 While you're handing out bad beats at the Rio or refreshing the Live Reporting page and sweating your buddies in all the WSOP tournaments we're searching for the news. What's going on today? Well, Brian Townsend will no longer be leading the way at CardRunners, Doyle Brunson had some things to say about UB, and Andy Bloch tried to eat a bunch of cupcakes. Find out all about it in tonight's Nightly Turbo.
In Case You Missed It
No matter what live tournament is going on, the high-stakes games in the nosebleeds on Full Tilt still run, though maybe not as full. The Online Railbird Report has got the scoop on all the player's hitting the virtual felt.
Day 5 of the World Series of Poker handed out two bracelets and saw plenty of fields whittled down. Check out the WSOP Day 5 recap for more.
The $50,000 Poker Player's Championship is in the books. Here are five thoughts on the event.
Sbrugby's Back
Brian Townsend has decided to leave CardRunners as the lead instructor. According to his blog, this is something that he has been thinking about for a while. He will still be participating in the forums and watching the videos though.
He sites time as one of the reasons. "When I joined CardRunners back in 2007, I joined because I thought it was a great company and because I wanted to gain experience helping run my own small business. CardRunners is still a great business but it is one that is much more time consuming than I would have imagined. I value the friendships I have created here immensely, but over the previous months I have started to realize that it is time for me to move on and devote my time to playing poker."
Townsend has a few more videos in the works and then he's hanging up his hat. Retirement of the CardRunners badge also means no more Red Pro status for Townsend. So he'll be playing under "sbrugby" again.
Check out his whole blog here.
Dolly's Latest Blog
Doyle Brunson's latest blog talks about his health, "Doctor said, barring some unforeseen complication or disease, I should live into my 90's so no more excuses, I'm going to have a big year in poker for 2010," his book, and UB. The latter, a topic everyone is talking about.
Daniel Negreanu had some things to say about UB in his blog and Brunson was just commenting on that. While he thinks Negreanu is right in everything he says, he doesn't think people should throw UB under the bus, "they are trying to do the right thing now and keep things under control." He doesn't understand how the security breach happened though and says that, "I know some of the former owners are still in the office at UB so they have to go the extra mile with their security."
He then talks about the Nevada, some politics, and the World Series of Poker Poker Players Championship.
You'll have to check out his blog for the rest.
Ooooleeee, Ole Ole Ole!
The PokerStars Latin American Poker Tour has just announced its latest stop on its tour of the south. From August 4 through 8, Florianopolis, the capital of Santa Catarina, Brazil, will be the home of the LAPT.
"I am so happy that the LAPT will return to Brazil again this season, Andre Akkari said. "It's got everything; players can enjoy the amazing surroundings whilst playing some of the best poker in Latin America!"
The event will take place at the Costão do Santinho resort and will feature a buy-in for $2,500 + $200. Florianopolis has been called the "best city to live in in Brazil." "We are very pleased that the LAPT will return to Brazil for the penultimate Season 3 stop and anticipate this event to be one of the biggest in LAPT history," said LAPT President David Carrion. "The support from the government and the outstanding resort make for a combination that will help provide a one-of-a-kind experience for players and their guests."
Want to get to Brazil? Sign up for a PokerStars account and win your way there.
$20k Rock
The Hard Rock Poker Room is hosting a high-stakes cash game on the first Friday of each month. The buy-in is $20,000 to $50,000 and the blinds are $25/$50. The first game gets going this Friday, June 4 at 7 p.m.
Did you take advantage of our awesome promotion going on at the Hard Rock? Well, if you didn't, click that link and take advantage of it. The Hard Rock is Team PokerNews' home, why not make it yours. And while you're staying there (or if you're in the neighborhood) stop by the poker room tonight and play in the PokerNews half-kill game. The $4/$8 half-kill game starts tonight at 8 p.m. and some of the DeucesCracked guys might stop by and you might get the chance to take on some of our team. See you there!
For more on the Hard Rock Poker Room, click here.
Swiss Government and Poker
Switzerland's highest court has ruled that Texas hold'em is not a game of skill. This means that private games outside of casinos have been banned, but (and there's always a but) it's just for high-stakes games. Apparently, smaller games could continue.
This ruling comes after Swiss casinos appealed a lower court's decision that Texas hold'em was a skill game and could be played anywhere. "A parallel sector started to develop that did not have the same regulations and rules as casinos," head of the Swiss Federation of Casinos Marc Friedrich said. According to the Associated Press, he estimates about 100 unlicensed poker championships were taking place each weekend.
Associated Press has the story.
Om Nom Nom
Yesterday was Andy Bloch's birthday. (Happy Birthday Andy!) For his birthday, Bloch got 24 monstrous cupcakes. Howard Lederer and Erik Seidel wanted to see Bloch eat all of them. It was a $25,000 freeroll for Bloch. First, the rules were "eat them in 90 minutes" but then that had to be modified. You think eating cupcakes is easy — apparently it's not.
Be sure to follow us on Twitter for up-to-the-minute news and become a fan on Facebook.