World Poker Tour on FSN: L.A. Poker Classic Season X — Part III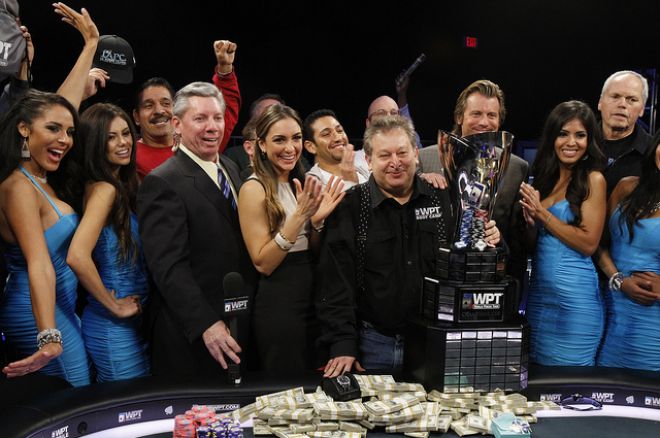 On Sunday, the World Poker Tour Season X continued on Fox Sports Network with Part III of the L.A. Poker Classic (LAPC), which originally took place at the Commerce Casino from Feb. 24 through 29, 2012, featuring a $10,000 buy-in Main Event that attracted 549 players and created a $5,270,400 prize pool.
In Part I, the eliminations of Jason Somerville and Jason Burt occurred, while last week Noah Schwartz joined them. It happened when Sean Jazayeri looked down at
and raised to 210,000. Kelly made the call with
from the button, which prompted Noah Schwartz to move all in for 1.53 million from the small blind. Jazayeri instantly moved all in over the top and Kelly snap-folded. The board ran out
and Schwartz took his leave in fourth place, good for $355,750.
Here's how things stacked up at the start of Part III:
WPT LAPC Final Table
| Seat | Player | Chips |
| --- | --- | --- |
| 1 | Sean Jazayeri | 7,350,000 |
| 2 | -empty- | N/A |
| 3 | Dan Kelly | 1,845,000 |
| 4 | -empty- | N/A |
| 5 | -empty- | N/A |
| 6 | David "Doc" Sands | 7,275,000 |
First Hand: With the blinds at 50,000/100,000 and a 10,000 ante, 22-year-old Dan Kelly, who won his way into the tournament through a $1,000 satellite, raised to 250,000 from the small blind with
and David "Doc" Sands released his
from the big.
Dan Kelly Eliminated in Third Place: Sands was first to act and raised to 220,000 with
. Jazayeri folded the small blind, Kelly moved all in for 1.665 million in the big blind with
, and after thinking it through for a bit, Sands made the call. Kelly had a 46 percent chance of winning the hand, but that dropped to 38 percent on the
flop. Kelly had counterfeit options, but the
turn improved Sands to a full house and dropped Kelly's chance to just 14 percent.
The dealer burned one last time and put out the
, putting an end to Kelly's LAPC in third place for $521,770, not a bad parlay of a $1,000 investment. "I think I played well," Kelly told sideline reporter Matt Savage after the hand. "Just didn't win."
Heads-Up Play: In an interview with Savage before heads-up play began, Jazayeri said: "I'm very fortunate to be here, but if there's one guy I didn't want it's that guy," Jazayeri said before heads-up play began. "In my experience heads-up is a different game. Luck becomes a much bigger factor. I'm gonna get a lot more aggressive, and let's just see what happens."
Likewise, Sands, who had played 12 WPT events and was notching his second cash, was happy to give his take on entering as the 9.4 million to 7 million chip leader: "Definitely a good spot to be in. I've got a lot of respect for the guy I'm playing heads-up, but to be totally honest, out of all the people that made the final table, he's the guy I'd like to be playing, so it should get pretty heavy, pretty fast."
In the first hand of heads-up play, Sands raised to 200,000 with
and Jazayeri called with
. The
flop was gin for Sands, and he bet 270,000 after Jazayeri checked. The amateur made the call and then checked the
turn, prompting Sands to fire out 570,000. It proved too much for Jazayeri, who quickly sent his hand to the muck.
Ones to Watch: In the latest installment of Ones to Watch, 21-year-old Dylan Hortin was featured. "Ever since I was a kid I watched poker on television. It's been a dream of mine to win a major poker tournament," Hortin said of hitting the live circuit after previously cutting his chops online. "I've been traveling a little bit more than I'm used to and the buy-ins are more than I'm used to."
What a Flop: With a 2-1 chip lead, Sands min-raised to 240,000 from the button with
and Jazayeri defended from the big with
. The flop came down
, giving both players trips, though Sands had the inferior kicker. Jazayeri proceeded to check-raise Sands' bet of 270,000 up to 600,000, and Sands made the call.
The
saw Jazayeri slow down with a check, and Sands checked right behind. The
river gave both players sixes full, and Jazayeri led out for one million. Sands responded by raising to 2.44 million, Jazayeri moved all in, and Sands called. Both players smiled upon seeing each other's six, which also seemed to amuse the crowd.
Queens vs. Big Slick: After playing small ball poker and chopping away at his opponent, Sands looked down at
and raised to 280,000. Jazayeri squeezed out
, and you just knew there would be fireworks. Sure enough, Jazayeri three-bet to 800,000, Sands four-bet 1.84 million, and Jazayeri moved all in. Sands made the call and was a 56 percent favorite to capture his first WPT title.
Both players shook hands and were out of their seats waiting for the flop. "One time," Sands said to his girlfriend on the rail. Unfortunately for him, it was Jazayeri's time to shine as the flop came down
. The
turn left Sands in need of a "lucky lady," but it wasn't in the cards as the
peeled off on the river. With that, Jazayeri doubled to 13.95 million.
David "Doc" Sands Eliminated in Second Place: After the blinds went up to 75,000/150,000, Jazayeri raised to 400,000 with
and then called Sands' 2.495 million shove with
. Jazayeri was a 60 percent favorite to take down the title, but not after the
flop. Sands paired his king and became the 80 percent favorite, which improved to 89 percent on the
turn. Amazingly, and much to the shock of Sands' supporters, the
spiked on the river to give Jazayeri trip fives and the LAPC title.
Jazayeri shot his arms up in the air in victory, shook hands with everyone, and then told Mike Sexton in his winner's interview: "I don't think words can describe how I feel. This is a fantasy you dream about. I really have to check, am I awake right now or not."
Tune in Next Week: Next Sunday an all-new episode of the WPT Season X will air on FSN, so be sure to check your local listings. If by chance you miss it, check back next week for the latest recap of all the action right here on PokerNews.
Past WPT L.A. Poker Classic Champions
| Season | Player | Entrants | Earnings |
| --- | --- | --- | --- |
| 1 | Gus Hansen | 136 | $532,490 |
| 2 | Antonio Esfandiari | 382 | $1,399,135 |
| 3 | Michael Mizrachi | 538 | $1,859,909 |
| 4 | Alan Goehring | 692 | $2,391,550 |
| 5 | Eric Hershler | 791 | $2,429,970 |
| 6 | Phil Ivey | 665 | $1,596,100 |
| 7 | Cornel Andrew Cimpan | 696 | $1,686,760 |
| 8 | Andras Koroknai | 745 | $1,788,001 |
| 9 | Greg Brooks | 681 | $1,654,120 |
| 10 | Sean Jazayeri | 549 | $1,370,240 |
Get all the latest PokerNews updates on your social media outlets. Follow us on Twitter and like us on Facebook now!
*Picture courtesy of World Poker Tour.