Tweet, Tweet, Bad Beat: Meeting in the Mountains and July 4th Parties

Brandi Williams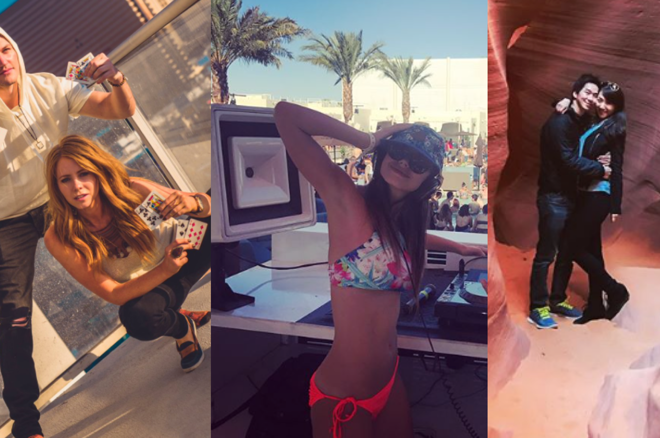 The 2017 World Series of Poker has just finished its sixth week of action, and nearly 70 events have come to a close! The stress of six weeks of non-stop poker is apparent as one looks around the Rio – players are worn out mentally and physically. Poker is a serious business, but sometimes you just need to take time to enjoy life and leave it all behind, at least for day or two! Hit the lake to cool off or party with friends.
Oh, the struggle!
Enjoying some margaritas while we wait for our seat #rebuy #S2W @WPT

— Christian Harder (@realcharder30)
The newest magic act in Vegas: PapiLynn!
Donkeys never looked so good!
Nothing says you're NOT in Vegas like a 6:33 A.M. timestamp!
The chain might be a bit too much.
Watch out WSOP!
Red-hot mama!
The least amount of action Faraz has seen this summer.
Was Baby Driver as good as Pulp Fiction?
Are you training for a reality survival show? Mountain climbing, and now this?!
Swimming and a hair not out of place, how do you do it?
Now, you're a DJ, too?!!! What doesn't Samantha Abernathy do?
They grow up so fast!
Looks too tame for a 30th birthday. We want to see the real pictures!
Looks like Rob Schneider has competition for the title of Hot Chick!
Jake's face says it all – good times in Vegas, baby!!!
You make camping look glamourous!
Golfing with the Glaziers! Looks fun.
Aww, so cute!
This is how you guys get ready for the main?
Look angelic and psyche out the competition, what a great strategy!
Trip of a lifetime is starting to sound like an understatement. Amazing photo!
"Be the one that looks for the best in people." Words to live by.
What are the odds that you'll both meet at the WSOP?
Save a horse, ride a unicorn. Honestly, we couldn't help but borrow that quote, Maria!
How long before we see people cruising around the Rio on these?
WSOP version of Baywatch!
A cautionary tale of why shots of Jack and PLO do not mix.
You have some good friends!
That's one stylish pup!
Meow, to you two!
Honeymoon at the WSOP Main Event? Congrats, you two!
Have you ever wanted to write your own articles about poker? Maybe you've got some experiences or opinions about poker that you'd like to share. PokerNews is proud to launch The PN Blog where you can have a platform to make your voice heard. Learn more here.