888poker Players Are Loving Flopomania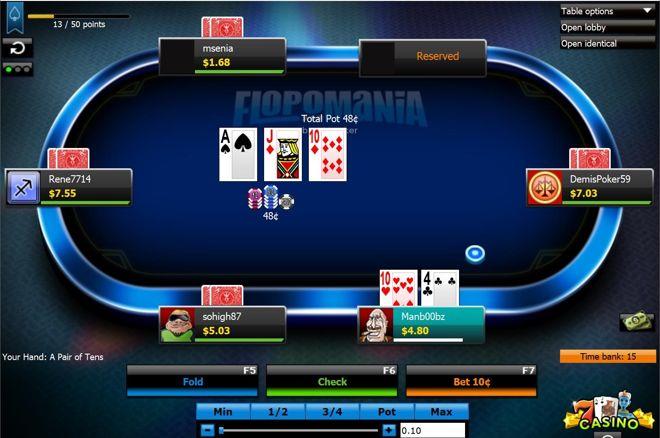 888poker released its latest innovation, Flopomania, on Aug. 20 to complement its BLAST sit-and-gos and SNAP Poker variants. Judging by the early figures released 888poker, the online poker site's players are big fans of this new game.
Flopomania removes the preflop round of betting and instead starts the hand with everyone paying and ante and then the flop being dealt. The player to the left of the button is deemed as the first player to act, and once they have done so, the rest of the game plays out like a standard hold'em table.
There is also a Push or Fold variation of Flopomania where players can either fold their hand or make a bet of 10 times the ante, a bet that caps the betting action and leads to many hands being multi-way to the river.
PokerNews put Flopomania through its paces a couple of days after the new game launched and you can read our review and thoughts here.
Flopomania Bigger Than BLAST
On the day it launched, Flopomania saw a record number of players compared to when the BLAST jackpot sit-and-go tournaments launched. The difference in the number of participants was a staggering 50 percent when you compare Flopomania to BLAST's first day online. This influx of players saw an 11 percent increase in the number of players on 888poker compared to a typical Sunday, which happens to be the busiest day for the majority of online poker sites.
PokerNews said in its review that the lack of a preflop betting round should increase the game speed significantly and we were correct because 888poker has revealed the average number of hands per hour soared by some 15 percent when compared to the site's other six-handed tables.
The early popularity of Flopomania helped 888poker break its record for the number of flops seen in cash games in a single day. August 20th was the biggest day of 2017 in regards to the number of active cash game tables running concurrently.
Speaking to the 888poker eMagazine, 888poker ambassador Dominik Nitsche said: "The first day of Flopomania was a blast, no pun intended. The timing was perfect as players logged on to play online tournaments like the Mega Deep and Whale had the opportunity to check out a new game - one with a unique twist. I know I had a lot of fun going straight to the flop and putting my skills to the test."
You can see what all the fuss is about and try Flopomania for yourself if you download 888poker via PokerNews. Doing so means you will receive a free $88 (a free £20) in cash and tournament tickets when you create your new account and then 888poker will match your first deposit 100 percent up to a maximum of $888.