The Muck: Celebrities Zedd, Piqué Shine at Final Tables in Barcelona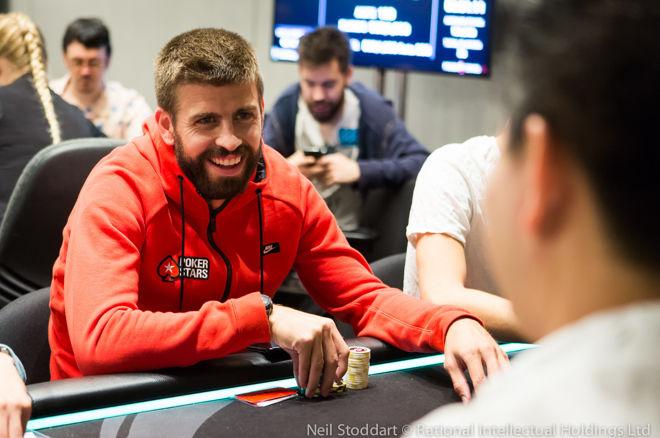 While the solar eclipse made international headlines this week, it was some stellar international star power and 'white magic' that captured the attention of the poker community and has everyone talking.
The Stars Shine Bright in Barcelona
Barcelona always attracts the big names in poker, but this year it is the international superstars making headlines at the PokerStars Championship.
Two of the world's biggest names, FC Barcelona footballer Gerard Piqué and music producer and DJ extraordinaire Zedd, made an appearance in Barcelona and are taking home paychecks thanks to their play on the felt.
After Zedd (aka Anton Zaslavski) played to a packed house at one of the best player parties of all time, he jumped into Event #25 NL Holdem - Turbo - 8-Handed and finished third for €44,000.
There was a time when Zedd was obsessed with poker, but with his busy schedule, it seems as if he can only manage a few turbos here and there these days.
He talked to PokerNews'Sarah Herring about playing the tournament, his obsession with Hearthstone, and of course, poker.
Switching gears from grooves to grass, it's not unusual to see Piqué in the field — a poker tournament field that is — from time to time. But it doesn't stop the buzz of excitement from drowning out the sound of chips shuffling when he takes a seat.
It never takes long for a crowd to surround Piqué in hopes of getting a glimpse of the international superstar. He's definitely used to the attention, and he gave his fans a show as he played his way to fifth place in the second €25,500 Single-Day High Roller, working his way through the best of the best and taking home €129,350.
If you thought his proudest achievement came on the fútbol field, you'd be wrong. It didn't come on the felt either, even though this result was his biggest cash.
In a rapid-fire Q&A with Herring, he admits his proudest achievement is "being a good dad." You can almost hear the collective sighs.
Talented, a little lucky, good looking and kind-hearted ... the bar is set very high for us mere mortals.
'White Magic' for the Win
Against all odds, Phil Hellmuth earlier this week was crowned King of the Hill, and as a result, 'white magic' was center stage on Poker Night in America's live stream of the event.
Last year, Hellmuth described white magic to Sarah Herring: "White magic is very simple. It just means reading ability. I invented the term maybe seven years ago because I was trying to tell an online phenom why I folded a hand. To them it's frickin' magic. Black magic had some negative connotations, so I went with white magic."
So while white magic isn't new to Hellmuth, it seems "the phenoms" aren't too happy with it.
I woke up at 5am dreaming that Jungleman abandon GTO for white magic and lost to the greatest poker player in the world last night ##

— gN Joey Phelps (@Joeingram1)
It was Dan "Jungleman" Cates who faced Hellmuth in the finals of the King of the Hill competition that kept mumbling "white magic" as he tried to figure out Hellmuth's play. In the end, Hellmuth came back from a 34:1 chip deficit to take the decisive third match and the belt - giving credibility to what others have been so quick to dismiss.
Whether you believe in white magic or not, we're sure there are plenty of players googling how to get it right now.
How to Play a Tournament Hungover
While everyone would like to show up rested, nourished and energized for a full day of tournament poker, let's face it, when Zedd is headlining player parties, chances are waking up with a hangover might be closer to reality.
It's no surprise the Scottish like to enjoy a pint or two, so who better to consult about playing optimally while hungover then Niall Farrell?
Farrell advises taking a few extra seconds to "make sure it's not your inner-urge to go to bed that is forcing you to put chips in the pot." Always good advice, whether playing hungover or not.
Herring spoke to Farrell to get some more tips and tricks for playing after a night of enjoying a cocktail ... or three.