Poker-Themed Movie 'Molly's Game' Gets Mostly Positive Early Reviews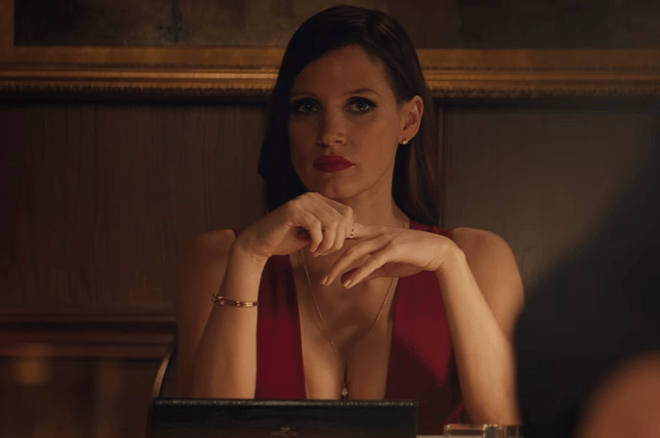 Closing in on two decades since the 1998 poker-themed film Rounders which captured the hearts and imaginations of poker players (and soon-to-be poker players) worldwide, echoes of a new hit poker movie can generate nostalgic excitement for many fans of the game.
Molly's Game, which was pushed for release to Dec. 25, might just fit that description. The new movie is based on the true story of Molly Bloom, a former Olympic-class skier who ran an exclusive underground high-stakes cash game for a decade in Hollywood before being arrested as part of an FBI sting operation in the middle of the night. Written and directed by Aaron Sorkin, the new movie stars Jessica Chastain as Bloom in a cast that also features Kevin Costner, Michael Cera, Chris O'Dowd, Idris Elba, and Jeremy Strong.
The connection between the two films does not end with the shared illicit high-stakes poker action theme, though. Part of the story of Molly's Game (from Bloom's book published in 2014) includes several Hollywood stars who allegedly played in Bloom's high-stakes poker game, including none other than the star of Rounders – Matt Damon. Coincidence?
Early Reviews Are In
Molly's Game was recently screened at the Toronto International Film Festival and has gotten some mixed, but mostly positive reviews thus far.
After 21 reviews on Rotten Tomatoes, the film has scored an 90% with only two "rotten tomatoes."
Most of those top critics admit some lacking in the film, but overall commend it. The consensus from early reviews highlights the film's intriguing story, entertaining script, and excellent casting.
Todd McCarthy of the Hollywood Reporter writes, "In his overdue directorial debut, Sorkin both entertains and makes you lean in to absorb every detail of this wild tale, which boasts a stellar cast to help tell it."
Most reviews praise in particular the casting and performance of Chastain as Bloom, and the character's development in the script as well.
Variety's Chief Film Critic Peter Debruge writes in reference to Sorkin's development of Bloom's character, "For a writer accused of misogyny in the past, 'Molly's Game' delivers one of the screen's great female parts — a dense, dynamic, compulsively entertaining affair, whose central role makes stunning use of Chastain's stratospheric talent."
Some Mixed Reviews
Three of the five "top critics" who reviewed the film on Rotten Tomatoes gave it mixed, but mostly positive reviews, including Vikram Murthi who writes, "The frequent pleasures of Molly's Game more than make up for the occasional lapse into Sorkin indulgence."
David Edelstein of New York Magazine/Vulture says, "There's a lot missing in Molly's Game, especially regarding its protagonist's personal relationships. But what's there is dandy."
And Barry Hertz of Globe and Mail gave the film a three out of four, calling it a solid debut with standout performances from Chastain, Elba, and Costner. He also describes the dialogue, which is typical Sorkin style, as being "paced at about the intensity of a jackhammer and every other sentence uttered ends on a twist of the one that came before it."
Negative Reviews
In one of the few mostly-negative reviews, Kevin Jagernauth writes in The Playlist, "'Molly's Game' is captivating only up to a certain point, because there are only so many times you can watch stacks of poker chips get higher, outfits get more expensive and low cut, and players more high rolling, before the drama becomes slightly repetitive. Particularly at two hours and twenty minutes, the story is overlong, even if to Sorkin's credit, his energetic screenplay is always moving."
Want to See?
Despite some mentions of shortcomings in Molly's Game, one thing is for sure – many are looking forward to watching the film.
On Rotten Tomatoes, the site's users can choose to click "Want to See" or "Not Interested," based on their interest in watching the movie. Of the 420 users who have used this feature on the Molly's Game page, not a single one has selected "Not Interested" so far.
For poker afficionados, there's always excitement for a film that even-partially resembles Rounders, and my guess is, many will watch Molly's Game when it is released to judge it for themselves.