The Muck: Daniel Negreanu's Massive Side Bets at the Poker Masters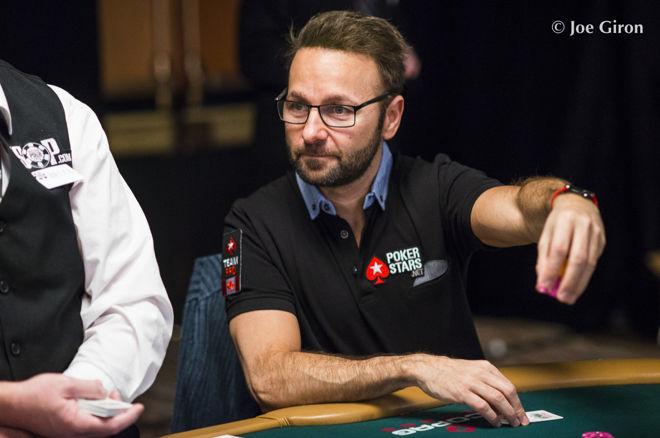 It might be a relatively slow week according to the poker calendar, but it has been anything but slow on Twitter. With side action at $1 million dollars and counting for the upcoming Poker Masters, plus an epic slow roll in California, there was plenty to sink our teeth into for the latest edition of The Muck.
Daniel Negreanu's Poker Masters Bet
While The Masters has the iconic green jacket in golf, PokerGO is betting on purple. And so is Daniel Negreanu.
The Poker Masters Purple Jacket™ will be awarded to the player who earns the most money across five high roller events to be held Sept. 13-18 in Las Vegas.
The event hosted at the Aria Resort and Casino will be live-streamed on PokerGO and the schedule is as follows:
September 13 – Event No. 1: $50,000 buy-in
September 14 – Event No. 2: $50,000 buy-in
September 15 – Event No. 3: $50,000 buy-in
September 16 – Event No. 4: $50,000 buy-in
September 18 – Event No. 5: $100,000 buy-in
Apparently, $300,000 isn't enough of a wager for Negreanu. He went on to challenge the high-stakes poker community to a little side action.
Basically, Negreanu puts $50,000 on himself to win the Purple Jacket against any one player of his opponent's choosing.
The rules seemed to be established as the conversation progressed.
A player has first dibs on their own action
If a player doesn't play any of the events, the bet is a wash. If a player plays one event, the bet stands
A player can bet on as many players as they want at $50K apiece
Negreanu indicated the action might increase to $100K later this week as interest continues to grow
Negreanu wasn't waiting for the action to come to him. He went out and poked the bear ... or Doug Polk in this case.
And then he taunted Phil Hellmuth, because who can resist that?
We're waiting with bated breath to see how this one turns out.
Here is where things stand as of the publish time of this article.
As best we can see, there are a total of 20 players on the other side — 18 from the list plus Dominik Nitsche and Igor Kurganov to make it an even 20.
Of course, this doesn't include any private messages securing action, which we're willing to bet (pun intended) has happened.
So, what we know is Negreanu is wagering $50,000 to win $1 million. Not everybody seems to be jumping on the bandwagon though.
This is an interesting line from Dan Shak, who admittedly falls somewhere between a professional and an amateur. Should this event be targeting everyone, pro and non-pro alike? It is called "Poker Masters" after all.
This story is unfolding minute by minute, and we are as excited as anyone to see how it plays out. The real winner in this scenario is PokerGO, which will no doubt benefit from all the side action happening, especially if Negreanu or one of his opponents make a run at the Jacket.
Challenging Phil's Belt
Negreanu's been busy throwing down the gauntlet on Twitter these last few days.
What started out as a little tweet promoting his latest podcast turned into Negreanu, Polk and Shaun Deeb challenging Hellmuth for his King of the Hill title, with a little podcast advice thrown in for good measure which makes for a very entertaining thread.
The next King of the Hill event seems to be taking shape: Negreanu, Polk, Deeb, and Hellmuth. Hey, Poker Gods, can you make this happen?
The Slowroll Heard Around the World
We're not sure anyone has milked their 15-minutes of fame more than Will Kassouf. His appearance on Poker After Dark and more recently on Live at the Bike continues to bring out the lovers and the haters - with not much in between.
Usually, we're talking about his tilting table talk. But not this time. He upleveld his table-talk game by adding an epic slow roll into the mix. And the results extended his 15-minutes, once again.
See for yourself. The video is a bit long, because, well ... it is a slow roll.
And as if on cue, both lovers and haters came out of the woodwork.
Chances are this kind of offensive play won't do him any favors in the long run. We have two words for you ... Jamie Gold.
Hellmuth in A Word
There is no doubt that Phil Hellmuth has had a stellar few weeks. He:
Was interviewed several times in the mainstream media promoting his book
Silenced his critics by claiming the King of the Hill title
Joined the WPT team as host of the Raw Deal
Placed second at the WPT Legends at The Bike
On the surface, it might seem difficult to describe Hellmuth to anyone outside of the poker world - he is a unique character after all. In fact, the topic of Hellmuth often results in players and fans being at a loss for words.
We love a good challenge here at PokerNews, and our very own Sarah Herring went on a quest to learn what other poker players and media have to say about Hellmuth ... in one word.
Everybody needs an account at one of these online poker rooms! They're the biggest, the best, and we get you the best poker bonuses. Check out our online poker section for details on all the online poker rooms around.