Amanda Gillard Wins the 2017 WSOP Sydney Ladies Event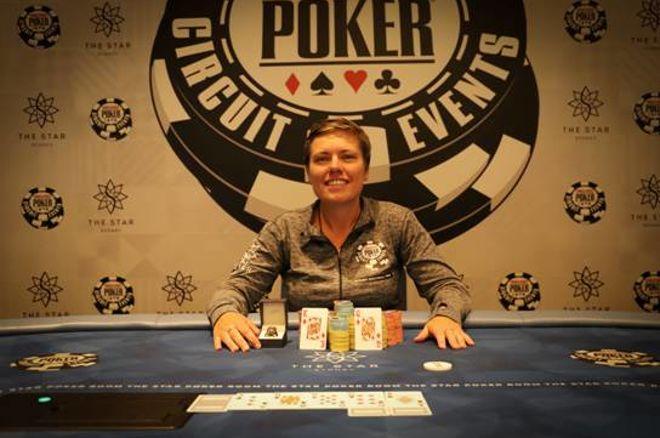 The 2017 WSOP Sydney Circuit Ladies Event saw 117 female poker players invest $330 and take to the felt to fight for their share of the $35,100 prize pool.
The Star Poker Live Reporting Team was able to spot several notable local female poker players, making the quest to claim a ring a tough one. The list includes Amanda Wong, Hannah Lee, Suzy Khoueis, Mele Poulivaati, Fidan Shevket, Jen Bernard, Michelle Psarras, Ashleigh Tran, Jane Howard, Erolyn Strang and Despina Yiannikoulias.
While the field was full of talent, it was the presence of Khoueis that had everyone talking. Not only was Khoueis the reigning champion in this event, she also won the 2017 Star Poker Festival Ladies Event and the 2017 Sydney Champs event. It was not lost on the field that Khoueis had won every ladies event in the past year held in the Star Poker Room.
Unfortunately, that notoriety worked against her as Khoueis failed to make the money. It was tough going for the notables and even being the chip leader for most of the day did not guarantee a paycheck. Just ask Vuka Mani, who went from big stack to bubbling the tournament in relatively short order.
Eliminations seemed to be happening rather quickly. The field made the money after about seven hours of play and the final table came together a short time later.
The Final Table
| Seat | Name | Chips |
| --- | --- | --- |
| 1 | Quin Jian | 89,500 |
| 2 | Amanda Gillard | 132,500 |
| 3 | Mele Fisiihoi | 56,000 |
| 4 | Stephanie Lee | 214,500 |
| 5 | Evelyn Ruiz | 199,00 |
| 6 | Leanne Haas | 296,000 |
| 7 | Miki Wan | 63,000 |
| 8 | Luba Pase | 13,000 |
| 9 | Queenie Kim | 111,000 |
It didn't take long for the first elimination of the final table to happen. Luba Pase who managed her short-stack through the bubble and three additional eliminations to log a final table appearance found herself behind with K♣J♠to Stephanie Lee's 10♦10♥. Pase failed to improve and her final table appearance came to a quick end earning her $904.
On the heels of Pase's exit, there was a three-way all in. Mele Fishiihoi moved all in for her final 20,500 from early position. Evelyn Ruiz made the call and the action folded around to Miki Wan. Wan pushed her entire stack of 45,000 into the middle, and again Ruiz made the call.
Ruiz had her opponents covered, putting Fishiihoi's and Wan's tournament lives on the line.
Wan: A♦10♣
Ruiz: A♣4♣
Fishiihoi: A♥K♣
The wait was over when the flop of 9♣8♣2♣ was dealt giving Ruiz the nut flush. Having the smallest stack to begin the hand, Fishiihoi was eliminated in eighth place earning $1,134 and Wan claimed the seventh-place prize of $1,447.
It was at this time that Amanda Gillard began to make her presence known and start amassing chips and Stephanie Lee was her target. Gillard was all in with A♣A♦ against Lee's A♥J♦. Gillard's hand held, leaving Lee with just 6,000 chips and ultimately a sixth-place finish for $1,882 a few hands later.
Gillard continued the pressure when she raised to 45,000 preflop and was called by Queenie Kim. The flop came K♣6♥9♥. Gillard continued for 60,000 and Kim called. Both players checked when the Q♠ fell on the turn. The J♥ river prompted a shove from Kim and a snap-call from Gillard. Kim soon saw that her 7♠7♣ was no match for the rivered straight of Gillard who held A♣10♣. Kim earned $2,493 for her fifth-place finish.
Ruiz was eliminated in non-traditional fashion when her stack was blinded off after she had to leave the tournament due to prior commitment. Her friend, Quin Jian claimed her final 3,000 chips and Ruiz officially became the fourth-place finisher collecting $3,366.
Jian followed her friend to the rail after moving all in for her final 207,000 with 4♣4♥. She was looked up by Gillard who held A♦2♦. Gillard spiked an ace on the turn to send Jian packing with a $4,633 paycheck, setting up a heads-up contest between Gillard and Leanne Haas.
Heads up play was short and sweet, at least for Gillard. Gillard had the chip lead when all the chips went into the middle.
Hass: Q♥J♠
Gillard: K♦Q♣
While both players hit their queen, the 3♣Q♠8♦6♥A♠ board did not provide the necessary help for Hass. She was eliminated in second place earning $6,508 for her efforts.
Final Table Results
| Seat | Name | Prize |
| --- | --- | --- |
| 1 | Amanda Gillard | $10,354 |
| 2 | Leanne Haas | $6,508 |
| 3 | Quin Jian | $4,633 |
| 4 | Evelyn Ruiz | $3,366 |
| 5 | Queenie Kim | $2,493 |
| 6 | Stephanie Lee | $1,882 |
| 7 | Miki Wan | $1,447 |
| 8 | Mele Fishiihoi | $1,134 |
| 9 | Luba Pase | $904 |
"This is what I came here for," Gillard told the Star Poker Live Reporting team.
"An hour into today's play I was down to just 2,900 chips," Gillard said. Considering the starting stack was 10,000, Gillard was adept enough to know she had an uphill battle ahead.
"I just stayed focused and kept playing my game. There was a key hand with two and a half tables to go. I had pocket sixes and was all in against two other players. I held there and that gave me the chip lead."
But as we saw earlier in the tournament, being chip leader held no guarantees and she had a tough final table to navigate. Gillard kept her cool, picked her spots and stayed focus on the prize and it paid off with some shiny new jewelry and a nice paycheck.
"This place is amazing, it is a great place to play poker," Gillard said. "I will definitely be back here when the Star Poker Festival is on next year to represent my APL Outer West team!"
There is Still Plenty of Action Down Under
The 2017 WSOP Sydney Circuit is just getting started with events scheduled daily through December 18, 2017. The full schedule can be found on the StarPoker website.