Another Trophy for Meijer van Putten in Prague
Last year in Prague, the PokerStars European Poker Tour had its last-ever stop. While rumors have surfaced that PokerStars is bringing back the EPT branding for 2018, that has been anything but confirmed, so for now, 2016 EPT Prague was the last stop of the illustrious poker tour. Dutchman Jasper Meijer van Putten took down the tournament, beating a massive field of 1,192 entrants to take home €699,300.
This week, under the banner PokerStars Championship, PokerStars returned to the Czech capital. And so did Meijer van Putten. He strolled into the casino, planning to start his week of poker with the €1,100 National Championship. Instead, he jumped into the €10,000 High Roller and ended up taking down the event for €150,000. We caught up with Meijer van Putten after his win, the second-most significant score of his poker career.
"[The event] looked really good. So right there on the spot, I decided to jump in."
"Jans [Arends] and I arrived on Thursday, and I didn't plan on playing the €10,000 High Roller," Meijer van Putten said. "I was going to play the €1k on Friday, while Jans would be playing the €10,000."
Arends, who plays online as "Graftekkel", is considered one of the best players in the world, and did end up playing. But Meijer van Putten decided to join him.
"We walked downstairs and saw the event had three tables, and it looked really good. So right there on the spot, I decided to jump in."
While it's result-oriented to say it, but the decision would turn out well for the young Dutchman. Three days later, he lifted the trophy. According to Meijer van Putten, the first two days went by relatively easily, smooth sailing for him.
"At the final table, it got a bit tougher, but there were no significant hurdles really," he said. "Eventually, I faced [Timothy] Adams, [Markus] Dürnegger, and [Preben] Stokkan on Day 3."
As Dürnegger and Adams busted early on the final day, Meijer van Putten was sitting heads up for the title with Stokkan. Meijer van Putten started out with a 2-1 chip lead and they never really talked deal.
"When we got heads up, I told him we could discuss a deal right then and there, or not at all," Meijer van Putten said. "I wasn't willing to talk deal when he felt like it. He instantly told me he wanted to play as well, probably because of his recent big score. So we never talked about it anymore after that."
As the two were quite deep when heads-up play started, the mano-a-mano fight took some time. The battle eventually lasted four hours, and Meijer van Putten came out on top.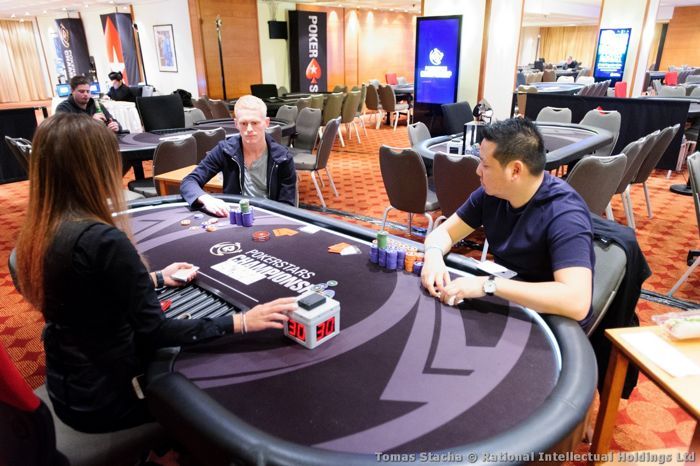 The trophy might have been a bit smaller than the one he snatched away last year, but the €150,000 cheque was still the second biggest score of his career. Yet, there were no celebrations afterward.
"I have to admit that there wasn't much of a party," Meijer van Putten said with a wry smile. "Like last year, I was kind of sick again. I went back to my room after the tournament was done, I jumped right into bed.
"Prague is definitely my lucky city, having won the Main Event last year and the €10k this year. But, and this must be said, the event only had 49 entries, so it wasn't big or anything. That doesn't take away from the feeling, however, it's really cool to have won this event."
"This win is just a nice bonus for the year. Nothing will change for me."
While his bankroll and confidence both got a boost, his ego didn't, it seems.
"I won't be playing the €25,000 and €50,000 events, but I'll for sure play the Main Event and the second €10,000 they have here this week," he said. "Of course, I'm not going to be playing all of the high rollers now. I'm just going to do what I was already doing. This win is just a nice bonus for the year. Nothing will change for me."
While this win didn't alter anything for the Dutchman, last year's certainly did. All of the sudden, he went from being a poker player only known by the real in-crowd to becoming a recognizable face. If winning has its drawbacks, that may be one for the soft-spoken, humble Meijer van Putten.
"A lot of people recognized me here," he said. "It started at the check in already. I've had quite a lot of reactions coming back here this year.
"I'm not the biggest fan of it. It's just part of it, but it's not like I'm looking for all the attention."
2017 PokerStars Championship Prague €10,300 No Limit Hold'em - 8 Handed (49 entries)
| Position | Player | Country | Original Prize | Prize in US$ |
| --- | --- | --- | --- | --- |
| 1 | Jasper Van Putten | Netherlands | €150,000 | $177,192 |
| 2 | Preben Stokkan | Norway | €108,000 | $127,578 |
| 3 | Timothy Adams | Canada | €69,000 | $81,508 |
| 4 | Markus Dürnegger | Austria | €52,200 | $61,663 |
| 5 | Quan Zhou | China | €40,400 | $47,724 |
| 6 | Ben Heath | United Kingdom | €30,800 | $36,383 |
| 7 | Sam Greenwood | Canada | €24,900 | $29,414 |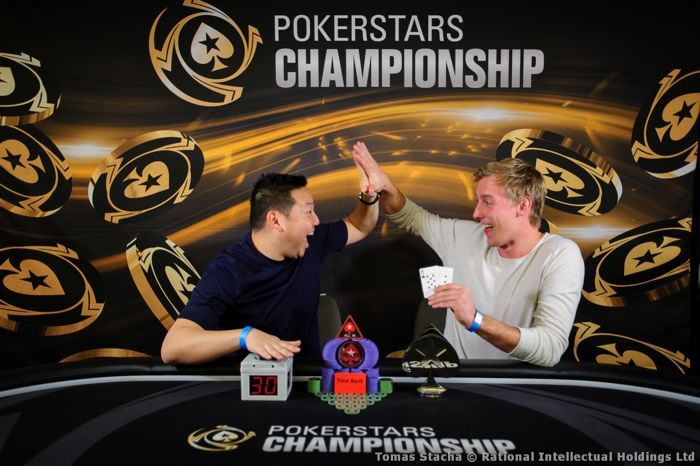 Everybody needs an account at one of these online poker rooms! They're the biggest, the best, and we get you the best poker bonuses. Check out our online poker section for details on all the online poker rooms around.