Meet the Perrys: Sean Perry Got to Play with Pops at WPT Five Diamond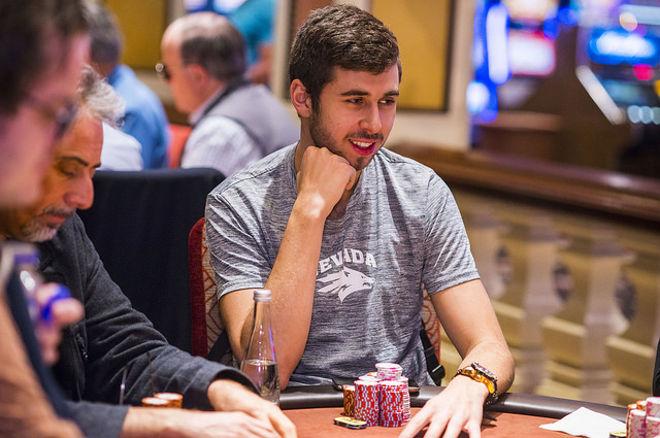 "I just figure there's no way I don't win."
Those are the words of a 21-year-old, not beaten down yet by the world. But when you talk to this young man, you get the sense that nothing in this world is going to get him down.
His confidence is overwhelming — it makes you believe in every word he says. According to his mother, Merri Perry, Sean is "the Golden child" — "an amazing kid."
Okay, she's a bit biased. Of course any mom would say that about her prized child. But it's true — this kid definitely has something special. And for Sean Perry, poker is in his blood on both his maternal and paternal side. He's the son of bracelet winner and high stakes cash regular Ralph Perry, who was seated next to him on Day 4, and according to his mom, poker comes from her side too. She plays a bit and her mother played professionally.
Even though he is only 21, Sean has been playing poker since he was very young. In fact, the first tournament he ever won was a charity event held at a local high school to raise money for breast cancer awareness when he was ten or eleven years old.
"So I tried to go enter, it was a $100 buyin. They were like 'sorry, you're under 21 you can't play.' And my mom goes to the guy and says, 'It's a charity. Let him play. Obviously he's not going to win it. Let him get in for 25 bucks. So they let me in for $25. It had to be like 600 or 500 people or something, and I end up making the final table and I'm playing heads up against my mom."
As if this story wasn't amazing enough.
"I beat her. I start standing on the table and cheering, right? I was so happy and I won this nice package like a private helicopter tour, expensive bottles of wine, and like wine making, so I gave it to my father to take my mom on Valentine's Day back in the day."
Happy Birthday Week
Sean told PokerNews on Day 4 after the bubble burst, since he found out six months ago that this event was the day of his birthday, he's been telling everyone, "I promise, no doubt in my mind, I'm shipping this. And here I am in a pretty good spot. I mean obviously it's not over, but."
Though he busted two bullets on his actual birthday on Day 1, bullet number three has been a charm, and Perry doesn't even need birthday rungood anyway.
"Oh I run good, I'm young, I'm 21, I play big cash games, run pretty good there, ran pretty good in the tournament so far, so I just figure there's no way I don't win.
"I typically do fire a lot of bullets in tournaments because I play very aggressive, but it's fine to fire bullets when first place is 200 bullets. I always play to win and I play to go super deep, so usually when I'm in tournament situations I get a lot of chips and on the money bubble, I love the money bubble. I apply a lot of pressure. I play every hand. So it's exciting!"
His bubble pressure was quite evident to all at his table and it seemed to be working out for him. In the 13th hand of hand-for-hand play, Perry won a big pot that propelled him into the chip lead with the aggressive play he was referring to. Sean put in a three-bet from the hijack with king-five offsuit after Artem Markov raised under the gun. Sean continued on the queen-high flop and again when he paired his king on the turn. He called Markov's semi-bluff check-raise on the turn and his river bet when a blank completed the board to take down the pot.
Playing with Pops
Making a deep run in his first Vegas tournament as a 21-year-old is great, but for Sean, getting to sit next to his dad in the event made it all the more thrilling.
"What was really exciting was I couldn't wait to play with my father. That's pretty insane, father and son duo right next to each other. I almost bubbled him. He jammed on me and I almost called him with queen-ten off for like 20 bigs but I was like, 'Nah, you got this one.'" Perry chuckled at the prospect, and also laughed about having position on pops.
Sean says his father plays games like $1,500/$3,000 mixed games with all the big name pros, so to have the chance to play with him at the table on this stage is amazing.
"I grew up always sitting behind his computer watching him play poker, like talking hands I played with him or psychology or stuff. And here I am on the big stage in Vegas, at the Bellagio. I'm 21 now, and then we're just super deep in a $10K buy-in playing for two million dollars, and he just happens to be right next to me. It's a pretty unreal situation."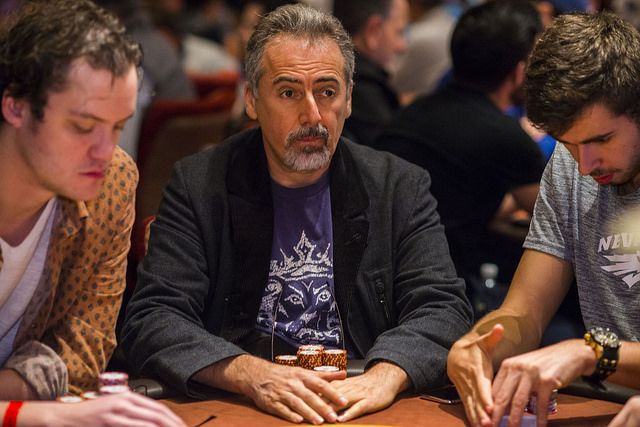 He said he was hoping to get to play his dad heads up in this one, but unfortunately that wouldn't be in the cards, as Ralph busted in 47th place when his aces failed to hold up against the tens of [B]Chino Rheem.[B][/B]
That cash was added to Perry's more than $3 million in tournament earnings, which includes a WSOP bracelet as well as a third-place finish in the 2002 WSOP Main Event worth $550K. He also won the Bellagio Five Diamond Poker Classic in 2006, one of the years that the event was a preliminary rather than the WPT Main Event.
Apart from all the tournament success, Ralph is known to play in some of the biggest cash games around, as his son mentioned, and apparently his success and advice has rubbed off on his son. According to Sean, his father has been like a mentor to him and the main things dad has impressed upon him in regards to poker have been less about strategy and more about the psychology behind the game.
"Not to go broke, don't play above your bankroll, above your head, keep composure."
What is perhaps even more striking when watching these two seated at the table side by side is the disparity in their table presence — Ralph silent, stoic and Sean — well, not.
Sean laughed. "He's like the complete opposite as me because he's very quiet and I'm very loud, outspoken. I talk a lot."
His mother confirmed, "They're as opposite as possible."
Now that he is 21, Sean says he will be spending more time in Vegas, but before this one, he was mostly going to Florida to play at Seminole Hard Rock where you can play at the age of 18. He left Cal Poly in his second year to pursue poker and since March, racked up nine cashes for $110K, all from Seminole.
Now that he's of age Sean says, "You're going to probably be seeing me here every day, around the Bellagio." And he's still going deep in the Five Diamond, vying for the chip lead as the final table approaches. You can check the WPT live updates to keep tabs on his progress.
Photos courtesy of WPT/Joe Giron
Everybody needs an account at one of these online poker rooms! They're the biggest, the best, and we get you the best poker bonuses. Check out our online poker section for details on all the online poker rooms around.