Lauren Roberts: Doing it for the Girls at WPT Five Diamond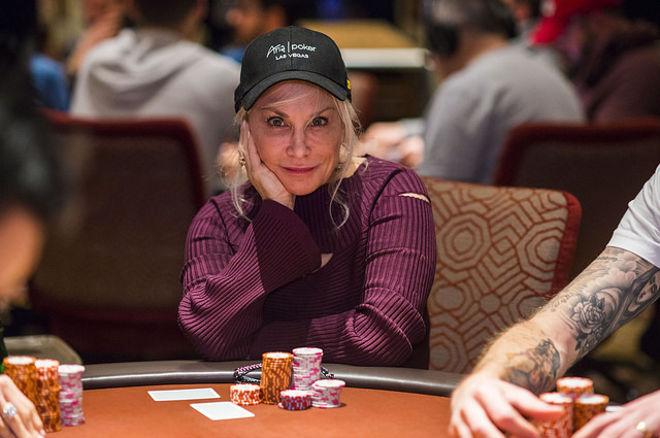 In the U.S., it is usually the boys in the family who are encouraged to pursue math and science, starting early on with the toys they receive as young ones. The fact that those fields are made up of majority men with the culture that comes with that at times is yet another deterrent for women to join — and let's be honest — the same goes for poker.
That child-rearing pattern did not follow for the upbringing of Lauren Roberts. And she aims to change that last part too.
"I was just raised like a boy," she tells PokerNews. "My dad wanted a boy. I was the oldest, and my dad came from nothing, didn't have shoes to get married in. He was doing his Ph.D. in Physics from MIT and then, from an immigrant family, he made something in science, so that was the only place I was going to go."
In addition to being encouraged to pursue math and science, Roberts grew up in casinos and her dad counted cards. He also plays poker and he's the one that eventually got her into the game that she would fall in love with.
You've seen her playing in big cash games on Poker After Dark on PokerGO and before that, frequenting WSOP, WPT and Super High Roller Bowl tournaments. But in between battling the best of the best in high stakes cash games, Roberts can be found trading equities and derivatives in the stock market.
Finance and Poker
With a bachelor's in Computer Graphics and an MBA, both from Carnegie Mellon University, Roberts used to run a hedge fun and now trades her own capital using systematic models based on data and statistics — models she developed herself. That's how she makes her living, but poker is her passion. She says she is thankful she doesn't have to play for a living, but has the utmost admiration for those who do, as she understands how hard it must be.
"In the markets, I can hedge my downside. When you're all in, there is no hedging, there is no insurance. But the concepts are identical, so my background helps me in poker."
We asked Roberts about some of those parallels between the trading and poker worlds.
"Bankroll management, mathematics, psychology. Fear and greed dominate the market. It's the same thing in poker. I mean, I could go on for days about the parallels. It's almost identical because it's just calculated risk-taking. It's just, at a poker table, or in the financial markets."
Because her models are mostly automated and she can work from anywhere, she can sneak a lot of poker into her schedule.
"Years ago when I played WSOP, I would come in at six in the morning from playing all night, enter all my trades, trade the open and then go to sleep, wake up for market close."
Now that is passion.
Good Karma at the WPT Five Diamond
Two of Roberts' seven tournament cashes, including her only six-figure score to date, came in the WPT Five Diamond World Poker Classic at the Bellagio, and she is back at it again this year.
Her goal the first time — in 2014 — was to min-cash, which she did. In fact, Roberts and Kathy Liebert were the only two women to cash the event that year and according to Roberts, she was "really thrilled" about that.
The next year, Roberts came in seventh place for over $173,000. It was right after she got married and she just loves the Bellagio where she has been playing for years.
"There's good karma in this room. This is my favorite tournament."
According to Roberts, "Every year I say I want to play more tournaments and work on my tournament game," but she thinks this is going to be the year. Last year she moved from Los Angeles to Vegas and she's been really working on her cash and tournament game.
"I really have a great time when I go to tournaments. And I love to play them. I never thought I would. So this year I think I'm going to try to make a real mark in tournaments and increase my experience. The experience is invaluable. The best players I know, I try to talk to everyone that I think is a phenomenal poker player and they just play thousands and thousands of hands."
"I really try to talk hands with any of the people I really admire. And players in general, there are a lot of really amazing people in poker."
She says she tries to talk hands with any of the people she really admires. She enjoys playing with Jean Robert Bellande and Antonio Esfandiari, some of her regular cash game opponents, but there's another who she thinks is really great.
"I think Jake Schindler is an unbelievable player — one of the best."
She recounted her experience two years ago when she got seventh place.
"[Schindler] came up to me, and at that point I was too stupid to even know what I was up against and he said, 'You took all my chips,' and I had no idea how good of a player I had felted."
Fast forward to the same event this year and these two were seated at the same table earlier in the tournament.
"I was joking, 'ha ha, Jake, are you going to give me all your chips?' And unfortunately, he gave me all his chips. Which I thought was a good omen."
Roberts is amazed by the skill level of the game in the high rollers she plays and that works for her. "I'm never complacent. I'm never good enough and I want to finesse every hand, so it drives me. I love it."
For the Girls
When asked what motivates her to play in the big televised games like PAD, she explained that she has gotten great feedback in person and on Twitter, from both men and women, even though according to Roberts, "for whatever reason, I haven't played too well when I've been on Poker After Dark, though I think it benefits me in a tournament."
The following clip provides just one counter-example, in a hand where Roberts was able to get away from top pair, top kicker with ace-king against Dan Shak's aces on the turn of a pretty dry board — a fold that tablemate Jason Koon called "legendary."
A "legendary" #PokerAfterDark lay down protects @PlayPokerLkAMan's # early in the "High Stakes Hybrid" opener. LIVE… https://t.co/p6EGB7h6DW

— PokerGO (@PokerGO)
"I think if one girl majors in math, or one girl says, 'look, she sits at that table with all those guys and she doesn't let them bully her,' and I've had so many people come up to me and say, 'oh my God, I love watching you.' For that reason. That's why I do it, because women traditionally don't tend to go in those male-dominated worlds and I've lived in them my whole career. I'm comfortable in them, I like it. I think that's really my main motivation."
She said she hopes that more women will be encouraged to get into poker for the future of the game, and noted that there are some "phenomenal" female players now.
From Bad, Comes Good
Although her father tried to encourage her to play poker for years, it wasn't until 2008 that Roberts picked up the game. She was having to spend a lot of time in and out of the hospital after being diagnosed with breast cancer. Feeling down and not wanting to leave the house, Roberts started playing $.01/$.02 cash games online and fell in love with the game.
"You know, out of bad, there's always some good shit that comes."
Now nine years healthy, Roberts is happy to be playing poker at her favored venue in a tournament she has had great success in, and her stack on Day 3 has been going in the right direction.
"I'm doing it. I'm doing it for the girls."
Lead photos courtesy of WPT/Joe Giron
Finding a trustworthy room to play online poker can be a monumental burden. That's all the more true if you're just looking for a place to play poker for free. We've listed five of the best play-money poker sites to enjoy and help hone your skills.