Inside Gaming: Supreme Court Appears to Favor NJ in Sports Betting Case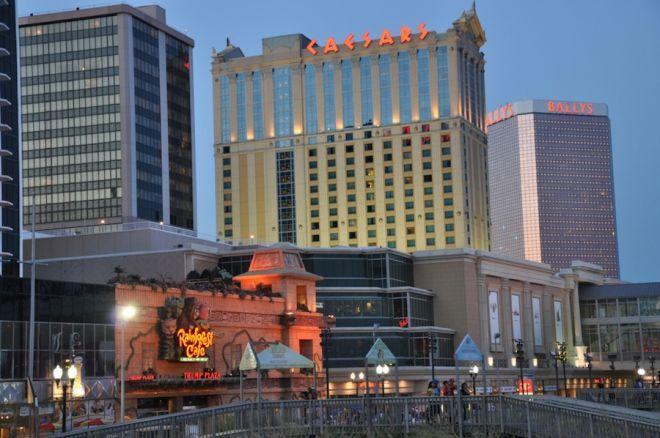 This week's Inside Gaming begins with the Supreme Court hearing oral arguments this week in a case that will determine the future of sports betting in the United States, reports on more post-bankruptcy transactions by Caesars, then looks at news of a reported deal involving Wynn Resorts purchasing some Strip real estate.
Supreme Court Hears Sports Betting Case, Justices Appear to Favor States
As we discussed here last week, the United States Supreme Court heard oral arguments on Monday in the case of Christie v. National Collegiate Athletic Association in order to help the court decide upon the constitutionality of the Professional and Amateur Sports Protection Act of 1992 (PASPA), the federal law currently prohibiting most state-sponsored sports gambling.
It's a decision that will have great impact not only upon the future of sports betting in America, but also (potentially) upon a myriad of other issues in which individual states' sovereignty is challenged by federal commandeering.
The Supreme Court won't be releasing its decision in Christie v. NCAA until next year, with January 22 the earliest possible date for a ruling and June 29 the latest. However, early analysis of the justices' responses to Monday's arguments suggests the potential for a favorable ruling for New Jersey.
That was the response of Amy Howe of the SCOTUSblog, who after outlining the arguments and subsequent questioning determined "Justices seem to side with state on sports betting." So, too, did Scott Bomboy of Constitution Daily come away with the impression that "comments from two likely swing votes in the case indicated at least part of the Court's expected decision next year could go the state's way."
Legal Sports Report is a good resource for those wishing to follow all aspects of the case in which New Jersey is appealing PASPA in order to be allowed to offer sports betting in the Garden State, with the potential existing for a ruling to open the door to other states following suit.
On Tuesday LSR's Dustin Gouker provided a summary and analysis of the proceedings, likewise finding a majority of justices appearing to side with NJ in the case. That article compiles other responses to Monday's hearing, showing that commentators from The Washington Post, The New York Times, National Public Radio, the Associated Press, and NBC all similarly think a majority of justices are currently siding with NJ (with 6-3 a commonly cited possible vote by those counting).
As Gouker rightly points out, however, "a lot will go on before we finally hear a decision," including behind-the-scenes conferring that could cause individual justices' thinking to evolve and positions to change.
Caesars Sells Real Estate Assets of Harrah's Las Vegas to VICI Properties
Since its largest operating unit recently emerged from bankruptcy, Caesars Entertainment Corporation hit the ground running with the announcement of an intention to purchase the Indiana-based casino and horse racing company Centaur Holdings LLC for $1.7 billion.
As part of the plan to fund that purchase, Caesars has reached an agreement last week with VICI Properties to sell the real estate assets of the Harrah's Las Vegas hotel for a purchase price of $1.14 billion in cash, reports Reuters.
VICI Properties is a real estate investment trust (REIT) with a portfolio of numerous gaming facilities including Caesars Palace in Las Vegas. In October, VICI Properties completed its spin-off from Caesars Entertainment Operation Company, the operating unit of Caesars now no longer under bankruptcy.
Caesars will continue to operate the Harrah's Las Vegas casino and hotel operations as well as all other amenities. Meanwhile the agreement also calls for Caesars to purchase from VICI 18.4 acres of adjacent land to develop a 300,000-square-foot convention center.
A press release from Caesars specifically characterizes the proceeds from the Harrah's sale to be "the primary source of funds" for the Centaur purchase.
Caesars CEO Mark Frissora describes the transactions as "demonstrat[ing] our commitment to pursuing growth opportunities while maintaining balance-sheet discipline." Frissora added that "the acquisition of the adjacent land and development of the convention center allows us to develop another important destination right in the middle of our center-Strip footprint."
Wynn Reportedly Purchases Alon Las Vegas Site
In other Vegas real estate news, on Wednesday Vital Vegas shared the story that Wynn Resorts has reportedly purchased the site on which resides the unfinished Alon Las Vegas project across the street from the Wynn and Encore casinos on the Las Vegas Strip.
"The asking price was $400 million," Vital Vegas reminds us, though notes "it's highly unlikely" the amount was that high.
We reported in December 2016 how Crown Resorts, one of Australia's largest gaming groups, had chosen to scrap its Alon Las Vegas project. Located on the site of the old New Frontier Hotel and Casino (closed and demolished in 2007), Crown purchased the almost 35-acre site in 2014 for $280 million and began construction the next year, though never got beyond modest building and planning before pulling the plug.
Citing "a source familiar with the sale," Vital Vegas reports Wynn "is likely to build a new casino resort on the Alon site, including extensive upscale shopping."
No official announcement of the sale has been made by either party as yet.
Photo: "Caesers at Atlantic City, New Jersey," momentcaptured1. Creative Commons Attribution 2.0 Generic.