Inside Gaming: DraftKings to Sponsor Upcoming WPT European Championship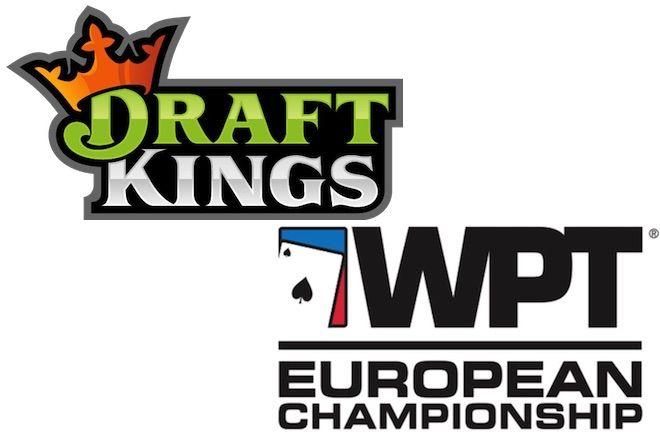 This week's installment of Inside Gaming begins with a new partnership connecting daily fantasy sports and tournament poker, discusses news of the Caesars Entertainment Corp. — its largest operating unit freshly free from bankruptcy — announcing a major new purchase, moves over to talk of the Stars Group likewise eyeing possible acquisitions in the near future, reports on some rulings in Iowa regarding possible casino expansion, and shares the latest revenue report from New Jersey.
DraftKings Returns to Poker with WPT Partnership
DraftKings will soon be reconnecting with the world of live tournament poker once again. Last week came an announcement that the daily fantasy sports giant had reached an agreement with the World Poker Tour to sponsor the Season XVI WPT European Championship in Berlin, Germany in January 2018.
The WPT shared the news last Friday. "It is with great pleasure that we welcome industry leader DraftKings as a sponsor," commented WPT CEO Adam Pliska. "We look forward to providing a great experience for World Poker Tour players."
It's not the first go-round for DraftKings and WPT. It was just over four years ago to the day the site became the poker tour's exclusive DFS partner for the remainder of the tour's 12th season, an agreement continued into Season 13 before concluding.
Then in 2014 the World Series of Poker took on DraftKings as an official sponsor, a partnership that continued through late 2015 until a Nevada ruling classifying DFS as gambling served as the catalyst to end that relationship.
In connection with the new sponsorship, DraftKings is currently running daily fantasy qualifying contests in which winners will receive entry into the €3,300 buy-in WPT European Championship Main Event as well as expenses for travel and accommodations.
When the event takes place at the Spielbank Casino in January there will be "additional on-site DraftKings promotions with attractive prizes."
Caesars Follows Bankruptcy Exit With Centaur Holdings Purchase
It was nearly three years ago when Caesars Entertainment Operation Co. — the largest operating unit of Caesars Entertainment Corp. — filed for bankruptcy. Finally, after obtaining approvals from regulators and consolidating with the Caesars Acquisition Company, the unit finally exited bankruptcy last month.
Embarking on a new era for the company, Caesars wasted little time looking to expand once again, yesterday announcing its intention to purchase the casino and horse racing company Centaur Holdings LLC for $1.7 billion in cash, reports Reuters.
Based in Indiana, Centaur's properties include the Hoosier Park Racing & Casino in Anderson about an hour northeast of Indianapolis and the Indiana Grand Racing & Casino in Shelbyville about a half-hour southeast of the state capital. Both will be added to Caesars' Total Rewards network.
"The acquisition of Centaur represents an excellent opportunity to enter into a growing region," said Caesars President and CEO Mark Frissora in a press release regarding the purchase.
The release notes the cash deal included $1.625 billion at closing and $75 million in deferred consideration.
"We are impressed with Centaur's operations and culture, and the strong presence it has built in its host communities. Together, we will build on our respective value creation and execution achievements for the benefit of customers, employees and local partners," added Frissora.
Stars Group CEO Intimates Acquisition Plans
Also from Reuters this week comes news regarding future acquisition plans of the Stars Group Inc., including the potential to raise up to $2.5 billion toward such efforts.
While not specifying which companies the online gaming and betting company may be interested in acquiring, Stars Group Chief Executive Officer Rafael Ashkenazi told Reuters that talks had already begun.
"Ashkenazi said he is looking at buying either one big company or three to five small-to-medium companies," reports Reuters, who adds that while the Stars Group seeks "to infuse money to expand its fast-growing online casino and sports betting businesses, it expects poker to continue to be its biggest revenue generator over the next five years."
After previously serving as CEO of the Rational Group, Ashkenazi became CEO of Amaya in 2016 following the resignation of David Baazov amid insider trading allegations, with a trial in the Quebec Court scheduled to begin later this month.
Amaya rebranded as the Stars Group three months ago. Last week the Stars Group reported increased revenues for the year's third quarter, with the casino and sportsbook up 48 percent year-over-year ($95.2 million for 3Q) and revenues from poker up 12.5 percent ($221.4 million for 3Q).
One Iowa Casino Plan Moves Forward, Others Rejected
There were two contrasting stories emanating from Iowa this week having to do with future casino expansion in the state.
The first story came Wednesday, one delivering positive news for the Ponca Tribe of Nebraska who for a decade have been pursuing a plan to build a casino on land the tribe owns just over the Iowa border in Carter Lake, reports The Omaha World-Herald.
The proposal for a casino featuring 2,000 slot machines, 50 table games, and 150-room hotel was first made in 2007. The location is not far from the three existing casinos in Council Bluffs and only minutes away from Omaha where, like the rest of Nebraska, casino gambling is not allowed.
A federal lawsuit was soon filed by Nebraska, Iowa, and the City of Council Bluffs, with the National Indian Gaming Commission ruling that the tribal land could be used for a casino. That ruling was reversed in 2010 by the 8th Circuit Court of Appeals, eventually leading to the case being reviewed a second time.
In its favorable ruling this week, the commission stated it had followed both the appellate court's order and recommendations from the U.S. Department of the Interior of which the Bureau of Indian Affairs is an agency. Opponents to the plan are now considering whether or not to appeal of the new ruling.
Meanwhile on Thursday the Iowa Gaming Commission rejected multiple proposals to build a new casino in Cedar Rapids. The Associated Press reports three different proposals of varying size were voted down by the commission, with those voting against it citing concerns that a new property would negatively affect existing Iowa casinos.
Two of the proposals had come from the Cedar Rapids Development Group, one similar to an earlier proposal for a $196 million development and a second for a $106 million one. The third from Wild Rose Entertainment for a smaller, "boutique" casino for $42 million was also rejected.
Internet Gaming Win Once More Boosts Atlantic City Monthly Revenue
Finally, just to touch base quickly with the latest gaming revenue report from New Jersey, Atlantic City's seven operating casinos posted a 1.7 percent increase in October, earning $206.4 million for the month compared to $203 million in October 2016.
Much as was the case in September as well as in preceding months, casinos enjoyed a significant boost from online gambling revenue without which they would have experienced an 0.3 percent decline year-over-year, summarizes the Associated Press.
The Golden Nugget enjoyed a total gaming win (including both casino and internet) increase of 17.5 percent for the month from $20.6 million to $24.2 million. Indeed, only the Borgata showed a monthly decrease (of 7.4 percent) while posting the largest total gaming win of the operating casinos (as usual), earning $59.4 million in October.
For the year-to-date, the casinos' total gaming win is up 2.2 percent overall compared to a year ago.
The Stars Group owns a majority shareholding in iBus Media.