Inside Gaming: Online Win Adds to Strong September for Atlantic City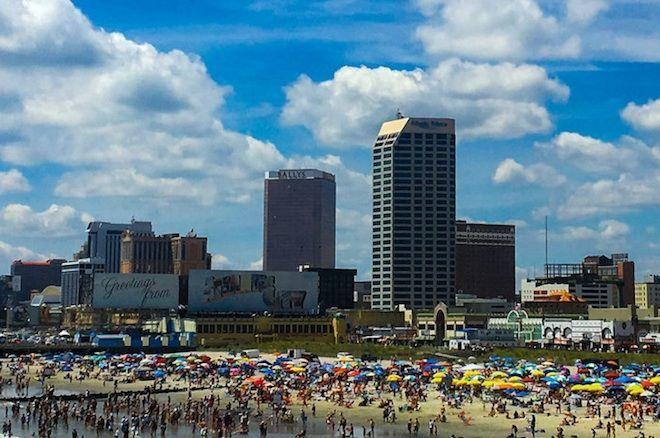 This week's installment of Inside Gaming shares the latest monthly revenue report from New Jersey where online offerings continue to boost casinos' overall win, tells of a possible buyer for the shuttered Atlantic Club, and reports on a daily fantasy sports giant's continued expansion into Europe.
Current Atlantic City Operators Enjoy Increased Revenue in September
A month ago in this space we reported on "Online Earnings Providing Boost to Atlantic City Revenue". The latest monthly revenue report from the New Jersey Division of Gaming Enforcement shows that trend continuing, with another increase in overall revenue by the seven Atlantic City casinos helped once more by their online offerings.
The total gaming win for September was $235.8 million, a 4.1 percent increase from the $226.6 million from September 2016. Excluding the Trump Taj Mahal which closed its doors last October, current operators saw a 7.9 percent increase among themselves.
Meanwhile the year-to-date casino win totals are now slightly exceeding those from last year — $1.856 billion for the first nine months of 2017 compared to $1.850 billion for January-September 2016. The seven current operators are showing a 7.6 percent increase in casino win for the year so far.
Five of the seven casinos enjoyed revenue increases in September, with the Borgata Hotel Casino & Spa the biggest player (as usual) with a 9.6 percent increase in total gaming win to just under $74.2 million. The Golden Nugget Atlantic City also showed a 14.1 increase in casino revenue to almost $24.6 million for the month.
Also reporting total gaming win increases for September were the Tropicana Casino & Resort (up 13.7 percent), Harrah's Atlantic City (up 8.1 percent), and Resorts Casino Hotel (up 5.4 percent). Down for the month were Caesars Atlantic City (down 0.1 percent) and Bally's Atlantic City (down 1.7 percent).
With the exception of Caesars, Resorts, and Bally's, those "total gaming win" figures noted above all include the casinos' internet gaming win along with the regular brick-and-mortar casino win. Coupling Caesars' numbers with Caesars Interactive NJ shows an slight increase overall (less than 0.1 percent), and adding in Resorts Digital to Resorts' totals improves its overall increase to about 8 percent.
As explained by NJ Gambling Websites, Bally's currently does not have an online casino, even though owner Caesars Entertainment has received a license under a Bally's/888 partnership (and Caesars has launched online casinos under that license).
Matthew B. Levinson, chairman and CEO of the Casino Control Commission, was especially sanguine regarding the latest revenue figures reports The Press of Atlantic City.
"More than half of the casinos had their best September in a decade or more," noted Levinson, acknowledging an extra Saturday during September this year had an effect.
"This isn't just luck. Business is building," Levinson continued. "Revenue at one operator was flat, but every other casino and every internet operation was up for the first nine months of the year."
Levinson alludes to the casinos' successful growth of online gaming in New Jersey, which as noted has been a significant contributor. The collective internet gaming win was up 25.6 percent in September year-over-year, and for the year-to-date is up 27.1 percent over 2016 ($183.7 million versus the $144.5 million during the first nine months of 2016).
With the casino win essentially holding steady, the internet gaming win represents most of the overall increase and about 10 percent of the overall win for NJ casinos, a percentage Steve Ruddock of PlayNJ.com describes to the Press of Atlantic City as "a staggering total for such a young industry."
Possible Buyer Found for Closed Atlantic Club Casino
We'll linger on the Boardwalk for just a moment longer to share another bit of news regarding the Atlantic Club Casino, the first of the five casinos to shut its doors over recent years.
The Press of Atlantic City reports that among various groups recently showing interest in purchasing the Atlantic Club, one has emerged as a likely buyer of the property which has been closed since January 2014.
TJM Properties, a Florida development firm, purchased the shuttered property in May 2014 for a reported $13.5 million with apparent plans to reopen it eventually as a non-gaming facility.
Over recent months, however, prospective buyers have emerged, with a tentative agreement with one — the R & R Development Group — from earlier this year falling through after the buyer failed to find the needed financing.
Now TJM Properties says they have a new buyer. Dale Schooler, TJM's director of acquisitions, told the Press on Monday "they have a contract with a group and are waiting for the 'hard money' for the deal," though added he was "not at liberty to name the company."
What the new company plans to do with the property is also not known at this time. Characterizing groups who have recenty shown interest, Atlantic City Mayor Don Guardian says some "say if they buy the Atlantic Club, they might bulldoze it because they don't feel/think it's worth it." Meanwhile some apparently wish to at least retain the parking garage and/or the tower.
DraftKings Continues European Expansion, Launches in Ireland and Austria
Finally, on the daily fantasty sports front DraftKings has announced its intention to expand its offerings to Ireland and Austria, reports SBCNews.
Games available in the new markets include a variety of DFS contests covering the English Premier League, the UEFA Champions League, and Spanish La Liga, plus golf, American football, mixed martial arts, European league basketball, esports and more.
"Sports fans in Europe are embracing the game inside the game through DraftKings," said Jason Robins, the Boston-based DFS site's CEO. "As we looked to expand our European footprint, it was an easy choice to launch in ireland and Austria, given their renowned passion for sports."
DraftKings first launched in Europe in early 2016, starting with the United Kingdom. In early 2017 the site was awarded a license in Malta, allowing for its entry into other European Union countries without the need for additional licenses such as Germany where it launched in the spring. It continues as well to serve players in Canada and most of the United States.
According to SBCNews, "September 2017 saw 51 percent year-over-year growth in entry fees and 31 percent year-over-year growth in new customers in the UK." It was also a good month for growth in Germany where there was a 46 percent growth in registered customers over the previous month, the largest monthly increase to date.
Photo: "Atlantic City" (adapted), Eric Haake, CC BY 2.0.
Everybody needs an account at one of these online poker rooms! They're the biggest, the best, and we get you the best poker bonuses. Check out our online poker section for details on all the online poker rooms around.