15 Times Phil Laak Proved He Was The Happiest Person on Earth in 2017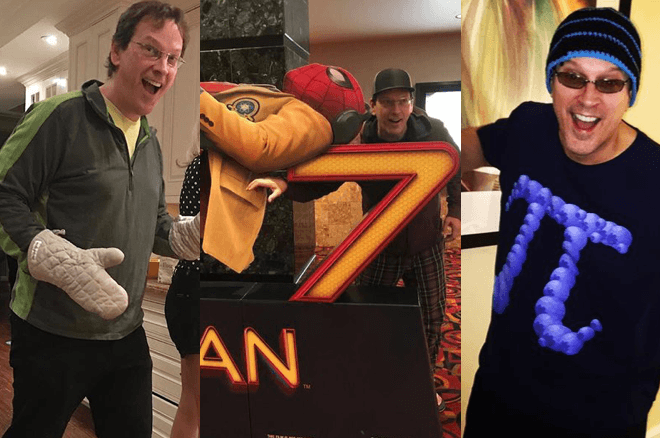 I don't know what it is about Phil Laak, but his happiness makes me happy. I mean seriously, I don't know anyone who would get a chuckle over some deer chilling out in some place. But Phil Laak is that person.
I get it. He has a wonderful woman in Jennifer Tilly, great friends, he plays poker, travels the world, plays in the snow, surfs, eats good food — he is living the life. But it's not one of those, "look at me, I'm rich" types of lifestyle - it's more of a "holy heck I am lucky and living my life to the fullest."
It's genuine. It's pure. It's innocent. For that, I love Phil Laak. And following his Instagram and Twitter accounts is one of the best things. Here's a timeline of his year - proof that in 2017, he was probably the happiest person on the planet.
I don't know. I don't get excited over weird looking food but he does. And it's wonderful.
Of course he loves pie even when it isn't even Pi Day.
He loves food so much that he thought it necessary to film rotating pineapples. And you know what, it was mesmerizing.
Let's be honest, he was probably robot dancing in this photo. And by the looks of it, having a hella good time doing so.
He might have been the only person excited to see Spiderman.
Flippy floppies. Nuff said.
Wait, books still exist? Even Phil is shocked.
I mean, the pajamas, the messy hair. I can't. Let's be friends, Phil!
He even finds joy from matching a wall.
And then he brings out the Lucky Charms. Seriously, he's all of us.
See. Here's the deer mentioned earlier. I would have kept walking. Phil takes it all in.
Of course he found a giant buckle and it was spectacular.
By the looks of it, he LOVES shuffleboard.
Who has fun shoveling snow?? Anyone? Anyone? PHIL does! Like really... he does!
Oh deer.
Phil, don't change in 2018. Stay happy and continue to bring happiness to all of us.
Everybody needs an account at one of these online poker rooms! They're the biggest, the best, and we get you the best poker bonuses. Check out our online poker section for details on all the online poker rooms around.