The Kings of Tallinn Will be Bigger Than Ever Before on Feb. 12-18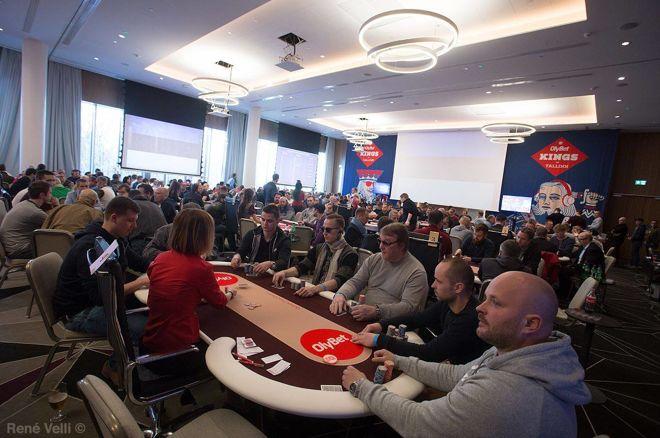 Created in 2015, the OlyBet Kings of Tallinn poker festival is one of poker's true grassroots success stories attracting players from around Europe, especially from the Nordic and Baltic countries.
The festival is back once again and bigger than ever before with 46 action-packed events from Feb. 12 to Feb. 18 at the luxurious Hilton Tallinn Park and the Olympic Park Casino.
The highlight, of course, is the €1,100 Kings of Tallinn Main Event from Feb. 14-18. For the first time, the PokerNews Live Reporting Team will be on hand to report all of the action along with exclusive interviews throughout the event.
The tournament is a deep-stacked affair with players beginning with 30,000 in chips and blinds increasing every hour throughout the tournament. The event features a single opening day with players provided plenty of chances to build a big stack with unlimited re-entry permitted until the start of Day 2.
Other Event Highlights
In addition to the Main Event, each day during the festival features plenty of side events in a variety of poker variants including no-limit hold'em, pot-limit Omaha, pineapple open-face Chinese, Sviten Special, crazy pineapple and pot-limit Finnish five-card stud.
The tournaments all take advantage of current TDA rules and some of them include some of the more modern introductions to tournament poker. The €3,000 High Roller on Feb. 18-19 utilizes button antes, while the €550 Turbo event on Feb. 15 features both button antes and a 30-second shot clock where players will also have three time extension chips.
In addition, the schedule features many satellites where players can enter their target event for a fraction of the cost and cash games will be running 24 hours a day across a variety of poker variants throughout the entire festival. Head to the Kings of Tallinn website to check out the full schedule of events.
OlyBet King's of Tallinn History
The Kings of Tallinn began when famous tournament director Teresa Nousiainen was approached by Olympic Casino with the idea of creating a poker festival together. Not too much later, Kings of Tallinn was co-founded by Nousianen and Olympic Park Casino Deputy Manager at Olympic Casino Eesti Risto Suurpold.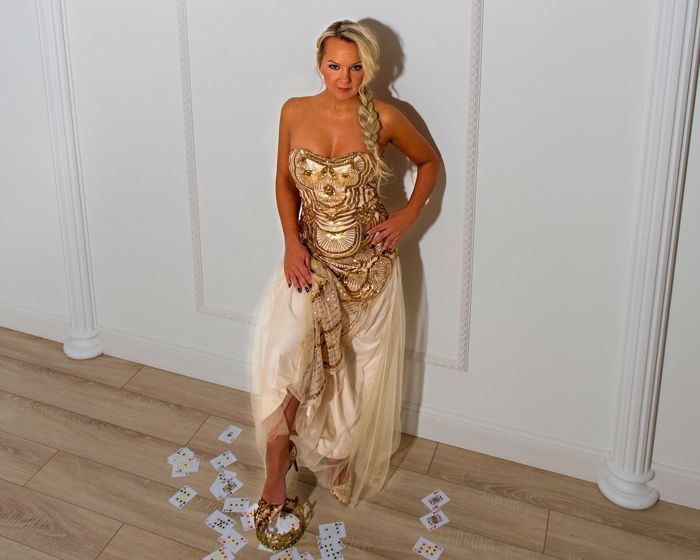 Nousianen shared with PokerNews a bit of the history of the festival in an exclusive interview with PokerNews.
"I have a long history with Olympic Casino, who hosts the Kings of Tallinn poker week," shared Nousianen. "I trained their very first poker staff back in the days and helped them open up their first poker rooms, first in Estonia, then also Latvia and Lithuania. I had also tournament directed the Baltic Poker Festival and EPT Tallinn and worked together with Olympic Casino quite a lot. So when they asked me a few years ago if we should maybe create a poker festival together, I was onboard right away. I gave them my suggestion, they liked it and so Kings of Tallinn was born."
The first festival took place in February 2015 and it proved to be an immediate success.
"The very first Kings of Tallinn poker festival was played in February 2015 and a young local player, Ranno Sootla, reigning Estonian poker champion, took down the Main Event of the first-ever OlyBet Kings of Tallinn poker festival for €37,730 along with the remarkable King Trophy of the festival," Nousianen said. "Vallo Maidla, also from Estonia, took home €26,065 for his runner-up performance. We ran 20 events and sold out on all of the events. Our venue wasn't as big as it is now as the Hilton didn't exist yet, and we really filled up the space to the max in the Radisson SAS Olumpia hotel. We received great feedback from our players and so it was decided that Kings of Tallinn would definitely be back."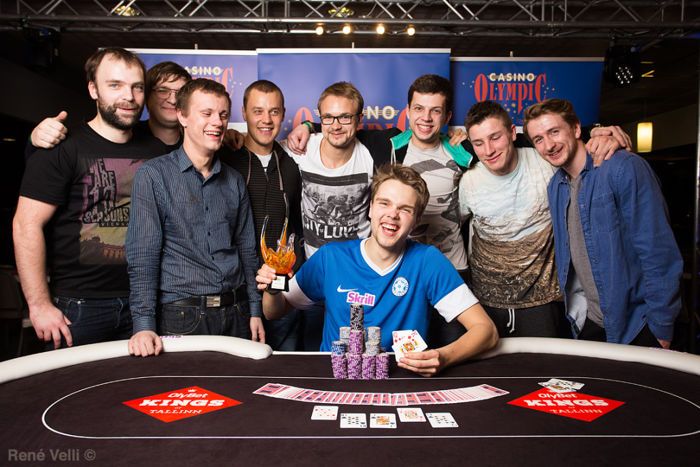 The festival has grown each year to become the biggest poker festival in the Nordics, which is something that Nousianen is rightfully proud of and credits to the great team at Olympic Casino.
"In approximately three years Kings of Tallinn has grown to be the biggest poker festival in the Nordics," Nousianen explained. "Kings of Tallinn in 2017 had 35 different events and a thousand unique players from 28 different countries playing them. I couldn't be prouder of an event. I mean, this is something that Risto Suurpold from Olympic Casino and me started and have built up to something so cool. I am very proud of Kings of Tallinn. I think players notice when one is doing something with passion and thought. We have really worked hard to make sure that players enjoy our poker week. We have a great team of people; the Olympic Casino staff is so devoted and so good. Everyone from the fantastic Olympic Casino bar staff to dealers, floor, and managers are genuinely making sure that players enjoy and have a good time. It has been our number one goal from the very beginning to provide players with a great, well-planned and professionally run, poker festival that is also great fun."
Nousianen has also received amazing feedback from the players.
"I truly think players see the devotion of our efforts," shared Nousianen. "We get good feedback on our poker schedule and it is something that I put a lot of thought into. I have notes from previous years, I ask for player's ideas and feedback, check trends and go back and forth with Risto Suurpold and his team. We usually have at least four to five different versions of the tournament schedule before finalizing it. It's not as simple as it may look."
This year's edition of the King's of Tallinn will be bigger than ever before. Not only does the schedule feature a record 46-events but the Hilton is already sold out. However, there are many nearby properities that poker players can book that are still planning to attend the epic festival.
Don't Miss the Final Online Satellite at OlyBet on Feb. 11
The final online satellite, guaranteeing eight Main Event seats, takes place on Sunday, Feb. 11 at 9 p.m. on OlyBet Poker.
Sign-up to OlyBet Poker to grab an amazing welcome package which includes a 100 percent deposit bonus up to €500 and for your final chance online to secure your Main Event seat!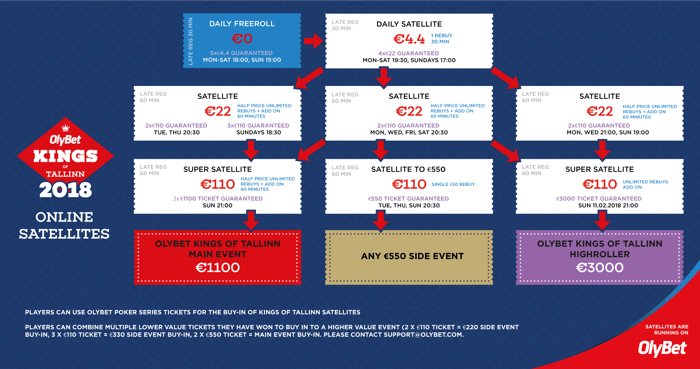 Everybody needs an account at one of these online poker rooms! They're the biggest, the best, and we get you the best poker bonuses. Check out our online poker section for details on all the online poker rooms around.