That's What She Said: Leave What Makes You a Good Player at the Table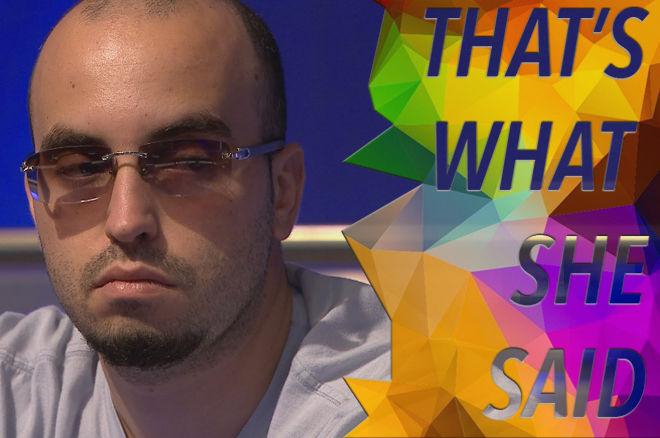 After interviewing many poker players over the years, one common theme has emerged ...
Poker players, admittedly, are not suited for a regular nine-to-five job.
As I started to think more about what characteristics make a successful player, I realized that they are pretty opposite to what makes a successful employee or a contributing member of society.
The successful and winning players both on and off the felt can move back into reality and put in place a system of checks and balances to ensure the truth prevails — at least most of time.
Below you'll find just a few of the characteristics that, in my opinion, should be left on the tables when the game breaks for the night.
Devaluing Money
No one wants to be the person with a line of bill collectors standing beside them at the cage.
Thinking about every bet or raise in terms of a mortgage, groceries, or even gas money can prevent a player from making the right play and instead choose a safer line.
On the other hand, when a player leaves the table, the value of money becomes critical to survival and to maintaining a proper bankroll to return to the tables.
No one wants to be the person with a line of bill collectors standing beside them at the cage ready to collect what is owed.
Deceitful Storytelling
A big part of poker is about the story you tell. And of course, that story may not always be truthful. But all is fair on the felt.
Take a look at the story Daniel Negreanu is trying to sell Ike Haxton. He used what Haxton knew about his play to project a position of strength, and it paid off.
Projecting a false image away from the poker table isn't as profitable — obviously.
If a player walks away from the table and is so skilled at storytelling that they are deceiving themselves about the level of their play, their wins and losses and where they can improve, they'll end up losing in the longterm.
Aggressive Behaviors
It's no surprise that an overly-passive player is probably a losing player. Aggressive actions win over in the long run.
Just take a look at the 2017 GPI North American Player of the Year, Bryn Kenney, as he put on the aggression with an air of overconfidence — which just so happens to be the next characteristic on the list.
You can see how bluffing your friends and colleagues might not be the best approach in the real world — that is if you want to have a life outside of poker. But it certainly worked here.
An Air of Overconfidence
A player's image is everything — both at the tables and out in the real world.
It's Kenney's image in the above clip that helps get the fold.
At the table, overconfidence can project an image of skill, knowledge, and success.
Outside of poker, overconfidence can come off as egotistical and entitled.
Leaving the table without putting the confidence level in check, can lead to bad decisions and a very lonely life.
Ignoring Short-Term Results
One of the major downfalls of a poker player can be paying too much attention to the results of one session and failing to keep long-term goals in mind.
Look past the day's results at the table, yet evaluate the productivity of your day away from it.
Of course, you need to evaluate your results as a player — it's dangerous not to, but looking at them daily or even weekly will not necessarily be an indication of anything but standard variance.
In business and life outside of poker, it's just the opposite. Every decision needs to produce rather immediate results and is analyzed with the next steps, adjustments, and potential pivots in mind.
When all is said and done, look past the day's results at the table, yet evaluate the productivity of your day away from it.
Antagonizing Opponents
Antagonizing your opponents, also known as putting them on tilt, can often pay off in spades at the table.
Antagonizing your colleagues at work might just get you fired.
A perfect example is found in this clip with William Kassouf from the 2016 Main Event.
His somewhat hostile behavior forces a better hand to fold, but do you really want to go grab a beer with someone who acts like this all the time?
The Bottom Line
The characteristics that make a good poker player are probably best left at the table. And it's the players that work hard and play harder that win.
They're able to keep the tendencies that enable them to scoop pots on the felt and flip the switch to their more human side when they leave the table.
The bottom line is to take note of where you are, use all the right moves and make your play. And that's what she said.
Be sure to complete your PokerNews experience by checking out an overview of our mobile and tablet apps here. Stay on top of the poker world from your phone with our mobile iOS and Android app, or fire up our iPad app on your tablet. You can also update your own chip counts from poker tournaments around the world with MyStack on both Android and iOS.