Tony Dunst Lays $14K Bet on Super Bowl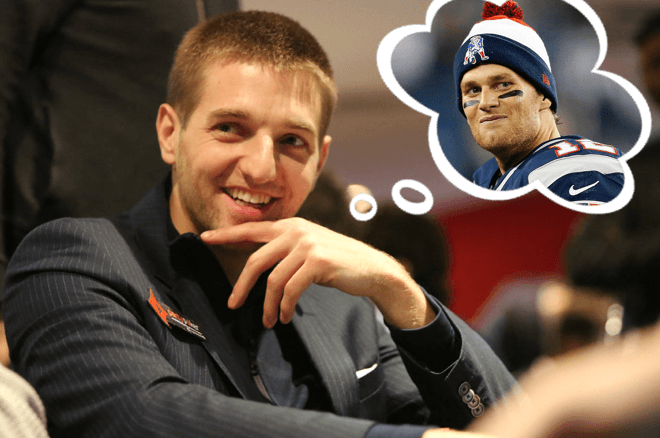 Let us just take a moment to realize that the 2017/2018 NFL season is finally coming to an end. Then let's all just cry for a quick bit before we start counting down the days until the next football season begins.
Super Bowl LII is this Sunday, and will see two resilient teams take to the field one last time this year — the Philadelphia Eagles vs. the New England Patriots.
It's no surprise that sports betting is huge in the U.S., whether legal or not. I mean, just look at what is being bet in Nevada alone.
Nevada Gaming Control Board announces 2017 broke state sports betting records for total handle and win. Nevada book… https://t.co/CgEU8IsstR

— Covers (@Covers)
And naturally, poker and sports betting are synonymous with each other so we thought it necessary to ask a few players which team they were betting on and why.
But first, let's give you a breakdown of the betting action. Westgate Superbook in Las Vegas opened the betting line at Patriots -5.5 with the Money Line at -240. The public and big money has been pounding the Eagles because as of late, the line has dropped to Patriots -4 and ML of -185, which has dropped to as low as -170.
So who is taking what this Super Bowl weekend?
Tony Dunst took to Instagram to post a ticket from Green Valley Ranch with the caption, "Let's go evil empire." Of course, referring to five-time Super Bowl champs, the Pats.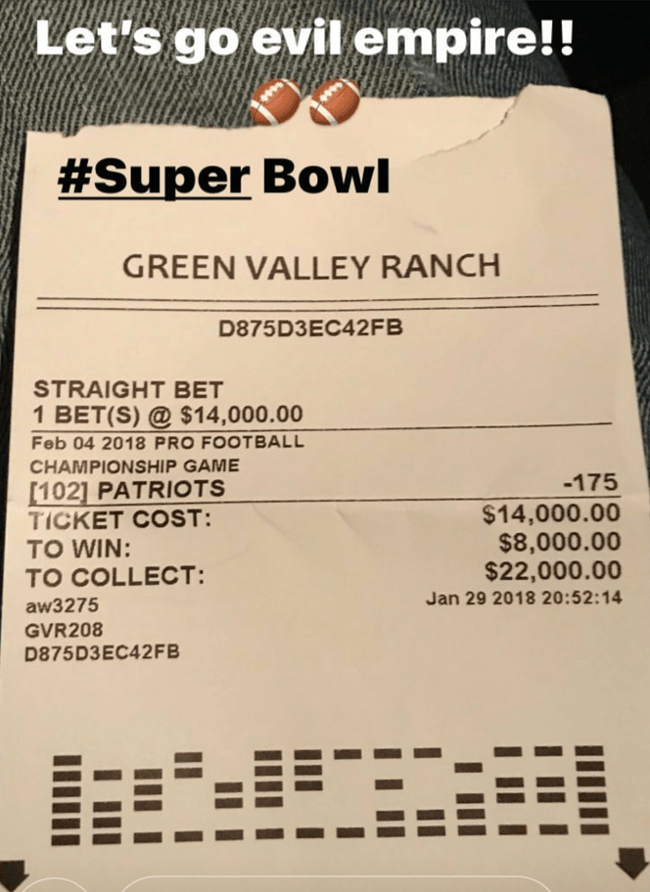 His bet? Laying $14,000 at -175 ML to win $8,000. So the Pats just have to win! Why'd he bet the Pats? "I'm rooting for the Eagles but I've bet on the Patriots to win because I think people are over-reacting to Nick Fole's one good game last week and forgetting how bad he was for the month leading up to that."
Sounds logical. Betting the spread or money line isn't the only way to go. Noah Schwartz is going a bit more degen and betting on some props, "I always bet a significant amount on the coin flip as tradition. So I am the only person happy or sad right from the get go."
As far as the game goes, Schwartz says he is "riding the Eagles and the Eagles ML at +185." His reason? "They are playing the goat (Tom Brady) but they were the favorite early in the season prior to Carson Wentz injury and are embracing the underdog role. I think this is the start to the end of the New England dynasty."
Bill Perkins said he was all over the Eagles to win. "I'm taking Philly on the money line (+185) for no other reason except to root for the underdog!"
But there's a chance that come game time, he may lay a few more bets on the side action. "Probably by game time I will have an array of confusing bets that results in me wishing for a safety in the 4th quarter to win, per usual." Hey, it's about the experience, right?
Then there's a whole different side of the poker world that is less familiar with the game, much less who is even playing. Take Justin Bonomo. He had no clue which two teams were even playing but he did recall "seeing something about the Eagles" but he was unsure if they were "rioting or celebrating." With that, he gave his hot take — "That puts them at about 50/50 to be in it and 25% to win. #SharpOdds"
Ryan Riess, although he doesn't bet on sports anymore, does think Philly is going to win.
Then there's David Tuchman who took to Twitter looking for action.
And found no takers.
The line moves down and down ... clearly all the money is going on philly, yet nobody I know wants to bet on them.… https://t.co/c9W2z73Hrp

— David Tuchman (@TuckonSports)
So he is betting on the Pats, so he says. "I hate them but I like money more" <-- Truth. He went on to say, "I just don't believe the Eagles will be able to score enough to keep up with Brady."
Tuchman isn't just looking at the spread for the game. He's even considering the total for the game, which is set at 48.5. "I'm staying away from the over/under but if it moves up I could be persuaded to bet under."
So maybe poker and sports betting don't quite go hand-in-hand after all. Or maybe it's just that these two teams don't draw enough interest from the pro players. Either way, if you are interested in some betting options, Sasha Salinger gives you her top five picks for some of the craziest prop bets to be looking at.
Everybody needs an account at one of these online poker rooms! They're the biggest, the best, and we get you the best poker bonuses. Check out our online poker section for details on all the online poker rooms around.