Greg Himmelbrand Wins Second MSPT Title, $125,928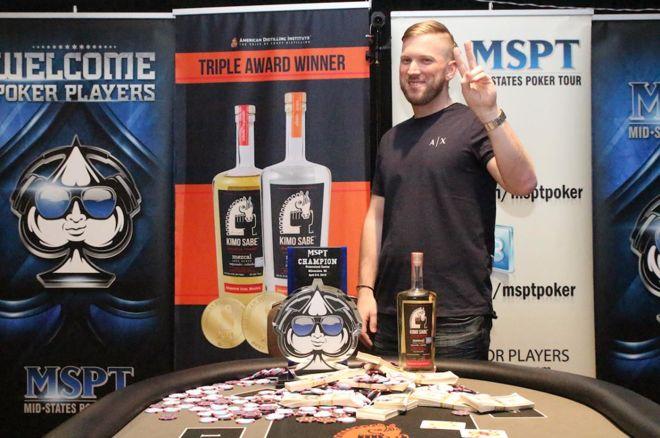 A poker pro based on the East Coast, Greg Himmelbrand doesn't get to many Mid-States Poker Tour stops. But when he does, he makes them count.
Himmelbrand took down MSPT Potawatomi for $125,598, topping a field of 635 entries Sunday night in Milwaukee in one of the larger MSPT events of the season. Previously, Himmelbrand owned an MSPT title from MSPT Maryland Live! when the tour ventured over to his neck of the woods in April 2015. That's two victories in three tries, according to Himmelbrand.
"It's pretty sick," he admitted to tournament reporters. "I heard Milwaukee was a cool city so I wanted to check it out. The tour is run really well. I like how interactive everyone is, so I love to come out and play when I can."
Official Final Table Results
| Place | Player | Hometown | Prize |
| --- | --- | --- | --- |
| 1 | Greg Himmelbrand | Bayside, NY | $125,598 |
| 2 | Matthew Buhler | Madison, WI | $76,806 |
| 3 | Craig Trost | Madison, WI | $57,144 |
| 4 | James Karaminis | Barrington, IL | $42,397 |
| 5 | Kevin Saul | Aurora, IL | $31,951 |
| 6 | Josh Hergott | Highland Park, IL | $23,964 |
| 7 | Umut Ozturk | St. Paul, MN | $18,434 |
| 8 | Ken Baime | Glenview, IL | $14,747 |
| 9 | Steve Alonzo | Beloit, WI | $11,060 |
| 10 | Cole Tautges | Madison, WI | $9,217 |
The large expected prize pool drew plenty of notable runners, some of whom made it into the 72 paid places. Among that number: Rich Alsup, Keven Stammen, Shiva Dudani, Aaron Johnson, Kou Vang and Ravi Raghavan. The latter narrowly missed out on the final table, falling in 12th to fellow $3 million tournament man Kevin Saul when
was beaten out by
by a runner straight all in preflop.
Final Table Action
After having had the chip lead with a few tables left, Himmelbrand entered the final table with the shortest stack toting just 11 big blinds, according to the live updates. In fact, he folded down to just over six bigs when he found ace-queen against the ace-jack of Cole Tautges, leading to the fellow short stack's elimination shortly thereafter.
Steve Alonzo then flopped kings up after checking big blind three ways with king-four, but Craig Trost flopped bigger two pair with king-queen. Despite three hearts on the flop, the two got stacks in on the turn with Trost holding for a knockout.
Himmelbrand got in another short stack battle when he called a shove from Matt Buhler holding
but couldn't overcome
. However, he doubled right back when sixes held against king-queen for his last six big blinds again.
Former MSPT champ Ken Baime was also looking for another trophy but would see his run end in eighth when he jammed his last six big blinds with king-ten and ran into the ace-king of Trost. An ace hit the flop for a short sweat.
After Umut Ozturk went bust, Himmelbrand found his next double when aces held up against Trost. He then won another pot and finally climbed above 20 big blinds for the first time at the final table.
Short stack Josh Hergott busted in a flip to Buhler, and then the biggest name at the final table went down. Saul, who dominated for years online under the moniker "BeL0WaB0Ve," was down to just 12 big blinds when he looked down at pocket fours in the big blind with Trost having raised in the cutoff. Saul shoved and was racing against
but the board brought a pair of queens to give Trost the winner.
James Karamanis then put his last nine big blinds in from the small blind and Himmelbrand called with
. Karamanis had a dominating
and Himmelbrand's best hope was a chop after
hit the felt. However, a saving ten arrived on the river and Himmelbrand found himself with the chip lead.
It was a lead he'd lose but another two preflop all ins vaulted him back up, first when queen-eight prevailed over king-jack all in preflop against Buhler. He then won a flip with fives against the ace-queen of Trost, who was left with three big blinds and went bust soon afterward.
Himmelbrand had a 2-1 lead against Buhler and the match would be short. The two saw a flop of
after Himmelbrand raised. Buhler check-called 375,000 and then saw Himmelbrand bet 700,000 on the
. Buhler shoved and Himmelbrand took some time but found the call button with
. He was in good shape against
for a bare flush draw, and the river bricked off to give the East Coast pro his second MSPT title.
Everybody needs an account at one of these online poker rooms! They're the biggest, the best, and we get you the best poker bonuses. Check out our online poker section for details on all the online poker rooms around.