Boeree Spreads Gospel of Poker Through TED Talks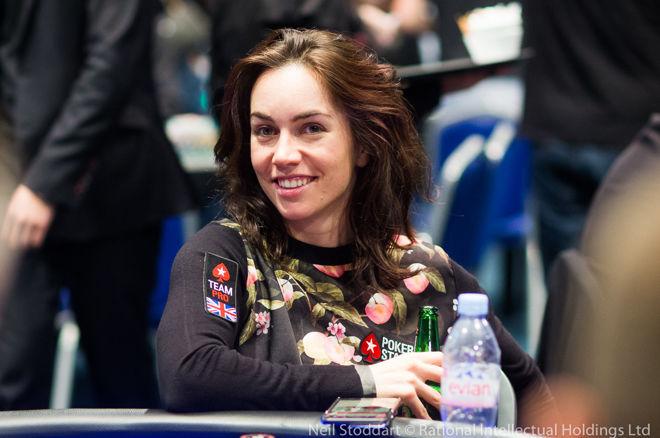 Many different types of people from many different walks of life have found success in the game of poker, but analytically-minded individuals fluent with numbers have undoubtedly had the most success.
That descriptor can be applied to PokerStars Team Pro Liv Boeree, and like with many poker players, it's become the lens through which she sees the world, something she can't turn off voluntarily. The type of thought process that informs poker excellence tends to be innate, reflexive.
But Boeree believes it can be a helpful way to look at things; that's why she wanted to do a TED talk. Presenting at the TED (technology, entertainment, design) Conference, now held annually in Vancouver, has become a stamp of leadership and vision, with past speakers among the most influential individuals of the past couple of decades: Bill Clinton, Al Gore, Bill Gates.
"I wanted to find a way to teach poker thinking for everyday people."
She reached out to TEDx Manchester — the TEDx conferences are satellites of sorts, numbering in the hundreds and organized by local groups — and asked if she could put together a presentation. Organizers finally responded while she was at PokerStars Caribbean Adventure, with less than a month to go before the conference, and told Boeree she could have a speaking slot if she wanted it.
Though she had little time to prepare, Boeree accepted.
"I wanted to find a way to teach poker thinking for everyday people," the PokerStars Team Pro told PokerNews in an interview at PokerStars and Monte-Carlo©Casino EPT Main Event. "Maybe we're just so in our bubble, trained and used to thinking in probabilities. But, I think it's a super important skill."
She needed to come up with 15 minutes worth of material to talk about and she needed to memorize it until it was rote, so she could deliver it smoothly and note-free, as per TED Talks preferred operating procedure. It needed a flow, visual aids, personal examples for the audience to relate.
Getting a list of material she wanted to discuss was the easy part, Boeree said. The hard part? Editing herself. And combining entertaining content with a deadpan delivery.
"When you're trying to crack a joke, you're not allowed to laugh at your own joke," she said with an ironic chuckle.
After two weeks of rehearsing and what she estimated was 40-50 hours of work, she felt ready and gave it a go in front of an audience of about 2,000. You can see the results for yourself here:
"I was super nervous beforehand but it went pretty well," she said.
Boeree was encourage enough to run it back for another TED presentation at the main conference. While her first one referenced poker as a backdrop for the main points, this one was all about poker: three life lessons learned at the poker table.
"That's the one I'm really hoping is going to get poker on the mainstream," she said.
The recording hasn't been publicly released yet, but Boeree was kind enough to give PokerNews a sneak peek as she shared the three points. First, one must be honest about the effects of luck and skill. That is, a winning session shouldn't be chalked up to skill and a losing session shouldn't be chalked up to bad luck.
"Don't treat [intuition] like it's some godly, all-knowing thing."
"Don't let your ego take credit for a run of good luck," Boeree said.
The second was a bit of a summary of her previous 15-minute presentation, on "quantifying things we don't like to quantify."
Finally, don't be overly reliant on intuition. Intuition, she said, can be helpful for areas of life in which a person is highly experienced. Outside of that, though? Decision-making is better approached with a calculating dispassion.
"Don't treat [intuition] like it's some godly, all-knowing thing," she said. "Why should we assume deciding your career path or who we should marry are things we have lots of experience in, that our gut is better than doing a cost-benefit analysis?
"It's not. It doesn't have the data to be based off. Your gut is good sometimes but don't think it's magic."
Shots fired, feel players.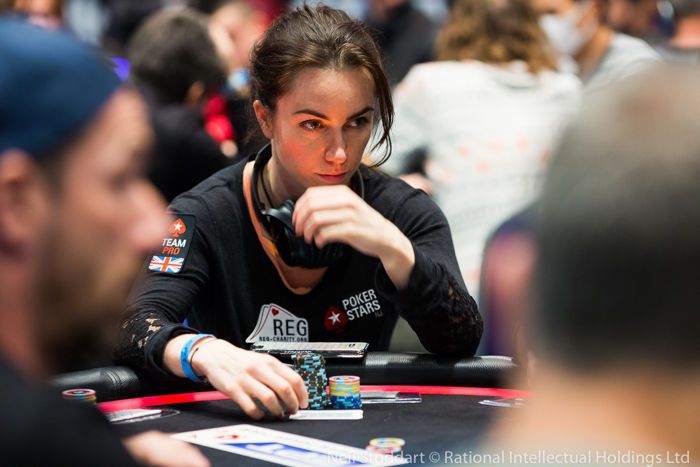 Boeree had to work even harder on edits and delivery this time around, as the main TED conference used a format with auto-advancing slides, so all of her timing had to be perfect. Furthermore, a limit of just six minutes meant even more self-editing.
"There's so much you can say about poker, trying to trim it down to six minutes is hard," she said. "It's like, 'I love this sentence. Oh, doesn't really add enough, got to cut it.'"
With the talks, Boeree aims to accomplish dual goals of growing the game and improving her own public speaking skills. If the reception on the The TEDx Manchester talk is any indicator, she's off to a strong start: 324 likes to 10 dislikes on YouTube.
Quantifying things, that's a 97 percent success rate. Even Boeree's tough self-grading, with lesson No. 1 from her second talk in mind, would have to give it a strong review.
Photos courtesy of Neil Stoddart, PokerStars
The Stars Group is a majority shareholder in iBus Media