Konnikova Changes Plans, Delays Book After Incredible Poker Success
Maria Konnikova got an introduction to poker that makes her the envy of fans and aspiring players everywhere.
In autumn 2016 in Las Vegas, Konnikova had already hatched a plan to write a book heavily featuring poker, but she knew nothing about the game. She had connected with Erik Seidel, who was in the beginning stages of coaching her, but a little observation work in the field was in order.
After clearing it with ARIA staff and his fellow high-stakes regulars, Seidel arranged for Konnikova to sweat his cards in a high roller event there. Konnikova ended up getting even more than she bargained for, though, as some of the other players volunteered to take turns being her window into the mind of a poker great. She sat behind world-class players like Isaac Haxton and Jason Koon, and watched as the best of the best went to work.
Konnikova on sweating Seidel: "It was an insane experience."
Plenty of people would pay a lot of money for such an experience, and Konnikova recognized how fortunate she was to get such a rare treat.
"It was an insane experience," she said. "It was a beautiful learning experience that really accelerated my ability to learn the game. I think they all want to see me succeed because they all want poker to become a bigger game. They all think its a cool and interesting project and they're excited about the book and glad to be involved."
A psychologist by training, Konnikova became interested in poker while reading John von Neumann's seminal texts on game theory. She called the material "really boring" but it drew her in nonetheless because she had already been thinking about the confluence of skill and chance in life.
After reading more about poker, Konnikova realized it could be used to evaluate the way the human mind reacts to life phenomena that involve a mix of skill and chance — a category that could encompass just about everything that happens to people.
"How much of our lives do we control?" she posed as a foundational question for her latest work. "Maximizing skill and not letting luck get to you... poker's such a beautiful learning environment for that.
"It's poker as a metaphor for life in general. I'm using this story to explore other themes and elements of what it means to be human. I think poker really brings that out."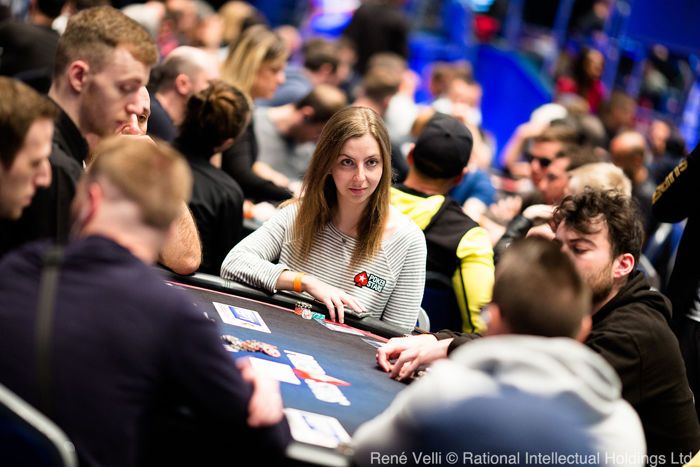 A two-time New York Times best-selling author, Konnikova called the project a "huge challenge" as it has a fundamental difference from all of her past work: her own central role in the story.
Writers from academia are trained to approach subjects from a dispassionate, observational point of view. Documenting her own experiences and feelings requires a different approach, and any poker player with more than an hour of play under his or her belt can likely testify to the gamut of emotions the game evokes.
She recalls running into "assholes" and "angle shooters who prey on tourists."
Those experiences began in the dregs of the live poker scene. Seidel determined that if Konnikova was going to do this, she had to do it the way a true rookie would: build a bankroll from the ground up. The poker version of a Twitter egg, she started in Golden Nugget $20 and $40 tournaments. She moved up to ARIA dailies after that and had a bit of success, finishing second in one for $2,215.
Konnikova's memories of those events aren't exactly fond. She recalls running into "assholes" and "angle shooters who prey on tourists," pretending to be newbies themselves unsure about hand rankings and other basics.
Toes sufficiently dipped into the waters, she waded further in and found the water a bit warmer and more welcoming. For one thing, she found that the higher the stakes, the friendlier the players and the better the environment.
Plus, her results continued to improve as she notched several cashes at PokerStars Championship Monte Carlo in spring 2017, her first event after hooking up with the world's biggest online poker room, which had taken an interest in her project.
A light World Series of Poker schedule followed, wherein Konnikova notched three more cashes, and then she nearly tasted victory again in the fall. At PokerStars Festival Dublin, she got second in a side event for €2,190.
Heading into the 2018 PokerStars Caribbean Adventure, Konnikova felt good but couldn't imagine what awaited her. In the $1,650 PCA National, she conquered a field of 230 for $84,600 and a $30,000 Platinum Pass to the 2019 PokerStars Players No-Limit Hold'em Championship.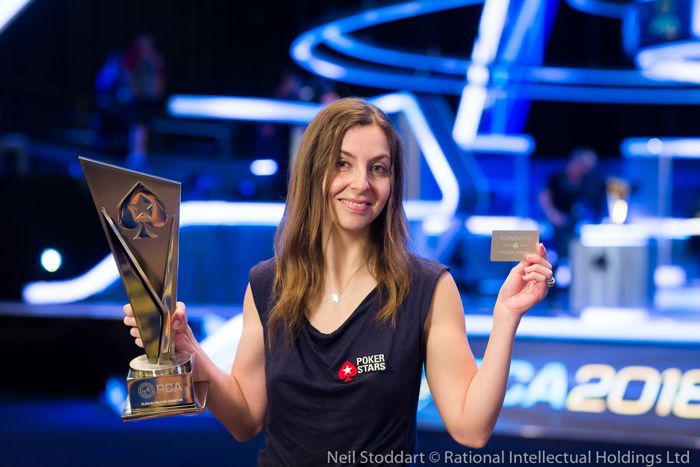 The final table featured bracelet winner Alexander Ziskin, former PCA champ and bracelet winner Harrison Gimbel, and tournament legend Chris Moorman. Conquering such a table was no small feat for anyone, much less a poker neophyte a year into her experimental career.
With her knowledge of variance's massive effect on a poker result, she could have been tempted to chalk it up as a fluke run. However, a 42nd-place run in a field of 582 in the PCA Main Event helped solidify that her progress was real.
"PCA was the moment where everything kind of came together," she said. "I'm learning and it's sticking and I'm playing well. It's a really wonderful feeling when you're studying and working to have that validated."
I hope my story can inspire people. I want them to think, 'I can do this, too.'"
Her huge success forced Konnikova to re-evaluate her plans. With an incredible opportunity in what could be a historic poker event on the horizon, Konnikova decided she had to push the book schedule back and go all in on poker for the time being. She built a revised poker schedule, ramped up in terms of both buy-in sizes and quantity of events.
It paid off immediately, as she finished second in an Asia Pacific Poker Tour Macau event for $57,519.
Not wanting the PSPC to be her first high roller, she said she'd likely play her first €25K here at PokerStars and Monte-Carlo©Casino EPT Main Event if she failed to run deep in the Main Event, and a Day 1 bust out means that looms as a distinct possibility.
Continued success or potential failure may seem like they'd produce radically different final products, but Konnikova maintains that's not the case. Avoiding a results-oriented approach, a key part of a healthy approach to poker, doubles as a must for an author.
"The great thing about books is you don't need to have an ending in mind," she said. "The book could work even if I ended up sucking as a poker player.
"But, I hope I can do better than that. I hope my story can inspire people. I want them to think, 'I can do this, too.'"
Photos courtesy of Neil Stoddart, PokerStars
The Stars Group is a majority shareholder in iBus Media