888poker's Parker "Tonkaaaa" Talbot Makes His 2018 WSOP Debut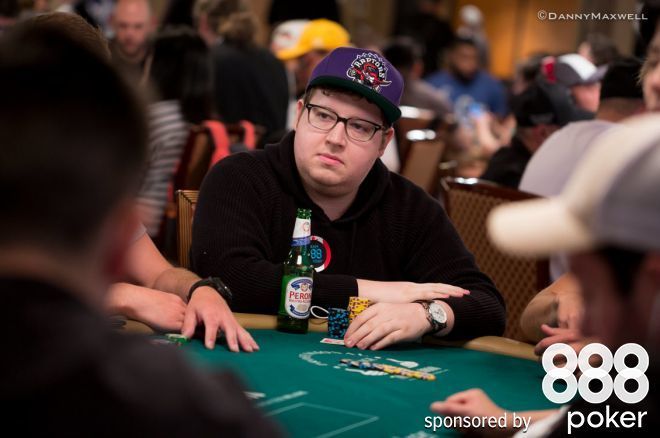 On Thursday morning, 888poker Ambassador and Twitch sensation Parker "Tonkaaaa" Talbot was home in Toronto. He'd recently returned from Spain where he played the 888poker LIVE Barcelona, but already he was packed up for his next poker adventure.
Two hours later, Talbot was at the Toronto Pearson International Airport getting ready to board a flight to Las Vegas.
"Man, people lining up 15 minutes before boarding even starts," he tweeted. "That's a special kinda stupid right there."
A few hours later, Talbot's plane touched down in Sin City and within 90 minutes he was at the Rio All-Suite Hotel & Casino for the 2018 World Series of Poker.
Tonkaaaa: "I don't think anyone has ever won a bracelet while streaming, that could be sick actually."
"I just got in this morning. This is my first event," Talbot told PokerNews on the dinner break of Event #43: $2,500 No-Limit Hold'em. "I got in at like Noon, checked into the hotel and then registered at 1:30 p.m. It's going fine, I have like 1K above starting stack, but I had 33,000 which was like three starting stacks. I won one big pot with a flush against a rivered set, but he never should've paid me off."
He continued: "I was in Toronto and before that at the 888poker LIVE Barcelona event which was fun. Lost some money there. Then went to Sweden and moved the girlfriend over, so she's actually living in Canada now. She's on a one-year visa. Honestly, it was just like moving anyone. We put a lot of her stuff in storage. A lot of work for four days. I even tweeted out I'll never help anyone move again."
The girlfriend accompanied Talbot to Vegas, which marked her first foray to the WSOP and just her second American experience.
"She's hanging out in the hotel," said Talbot, who has more than $3 million in online winnings. "She's been at the pool all day."
Talbot revealed that his 2018 WSOP may have gotten off to a late start, but he now plans to be here through the end.
"I'll be here until I fly home on the 14th," he said. "I'll probably play those online bracelet events, I think those will be fun."
When asked if he'll be streaming said events to his nearly four million followers, Talbot responded: "I guess I could, I'd genuinely not thought about it until you just asked. I don't think anyone has ever won a bracelet while streaming, that could be sick actually. Maybe I'll stream the bracelet events, that could be good. That's a great idea actually, I think I'll do that but I'll have to find a mic."
Tonkaaaa: "He said he would carry me around on his back for a day wearing nothing but a Canada flag."
Another bracelet event Talbot is looking forward to is the WSOP Main Event where he'll be participating in 888pokeer's 8-Team competition. He's the captain of Team Canada, and if his team has the last player stranding, each member will win a seat into the 2019 WSOP Main Event.
"It's super fun, the one last year was a blast," said Talbot, who is the Canadian captain for the second year in a row. "I think it'll be even better this year. Team Canada has Mike Leah as my wingman. He just got 4th in the $50,000 Poker Players Championship. He's a legend. He's always friendly at events."
Joining Talbot, an 888poker Ambassador since February 2017, and Leah on the team is Jonathan Schaler, who qualified to be a part of the team.
"The qualifier is actually a friend of mine, I know him," Talbot explained. "He applied and had to submit a statement. He had to answer 'What would you do for Canada?' and he said he would carry me around on his back for a day wearing nothing but a Canada flag. I think we have a pretty good chance of winning the last longer."
Unfortunately for Talbot, he didn't last too long in Event #43. He ended up three-bet shoving all in for 11,000 over the top of Jeff Gross' min-raise to 1,000. Gross called with pocket kings and had Talbot's fives dominated. The board ran out with four spades, which meant Gross' king of spades gave him a flush.
Did not bag our first event here in Vegas. Busted the 2500 wsop to @JeffGrossPoker. 2500 stud8/o8 or 1k bb ante tom… https://t.co/TfEqqF5Qmg

— Parker Talbot (@tonkaaaap)
As for his post WSOP plans, Talbot hasn't given it too much thought.
"I usually got to EPT Barcelona, I haven't missed it in like six years, but we're going to Greece, the girlfriend and I and a bunch of friends, two weeks after that, so we might skip it this year and just grind online. I know there's more 888Live events coming up and I'll be at those."
Follow Talbot on Twitter @tonkaaaap.