PLO via São Paulo: 888 Ambassador Vivian Saliba Offers Some Help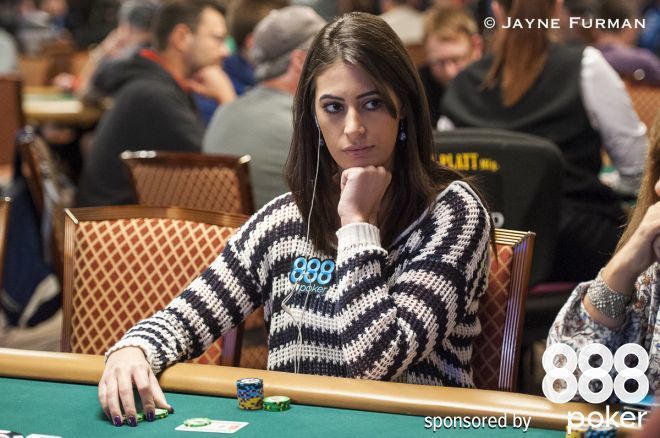 Pot-limit Omaha has been featured repeatedly on this year's World Series of Poker schedule, and there remain many more chances at the WSOP to play the "action game" of PLO, including...
the ongoing Event #11: PLO GIANT - $365 Pot-Limit Omaha for which there remain three more Day 1 flights over the next three Sundays (June 17 and 24, and July 1)
Event #40: $2,500 Mixed Bet in which PLO features as one of the games (starting June 19)
Event #42: $25,000 Pot-Limit Omaha 8-Handed High Roller (starting June 20)
Event #47: $565 WSOP.com ONLINE Pot-Limit Omaha 6-Handed (June 22)
Event #49: $10,000 Pot-Limit Omaha 8-Handed Championship (starting June 23)
Event #67: $1,500 Pot-Limit Omaha Bounty (starting July 6)
Event #69: $3,000 Pot-Limit Omaha 6-Handed (starting July 8)
Event #72: $1,500 Mixed No-Limit Hold'em/Pot-Limit Omaha 8-Handed (starting July 10)
Pot-limit Omaha is 888poker ambassador Vivian Saliba's favored game. She has almost $200,000 in live tournament winnings with several nice scores coming in PLO through the last couple years.
A native of São Paulo, Brazil, Saliba won the 888Live Ladies Event in London in 2017. She's also already cashed in Event #19: $565 Pot-Limit Omaha here at the WSOP, finishing 54th out of 2,419 for $3,495. She likes the game's action and finds it just more enjoyable than other games.
Earlier this week Saliba was playing another of the pot-limit Omaha events on the WSOP schedule when on a break she offered to share some advice about PLO.
"I think PLO is a game where people are still learning, and there are many recreational players so it's a game where I have more of an edge," Saliba says. "So besides having more action, and in my opinion being a game that's a little bit more fun, it's a game where I can make more money. I think this is what keeps me playing a lot."
By the first break in the event, Saliba had a little above the starting stack, but said she felt good and was happy at the table she was playing. She offered some advice for those new to PLO and looking to jump in the game.
"I think it's good to know that it's very different than no-limit hold'em... [in PLO] many players are still just playing hold'em with four cards," she says. "You've got to study the game and learn the tendencies and theories, and you've got to get into it before you start playing PLO."
In PLO, players must realize that it is much different than traditional no-limit hold'em, and those added two cards make for much more, and bigger, hand possibilities. Players must be willing to fold better hands than they might in hold'em.
"You make way more hero folds in PLO than you do in hold'em," Saliba says.
Saliba offers three general tips to keep in mind for beginners, especially those who may be transitioning from hold'em to PLO.
Don't Overplay Aces and Kings — The odds are not as strong as in hold'em with these hands, and while they may look nice, players having four cards make for much more combinations that can easily become ace-crackers. It's much easier for opponents to simply flop two pair and have those aces or kings beat.
Practice Even Tighter Preflop Hand Selection — While it may be tempting to see more flops with four cards, Saliba recommends still tightening up and going in with better hands. Seeing more flops may lead more often to more second and third-place hands — ouch!
Play Your Position — Just like in hold'em, position can be key in winning pots when others don't take a stab. Use your position for well-timed bets and raises to help accumulate chips.
Sean Chaffin is a freelance writer in Crandall, Texas. His work appears in numerous websites and publications. Follow him on Twitter @PokerTraditions. He is also the host of the True Gambling Stories podcast, available on iTunes, Google Play, TuneIn Radio, Spotify, Stitcher, PokerNews.com, HoldemRadio.com, and TrueGamblingStories.com.