Becoming a Father Won't Deter Matt Stout from CSOP Endeavors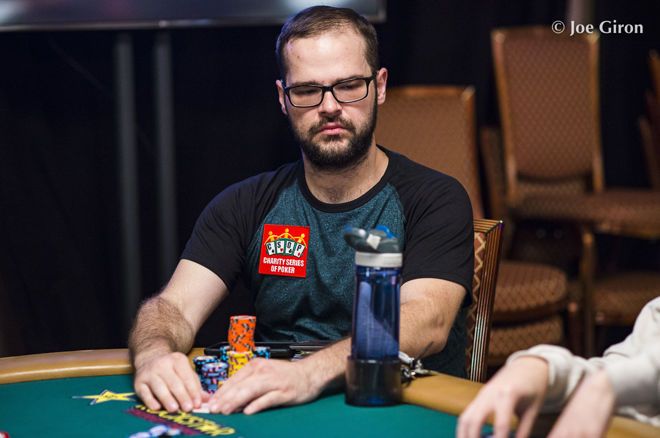 At the start of the 2018 World Series of Poker, Matt Stout and his girlfriend, Brittney Barnes, made a special announcement – they're expecting their first child in December.
"I would say it's going to take away from my poker playing more than my charity work," Stout told PokerNews. "If anything, this is going to give me more of a reason to work on the charity stuff full time. It's going to be a bit of a different situation where I have a little one to look after. I definitely have some plans on how this is going to change my life, but I'm ready for the next chapter."
Stout: "I love playing poker for a living and I spent well over a decade living out of a suitcase."
The next chapter comes after a time in Stout's life that saw him travel the world playing poker. He moved to Vegas in 2008, bought a house in 2010, but found he was on the road more than he was home.
"I love playing poker for a living and I spent well over a decade living out of a suitcase," he said. "I moved out of the country for a little while, but for the past couple years I've been trying to spend more time in Vegas. This year I'll spend 8-10 months of the year here."
A well-known poker pro with just shy of $4 million in lifetime earnings, Stout made headlines in 2014 when he established the Charity Series of Poker (CSOP), a non-profit company founded to organize and promote charity poker tournaments to raise money for worthy causes.
One such charity is Three Square Food Bank, which serves the Southern Nevada region. They provide more than 25 million meals a year to those in need, so it's no surprise that Stout has chosen them as the beneficiary of his summer CSOP event five years running.

This year's $300 buy-in tournament will take place on Tuesday, July 3 at 3:30 p.m. at the London Club on "the Mezz" at Planet Hollywood Resort & Casino as part of the Phamous Poker Series.
"This is going to be the first year we're going to host the whole event inside The London Club," said Stout. "Planet Hollywood is one of the few remaining Caesars properties that has free parking, so people don't have to worry about getting dinged for $20 on their way out after coming to support the cause."
Among those confirmed to attend are Kane Hodder, who played Jason Voorhees in Friday the 13th; famous YouTuber and podcaster Cat Valdes; and The New Yorker writer turned pro poker player Maria Konnikova. Also scheduled to appear are former Main Event champions Scott Blumstein (2017) and Chris Moneymaker (2003).
"Aaron Paul is definitely one of those guys," Stout replied when asked if there are any dream attendees he'd like to have. "Obviously I'd love to get some of the Vegas Golden Knights players. We'll actually be doing a Vegas Golden Knights event here in town in December. It should be right around the time of the WPT Bellagio Five Diamond. Hopefully, we'll be able to get some of the guys out for that one. Obviously, they're the biggest stars in town right now."
Last year's $235 buy-in tournament, which took place at MGM Grand, drew 90 runners who rebought 410 times. 2006 WSOP Main Event runner-up Paul Wasicka walked away the victor for $10,075.
2018 CSOP Vegas Details
When: Tuesday, July 3 at 3:30 p.m. (tournament at 5 p.m.)
Where: London Club on "the Mezz" at Planet Hollywood Resort & Casino
Buy-in: $300 w/ rebuys and add-ons available for the first two hours of play.
Prizes: $10,000 cash to winner; $1,000 cash bonus to player w/ most rebuys and $1,000 to player w/ chip lead when registration closes.
VIP Reception: 3:30 p.m. Open to tournament players or $75 donation by non-tournament guests. Open bar and appetizers provided.
Those interested in sponsorship opportunities can email charityseriesofpoker@gmail.com.
Finding a trustworthy room to play online poker can be a monumental burden. That's all the more true if you're just looking for a place to play poker for free. We've listed five of the best play-money poker sites to enjoy and help hone your skills.