Mr. Back-to-Back: James Moore Attempts 3-Peat in Super Seniors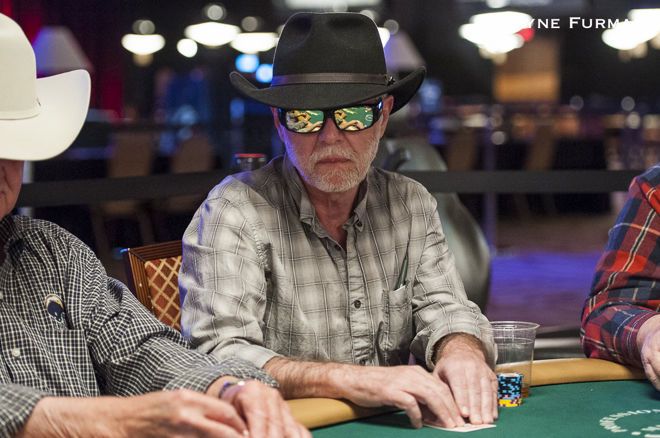 As James Moore took his seat in the Rio, he started the tournament with an opportunity to accomplish a rare feat in sports – the three-peat. After winning the $1,000 Super Seniors event in 2016 and 2017, Moore has an opportunity to make it three in a row.
In sports, there have been some occasional three-peat champions through the years. The Chicago Bulls made it three in a row in 1993, the New York Yankees in 2002, and Shaquille O'Neal and Kobe Bryant led the L.A. Lakers to the feat in 2002. In hockey, the 1978 Montreal Canadiens and 1982 New York Islanders actually won four Stanley Cup titles in a row.
"I'm very anticipatory, not really nervous. But I'm glad to be here."
The accomplishment is certainly rare, but in poker, it seems near impossible especially considering today's massive player fields. The WSOP Main Event has seen a few repeat champions: Johnny Moss, Doyle Brunson, Stu Ungar, and Johnny Chan.
Chan came the closest in the quest for three in a row, losing heads-up to Phil Hellmuth in 1989.
Just winning a bracelet three years in a row is rare, much less winning one in the same event. So it is into rare company that Moore enters the Amazon room hoping for No. 3. In 2017, Moore took home $259,230 in Super Seniors (for players age 60 or over) with 1,720 entries. In 2016, Moore topped a field of 1,476 entries for his second bracelet in the same event and another $230,626.
When discussing his victories, Moore tries to stay humble about his accomplishment but acknowledges that quite a few people back home in New Hope, Pa., have taken notice. That recognition serves as motivation to keep being successful at the tables.
"I think more than anything, it's made me want to work on my game more," he says of the interest in his wins.
Under no grand assumptions that he will even make Day 2, Moore offers one word for his strategy in these big fields: survive. His approach to the action can change from passive to aggressive depending on the player and situation.
"It's very villain dependent," he says of his game laughing.
A radiology physician, Moore spends about five weeks each year working at a hospital in northern California and the rest of the time he works in his home office. When not studying for work, he's studying poker.
Married with a 26-year-old grown son, he describes himself as a nerd while growing up in Michigan. He kept good grades and his studies were important to him. Not much into sports as a teenager, he found other ways to stay competitive – and said he focused on school and girls in high school.
"Between the two, they kept me busy," he says with a laugh. "I'm not much of an athlete."
"There's such a wide spectrum of playing styles and people are just very friendly. You just don't run into people who are mean-spirited at all."
After graduating college, Moore worked as a truck driver a couple of years before heading to medical school. Poker now feeds his competitive side, and he's a regular at the card room at the Parx Casino in Pennsylvania. His live tournament earnings top $536,000.
Beyond winning the event the last two years, Moore is a big fan of the event and how it offers something exclusive for older players.
"I think it's just fabulous," he says. "There's such a wide spectrum of playing styles and people are just very friendly. You just don't run into people who are mean-spirited at all. They're all glad to be here. It's a tremendous thing, socially integrated."
And while he loves the tournament, Moore is also hoping to bring his A-game and adjust as needed. It will certainly be a tough feat to accomplish a third title or even another title, but he's planning on playing well. Goal No. 1 is to make the money and then just see what happens after there. How's was he feeling before the action got underway?
"I'm very anticipatory, not really nervous," he says. "But I'm glad to be here."
As the call was made for players to take their seats, Moore was equipped with all his necessities for the day: a glass of iced tea, his sunglasses, and his backpack. The battle for the third bracelet was on and he simply noted: "I'm ready."
James Moore's WSOP Stats (June, 2018)
| | |
| --- | --- |
| Total Live Earnings | $536,403 |
| All Tim Money List | 3,418 |
| US All Time Money List | 1,807th |
| GPI | 12,975 |
James Moore's WSOP Bracelets
| | 2016 | 2017 |
| --- | --- | --- |
| Entries | 1,476 | 1,720 |
| Prize | $230,626 | $259,230 |
Sean Chaffin is a freelance writer in Crandall, Texas. His work appears in numerous websites and publications. Follow him on Twitter @PokerTraditions. He is also the host of the True Gambling Stories podcast, available on iTunes, Google Play, TuneIn Radio, Spotify, Stitcher, PokerNews.com, HoldemRadio.com, and TrueGamblingStories.com.