Get to Know World Series of Poker Back-to-Back Champ James Moore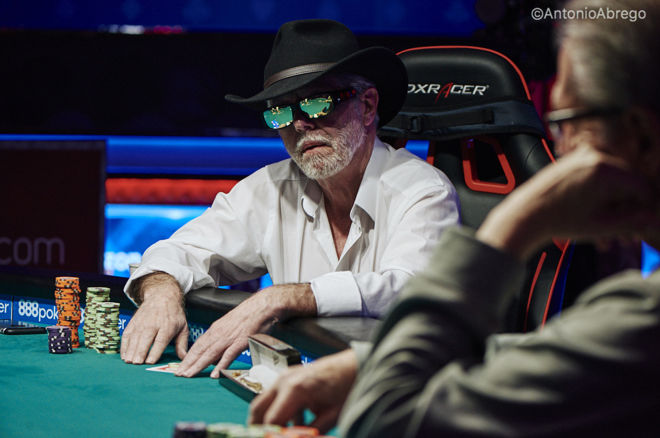 It was Day 1 of the Super Seniors event at the 2017 World Series of Poker. Sixty-six-year-old James Moore walked into the Rio with a strong sense of confidence. And why not? He won this tournament last year.
We made it a point to talk to Moore on that fateful day, and he quoted Stu Unger: "Anyone can win a tournament. Defending it is where it's at."
Two days later, Moore did just that.
Moore went back-to-back in the Super Seniors event on Tuesday, a feat not often seen at the World Series of Poker. Tuan Le did it in 2014/2015 in the $10K 2-7 Triple Draw. Thang Luu did it in 2008/2009 in the $1,500 Omaha Hi-Low Split-8 or Better. And there's the much heralded back to back Main Event titles earned by Doyle Brunson, Stu Ungar, and Johnny Chan. But that's it.
Moore now finds himself in the company of poker's greats by navigating 1,476 players last year and another 1,720 players this year to defend his title and claim his second bracelet.
"Day 1, just survive. Day 2, collect chips. Day 3, win."
Moore, a radiologist, hails from New Hope, a thriving artist community about an hour outside of Philadelphia. He mainly works from home, thanks to modern technology, so patience and focus are something that he is used to employing and obviously has transferred to his poker playing.
Moore and his wife go to the theater and some artistic events, and they love their life in the country. But there's another side to Moore. He also loves the game of poker and frequently spends his time playing games in Philadelphia and Atlantic City.
"Last year, I had this feeling that I was extremely lucky to win," he told PokerNews after his second win. "I just wanted to take my game up a notch. So I started playing fairly regularly in the Philadelphia area. Not to mention, I'm only a few hours outside of Atlantic City, so I'm able to go over and play there. I even played a WPT event. Even though I've been working on my game, I still have ways to go regarding the quality of my play."
When we talked to Moore on Day 1, we asked him what his strategy was to secure his second title. His strategy was simple, "Day 1, just survive. Day 2, collect chips. Day 3, win."
Everything worked as planned.
"It was a rough first day; I had pocket aces cracked by ace-ten. You don't really expect that kind of thing, but it happens from time to time. I lost a lot of my chips there. I wanted to survive on Day 1, and I did. Barely."
He started Day 2 short, but he still had some chips to work with holding about 17 big blinds.
"It didn't help having TJ Cloutier on my left. That's a tough spot to be in. But I came in hyper-aggressive with no cards and built my stack to about 80,000. Then I had a run of cards that you just wouldn't believe. It was embarrassing how good I ran."
Day 3 began with Moore third in chips, and there were 22 players that stood between him and another winner's photo. He took some beats early on and spent most of the day playing short.
"The field gets tougher as tougher as times goes on. You run into a lot of really fine players. I played short most of the day, and my goal was to try and maintain patience, which isn't really too difficult for me. I was just focused on making the best decision at the time. That was really all I could do. I guess my patience paid off."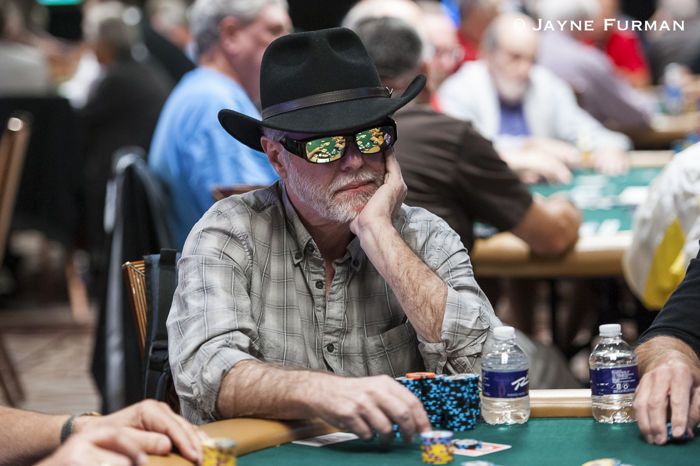 Preparation and learning is important to Moore. After last year's win, he was motivated to work hard to improve his game. He wanted to show up this summer as a worthy champion and playing his best. When you talk to him, you can sense his love and respect for the game of poker and how important it is for him to represent it well.
That's why putting in the time at the card rooms over the past year was important to him. He was getting ready for this summer. He is quick to acknowledge that there was a definite difference between his play this year and last, and he attributes that difference to his time at the tables.
"In the past, I've had a tendency to fold a lot on flops to other people's bets when I had nothing, and now I'm a lot stickier. I think that has to be one of the best improvements in my game."
"I would like to be described as someone with a deep and fundamental understanding of the game. And I don't think I'm quite there yet."
Moore only played two WSOP events this year, the Seniors and Super Seniors. Last year was the same. After winning his second bracelet, we asked him if he might be expanding his WSOP schedule next year.
"I don't know the answer to that. I'm sort of shell-shocked at this moment. Working on your game is a process. It's very hard. I run into a quality of play that's pretty awesome out here and I want to be prepared to be competitive in whatever events I decide to play."
You can just look at him and tell how much this means to him. His calm and confident exterior gave way to a shaky, soft, and somewhat disbelieving voice when asked what was next.
"I would like to be described as someone with a deep and fundamental understanding of the game. And I don't think I'm quite there yet."
Moore has the heart of a true champion. He's not ready to rest on his laurels, and at 66 years old, he has a strong desire to keep moving forward to make sure he leaves a legacy that includes being a solid game player.
"I'm not sure what the next steps are to improve my game, maybe it's time to get a coach. I'll certainly continue to read, study the game and of course, continue to play."
Moore is definitely looking forward to coming back next year as the two-time defending champion to survive Day 1, collect chips on Day 2 and claim a third straight title on Day 3. It only makes sense to stick with what works.