A Year-by-Year Look at Greg Merson's WSOP Main Event Runs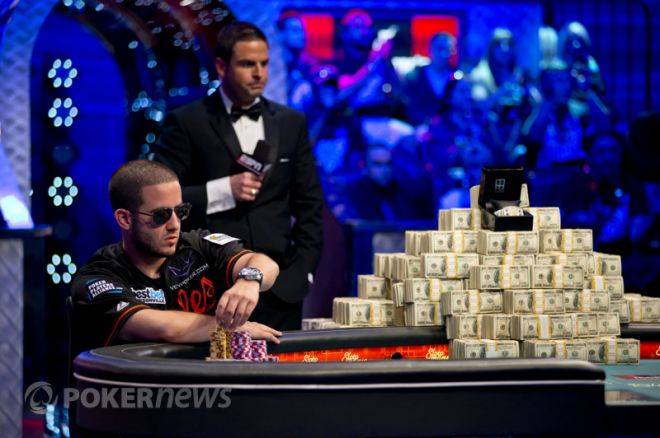 The odds of a defending champion going back to back in the Main Event are highly unlikely. It borders on impossible, but don't tell that to 2012 World Series of Poker Main Event champ Greg Merson, who is among the 239 players headed to Day 5 of the 2013 WSOP Main Event.
Three players in WSOP history have achieved back-to-back Main Event victories if you don't include Johnny Moss, who was voted champ in 1970 before winning in 1971. The first to do it was Doyle Brunson who won in 1976 and 1977, and then Stu Ungar accomplished the same feat in 1980 and 1981. The last player to accomplish the feat was Johnny Chan in 1987 and 1988 (his three-peat was stopped in heads-up play by Phil Hellmuth in 1989).
Fast forward to the modern age of poker. Merson won the WSOP Championship last year for an $8.5 million payday after beating Jesse Sylvia heads up to etch his name in poker history. If Merson were to win this year, he would be the fourth player in history to obtain such a grand achievement—though let's be honest, doing it in this day and age would be the perhaps the grandest achievement in poker history.
Now, going into Day 5, Merson is making a competitive run at doing it again as he sits with 635,000 in chips, just below the average stack. After tracking his progress, it was discovered that Merson has been consistently ending each day up to 17 times better than the same time last year.
Here's a day-by-day comparison of the 2012 Main Event to the 2013 Main Event:
Day 1
At the start of the 2012 Main Event Merson was still fairly unrecognizable. Although he had won his first-ever WSOP bracelet just a few days before, he didn't hit the media's Main Event radar until a few days into play. What can be said about his first day from last year to this year is that he had a much better run. In 2012, Merson ended Day 1 with 56,500 in chips compared to the 81,650 he ended with this year. Merson was, for the most part, pretty quiet this year. He got off to a good start early on Day 1a when he rivered two-pair with
in Level 2 to run his stack from the 30,000 starting stack to nearly 40,000. He picked up small pots throughout the day to work his way up to over 80,000 for the night.
Day 2
Day 2 of last year's Main Event was Merson's worst day. He bagged up only 16,200 in chips, which put him 833 out of the returning 842 players for Day 2ab. This year, however, he racked up 275,600 – over 17 times better than his run last year.
A little run-good helped Merson after he was at risk of an exit when he shoved all-in on a
flop. Merson flopped top two pair, while his opponent, Wilfried Harig, flopped a set of eights. It was déjà vu for the two players as they were in a similar situation in last year's tournament. Ultimately, Harig fell in 15th place in a hand versus eventual champion Merson during Day 7.
As if already pre-determined, the
came on the turn to give Merson the better full house. Merson realized how fortunate he had been to survive that hand by posting his sentiments on Twitter.
Just got super lucky against harig. Doubt he could run worse vs me lifetime. Good sport though, somehow was able to shake my hand after :/

— Greg Merson (@GregMerson)
Fate kept Merson alive and has since been fortunate. In a later hand, Merson called an all-in bet with
versus black pocket queens. Luck be his name when Merson rivered a four-card flush to add 43,000 to his chip count.
His survival was crucial in keeping his story alive. Had he busted, he would have been the 2012 Main Event Champion who busted on Day 2 of the 2013 Main Event. Instead, he still holds a solid chance at making history.
Day 3
Day 3 of last year and this year was pretty similar, in fact. Merson ended his 2012 Day 3 run with 365,000, while he counted 390,000 this year. A key hand that helped catapult Merson was when he doubled his stack after calling an all-in bet with pocket aces against his opponent's ace-king and held.
He posted his excitement on Twitter saying, "Doubled up to 564K #luckyplayer" but immediately added "correction. Roller coaster. 420k." Merson was referring to hand that occurred just moments after his double up when his opponent rivered a flush to drop his chip count slightly.
The rest of the day was easy breezy after running card dead for the remainder of the night. In fact, in the final level of the day, Merson played only three hands and saw exactly zero flops in the last two hours. Merson closed out the evening with a 390,000 stack putting him in the top quarter of the field.
Day 4
Day 4 of the 2013 WSOP officially closed early Saturday with 239 players left in the field. Merson's end-of-day results were near a 2-to-1 improvement from last year. He closed out the night with 635,000 compared to 376,000 from last year, while the average stack is around 797,000.
It was a 2012 final-table rematch in Level 17 with Steve Gee, Russell Thomas and Merson all on the same table. Merson, the defending champion, took a decent-sized pot off Gee, who was the first to exit at final table last year, to put him above 600,000 in chips.
Merson will be going into Day 5 with more chips than he did last year, which means a run at the title doesn't seem too farfetched. Whether or not that happens remains to be seen, but you can find out by following the action in the PokerNews Live Blog.
Get all the latest PokerNews updates on your social media outlets. Follow us on Twitter and find us on both Facebook and Google+!