All Heart: Leon Shattuck on Poker & Seeing Wife Through Alzheimer's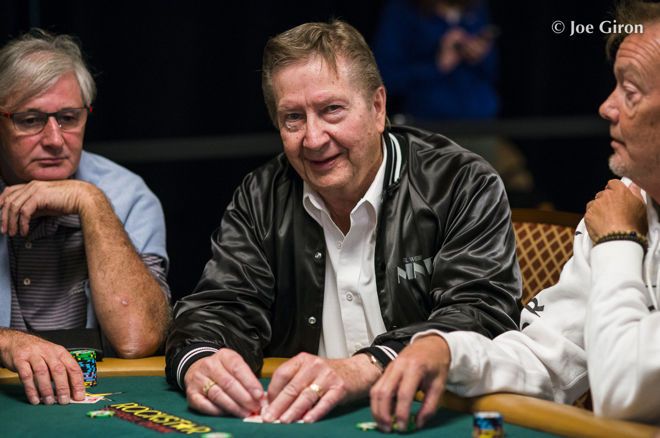 It's tough to talk about poker sometimes for Leon Shattuck. Playing in the $1,000 Seniors Championship on Friday, Leon has been a regular at the WSOP since 1983 and played professionally full-time beginning in 1985. He even met his wife at the event – and that's what makes it a little difficult.
Shattuck, 77, grew up in Chattanooga, Tenn., and has been playing poker for decades. He played in at least one WSOP event every year until 2006. A lifelong rounder, Leon had been a Vegas full-time poker player, but was forced to retire from playing regularly in 2006. Not because of age, or lack of energy. It wasn't even because he had a big downswing and had gone broke.
Leon breaks down as he tells the story, and asks for a minute or two to compose himself. He takes a few breaths to keep from crying as players head off to a break, and explains that he had to stop playing to care for his ailing wife Monika. One year his elder, she suffers from advanced stages of Alzheimer's disease.
An irreversible, progressive brain disorder, the disease slowly destroys memory and thinking skills, and eventually the ability to carry out simple tasks. The disease affects about seven million Americans.
And for family members and spouses like Leon, it's painful to see a loved one change and suffer. The person you knew seems to be gone. For Leon, it's been a long struggle seeing the changes and pain endured by the woman he loves so much. As he played on Friday, Leon kept a photo of Monika in his shirt pocket.
Vegas Bound
As he plays in the Amazon room, it's easy to tell Leon is a poker old timer. He wears a satin jacket from the downtown Mint Casino. The property opened in 1957 and closed in 1988, and was famous for being the first stop by Hunter S. Thompson in 1971 as he chronicled his Vegas adventures in "Fear and Loathing in Las Vegas." The casino was also well-known for sponsoring the Mint 400 off-road race.
In action on Thursday in the $1,500 Seven Stud, Leon sported a Stardust jacket, which closed in 2006. As he talks, Leon pulls a card from his pocket. It's an old WSOP ID card from the Horseshoe with his picture on it and signature on the back.
"They gave us these in '85," he says. "Not many people have these, and most of those who got these are dead now. This is what they gave you to show that you're one of the participants and you were playing in the tournament. You'd just take this downstairs in the Horseshoe, and it got you and a friend in the buffet for free. They fed us good back then."
Back in Chattanooga, Leon worked as a barber cutting hair, trimming a beard, and shooting the bull with customers. When not work working his shears and clippers, he played in games around town – discovering that he had some real skills at the poker table.
It was that job as a barber that ultimately introduced him to the Vegas poker scene.
"I came out here with a hairpiece company and I saw the poker room and I said, 'Well this is my world,'" he says. "So I came on out and played in the World Series in '83 and I got close to cashing then, but I didn't. In '84 I came back and played again."
The next year would change the course of his life. In Vegas to play more poker, Leon decided to stay a little longer than usual.
"I called Republic Airlines and asked them if I could extend my time and they said okay. Two weeks later I called back and they said, 'Your ticket's no good now.' I said, 'Good, I'll just stay.'
""I sold my place. In '85 I began playing stud poker over there at the Stardust and made enough to keep a roof over my head. All they required was anywhere from $9 to $16 a day to stay, and they fed us. And I played low limit poker and I beat the game four out of five days a week in stud."
Vegas was soon his new home and he notes: "I never did have to work, I just played poker. "
A Life Together Through Poker
Monika and Leon met in 1990 while playing at the Imperial Palace. Monika, who is originally from Germany, took notice of him when he check-raised her and a conversation ensued about poker and life. Smiles were exchanged and there was a mutual attraction.
Three years later they were married. Butt then they divorced after seven years. While some marriages don't seem to last, this divorce didn't last. A month later, Monika moved back in and lived with him another 16 years before she was hit with Alzheimer's.
As Monika's condition worsened, Leon knew his poker life would have to change. The couple moved back to Chattanooga in 2006 as he began to care for her daily needs. It wasn't easy and could be a struggle.
After nine years of Leon taking care of her, Monika had to be admitted to a constant care facility in 2015. Her condition required more than Leon could offer and it's painful not being able to live with her everyday, not being able to talk to the woman who meant so much to him. And it's painful that she can't recognize him.
While Leon and Monika may have never officially remarried, he likes to think that the divorce never really happened. It was just a fleeting mistake and shouldn't have happened.
Leon's always considered Monika his wife – a wife that loved playing cards. He adds: "And she was a really good player."
Back in Action
In his third year back playing at the Rio, Leon has been close to the money, finishing as the bubble boy in 2017 in the Super Seniors event. A year earlier, he ran deep in the Seniors Championship. He's hoping to change that streak this year with a cash. Along with this event, he plans to play in the $1,000 Super Seniors event again and the $1,500 Razz event on June 24.
At the first break on Friday, Leon had accumulated a nice stack and had the lead in chips at his table. Poker rooms and casinos aren't legal in Tennessee, so he doesn't play as much as when he lived in Vegas. There may be some underground games in his hometown, but he has some specific reasons for avoiding them.
"My brother is a judge there and that would be kind of embarrassing to get caught playing poker," he says. "So I just go down to Tunica or up to Cherokee and play."
Win or lose, poker is much more than just a game involving cards and chips. It's a way to connect to Monika and remember all those good times they shared at the tables and away from felt. Sometimes, poker can be more than a game.
"Poker was a big thing between us," he says. "She means a lot to me."
Sean Chaffin is a freelance writer in Crandall, Texas. His work appears in numerous websites and publications. Follow him on Twitter @PokerTraditions. He is also the host of the True Gambling Stories podcast, available on iTunes, Google Play, TuneIn Radio, Spotify, Stitcher, PokerNews.com, HoldemRadio.com, and TrueGamblingStories.com.