Living Legend: Doyle Brunson Returns to the Felt at WSOP
Poker legend Doyle Brunson made his way back to the World Series of Poker on Monday to play in the $10,000 No-Limit 2-7 Lowball Draw Championship. The elder statesman of poker, Brunson's importance to the game can't be understated.
The 84-year-old drew a crowd along the rail throughout the day and spoke with PokerNews about his amazing life in poker, family, his legacy in the game – and of course a little about his home state of Texas.
"I've never seen as many high limit players as there are here in town now."
Back in Action
It's been a few years since the 10-time bracelet winner has made to the WSOP. Brunson, who won the $10,000 Main Event in 1976 and 1977, says he can't play for the long hours anymore. The 2-7 Lowball event allowed for registration up until the start of Day 2, which made it a little easier to at least play one event.
"My son texted me that it would be about the only chance that I might have to play this year," he said. "The hours are too long and my wife won't go to sleep until I get home. She's not in real good health, so I figure after 57 years I owe it to her to go home.
"Deuce to seven has always been my favorite games," he says. "And today is just an opportunity."
While Brunson may not be able to play the long hours at the WSOP tournament tables, he's still a regular at the Big Game at the Bellagio, playing for some of the highest stakes around. The octogenarian shows no signs of slowing down.
"I play just about every day," he says. "They keep a seat locked up for me until about 1 p.m. I get there about noon every day and play until about 8 or 9 p.m. I've been winning and that makes it a good game. I've never seen as many high limit players as there are here in town now."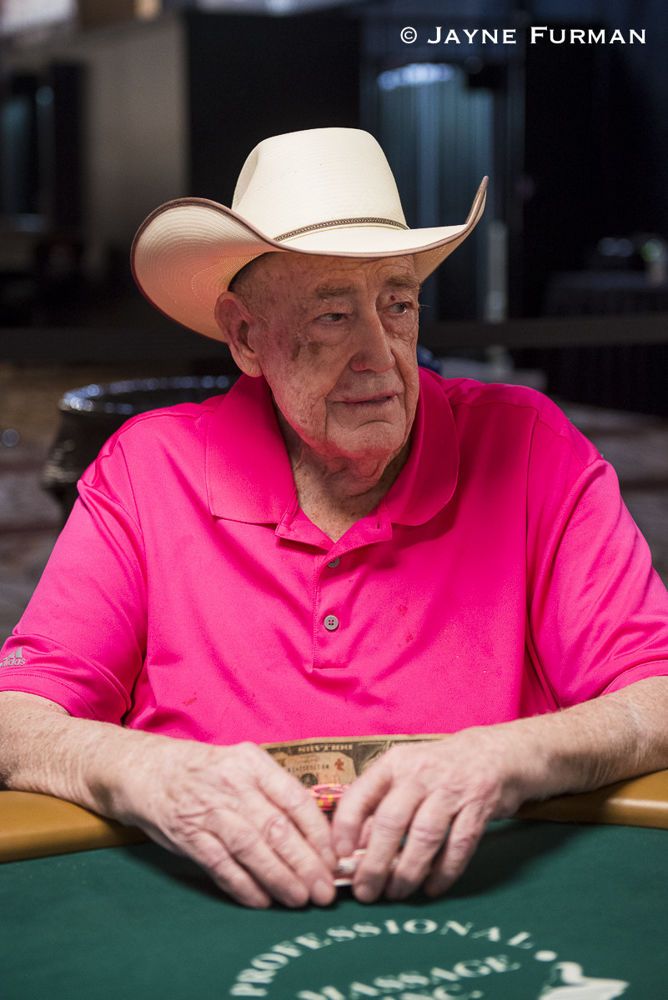 Poker in the Family
Poker runs in the Brunson family, with his son Todd Brunson having won one WSOP bracelet and more than $4.3 million in tournament winnings. His daughter Pamela is also an occasional player with more than $89,000 in earnings. The game was not necessarily something he hoped they would go into, and recalled learning Todd had begun playing.
"I didn't talk about poker when Todd was a kid," he says. "He went to college and was in his third year to be a lawyer. I didn't even know he knew how to play poker. He was at Texas Tech, and that's a gambling town in Lubbock, and he started playing poker there and he came back and said, 'I'm not going to go back to school, I'm going to be a professional poker player.'"
That decision did not receive a warm reception.
"I said, 'Are you crazy?'" Brunson recalls. "And his mother really didn't like it. I said, 'I'll take you around [to some games] and we'll see.' We were living in California at the time, and we went to one of the casinos there. I put him in a game and I saw immediately that he knew what he was doing. He was just a natural without my help. I didn't help him at all. I wasn't opposed to it after I saw that he knew what he was doing."
Todd soon won the $5,000 Diamond Jim Brady event in 1993 at the Bicycle Casino for $198,000 and didn't slow down. It's obvious Brunson takes pride in Todd's success on the felt as well, noting: "That was probably one of the biggest tournaments at the time."
"If you're in trouble in Texas, somebody will always stop and help you. In Nevada, they drive right on by you."
When speaking with Brunson, one of his favorite subjects always seems to come up – his home state and why he loves Texas. What does he miss?
"The people, there are no people like Texans," he says. "If you're in trouble in Texas, somebody will always stop and help you. In Nevada, they drive right on by you."
If the Lone Star State just had poker rooms, Brunson might be back home.
Twitter and Hall of Fame
Many Twitter followers may be familiar with Doyle's frequency on the medium. He regularly posts about poker, politics, his favorite Western movies, guns, religion, and everything else that pops up in his head. He's not politically correct. He doesn't hold much back – and isn't afraid to block those who have a problem with it.
Going to the Rio to play in 2-7 lowball tournament. Probably the last one I'll ever play.

— Doyle Brunson (@TexDolly)
"Twitter is just fun," he says. "I enjoy the banter back and forth and you pick up a lot of information, and make new friends actually. I haven't really gotten into Facebook, but I've got a Facebook account I guess, but my daughter kind of takes care of that."
With nominations open for the Poker Hall of Fame, Texas Dolly offered a few of his suggestions including David Oppenheim, Huck Seed, Abe Mosseri, and Ray Dehkharghani.
The poker legend himself was inducted into the hall in 1988 and feels cash game players are not given enough thought when it comes to inclusion – as well as some older players from the '50s and '60s and the WSOP's early days.
"There's a lot of deserving players," he says. "The cash game players are the ones I think that should be in. Tournament players also, but cash games players get overlooked because they don't get the publicity. And I think that some of the best players in the world don't even come to these tournaments. And obviously, I think all of the old timers should be in. I mean this wouldn't be here without them."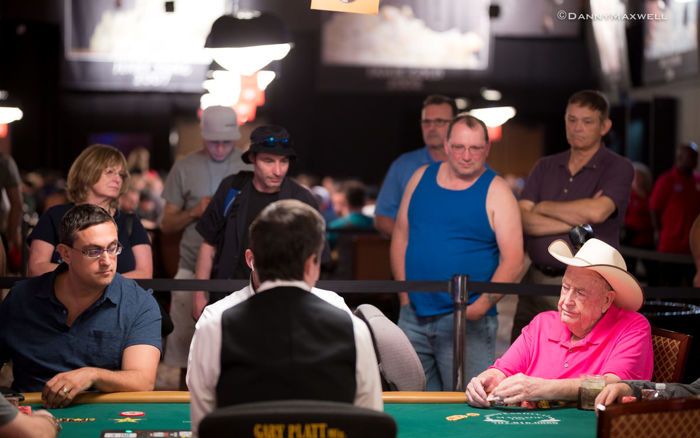 Rounder in the Rio
Throughout the afternoon, Brunson chipped up in the 2-7 Lowball event. He counted out chips, tossed some in the pot here and there, and occasionally chatted with table mates. The poker table has been his office for decades and business has always been good.
Dressed in a pink shirt and his trademark cowboy hat, one of the very few at the tables, Doyle Brunson was in his element. A crowd seemed to keep growing, men and women, players of all ages eager to take in a sight of a master at work.
"I started when I was 22 and I've played in the biggest games I could now for 62 years. It would be tough for somebody to beat that record."
Pictures were snapped, friends were texted, and many simply watched quietly. It was easy to feel a real sense of admiration and respect from players on the rail – angling for just to get a glimpse of an idol.
Earlier in the day, Brunson spoke about his legacy in the game – from a Texas road gambler seeking action in back rooms to a Vegas high-stakes legend. How does he hope to be remembered?
"I really don't know, just whatever people want to think about it," he says. 'I guess probably the fact that I played at the higher levels longer than anybody else ever did I think. I started when I was 22 and I've played in the biggest games I could now for 62 years. It would be tough for somebody to beat that record."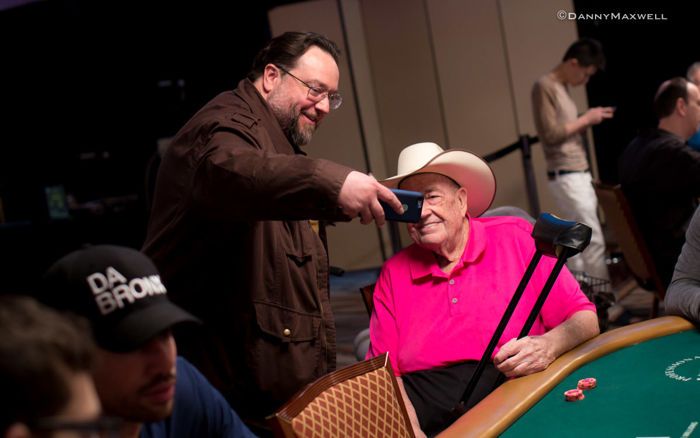 ---
Sean Chaffin is a freelance writer in Crandall, Texas. His work appears in numerous websites and publications. Follow him on Twitter @PokerTraditions. He is also the host of the True Gambling Stories podcast, available on iTunes, Google Play, TuneIn Radio, Spotify, Stitcher, PokerNews.com, HoldemRadio.com, and TrueGamblingStories.com.