How to Get Slotomania Free Coins in 2018

Sarah Hamid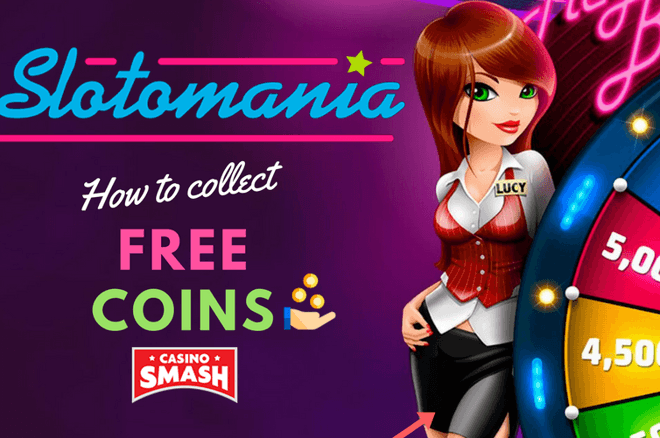 Slotomania is the ultimate online casino site for US players, offering hundreds of fantastic video slots for American casino lovers that also happens to be 100 percent legal across all states!
In addition to hosting a truly massive collection of games, Slotomania has such incredible bonus schemes in place that, with the right strategy, you can almost infinitely collect thousands free coins to play online slots on their site!
What's the catch?
There is none; basically all you need to do is become a casino member here and watch the coins roll in. It all starts with a spectacular no deposit bonus, which we'll tell you how to collect next!
The 1st Round of Slotomania Free Coins: The Welcome Bonus!

All new members joining Slotomania are eligible for a massive no deposit bonus of 10,000 free coins that can be used for any of the casino site's video slots!
These free coins are a gift from Slotomania to new members, and all players can get a taste of the games on the site using their free coins before deciding to deposit any cash.
Depending on your game of choice, you may be able to spin more times than others due to varying minimum and maximum bets. Some games go as high as 750 coins a spin, and while this may be a lot to bet, it also means higher returns when you win!
Regardless of how fast you spend your coins, this is only the first opportunity at Slotomania to collect free coins, since their loyalty program makes it nearly impossible to run out of coins to play with!
UNLIMITED Free Coins via Slotomania's Loyalty Program

Slotomania has quite an extensive loyalty program in place that rewards regular users with tons of free coins, prizes and other goodies! The system has multiple levels, depending on how many experience points you have collected.
What are Experience Points and How Do They Get You Free Coins?
At Slotomania, the more coins you use, the more experience points you collect. With every bet you make, more points are added to your account, and the more you collect, the higher up the ladder you get.
At the top of the ladder there are daily prizes of over 1 million free coins! While seven-figure free coin prizes may seem too good to be true, trust us, it's not!
Below is a table of the entry requirements for each loyalty level on Slotomania and the number of free coin prizes members collect every day depending on how high up they are:
| Level | Experience Points (EP) | Free Coins per Day |
| --- | --- | --- |
| Bronze Level | 0 EP | 250 |
| Silver Level | 1500 EP | 250+ |
| Gold Level | 4,000 EP | 100,000 |
| Platinum Level | 30,000 EP | 200,000 |
| Diamond Level | 500,000 EP | 500,000 |
| Royal Diamond Level | 2,000,000 EP | 1,000,000+ |
| Black Diamond Level | 8,000,000 EP | It's a Mystery! |
As if Royal Diamond wasn't intriguing enough, players who reach Black Diamond level will be treated with even more offers which, as you can image, are even more alluring than 1 million daily free coins!
The 3rd Slotomania Free Coin Hack You Need to Know
Aside from a huge welcome bonus of 10,000 free coins, which you can claim here, there are other hacks and tricks to collecting even more Slotomania coins; as if that were even necessary!
The Slotomania Facebook Hack: Download for More Free Coins!

Another way to get free coins or stay updated on Slotomania's latest games and free coin offers is to follow them on Facebook. You can also claim your 10,000 free coin bonus by signing up through their Facebook page, or simply claim it here.
Slotomania's Facebook fans get immediately notified about new hacks and free coin promotions, as well as running slots tournaments, which give you the opportunity to collect even more free coins without having to download any software!
Get More Free Coins to Play Slotomania Mobile!
One final hack to get Slotomania free coins is as simple as downloading their fully functioning mobile application!
In addition to your new player welcome bonus of 10,000 free coins you can also receive 20,000 more free coins once you download the Slotomania app to play on your mobile device! The app is completely free and free coins are yours as soon as you download it and log in.
Download the free Slotomania app here and collect your 20,000 free coins instantly!
Everybody needs an account at one of these online poker rooms! They're the biggest, the best, and we get you the best poker bonuses. Check out our online poker section for details on all the online poker rooms around.