Tony Miles is Dressed for Success and Still in the Mix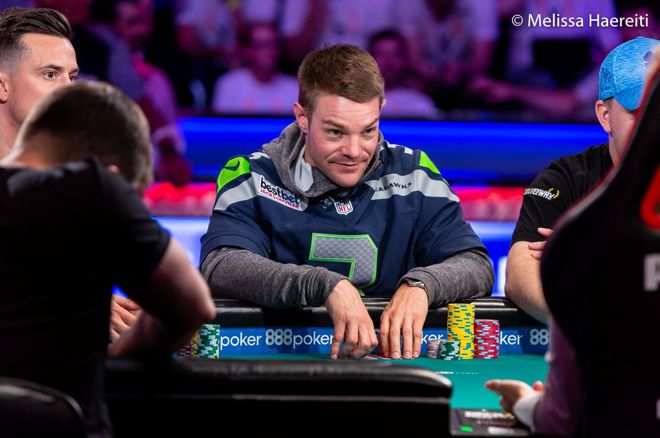 After bagging a third-place stack of 42,750,000 at the end of Day 7, Tony Miles predicted that he would have a wardrobe surprise for today's final table.
"You're gonna see [the jersey of] an athlete that I respect on and off the field," Miles said. "I'm not sure which one it will be—and I am not going to reveal that at this time—but I'm really big on promoting athletes who are really good people off the field."
True to his word, Miles arrived this afternoon at the Rio sporting the jersey of Seattle Seahawks quarterback Russell Wilson.
"He's a Christian," Miles explained. "Also, he's always scrambling and fighting for his life. That's me, dude." Miles smiled and added, "Plus, he runs good."
Miles, who went to high school in Tacoma, Washington, grew up a Seahawks fan. Even though he moved to Jacksonville, Florida, his allegiances haven't changed: he still loves football, electronic dance music, and poker. He's been playing tournaments since August 2011 and had two modest scores this summer in The Colossus (for $2,358) and the Millionaire Maker (for $4,038). His career tournaments earnings will change dramatically now that Miles is guaranteed at least $1,800,000 with six players remaining.
By paying homage to Russell Wilson, Miles may also be keeping Main Event tradition in mind. Three years ago, a 24-year-old from Conshohocken, Pennsylvania competed at the final table in a black and red Philadelphia 76ers jersey. That player, of course, is 2015 Main Event champ Joe McKeehen.
Can Miles follow McKeehen's jersey-wearing lead? We'll have to wait and see.
Every so often, players appear at the final table in sartorial splendor. Last year's colorful fourth-place finisher John Hesp (pictured below) comes to mind, as does 2015 November Niner Max Steinberg.
But this year, as one perceptive ESPN viewer tweeted, the final nine players have opted for a more casual wardrobe of t-shirts, hoodies, and, in Miles's case, a jersey.
Watching #WSOPMainEvent2018 final table intently. Haven't seen either of these yet. https://t.co/2ELXJSLEeM

— Short-Stacked Shamus (@hardboiledpoker)
So far, Miles is holding steady. He got all-in preflop with two kings against Joe Cada, who also held two kings, and the pair exchanged grins as they chopped the pot.
Whoever wins this year, one thing's for sure: he'll do it in his own style.