Champion Boxer David Haye to Attempt Career as Poker Player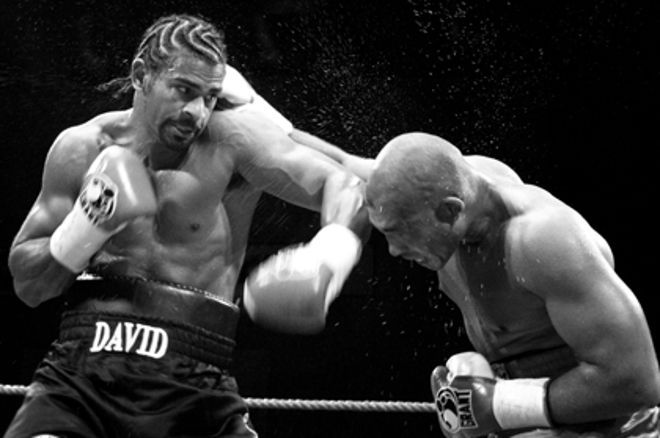 The poker world has already been set abuzz by James Obst attempting a wild conversion from professional poker player to world-class athlete. Now, David Haye will try to do the reverse.
That's the news that came out of British media outlets over the weekend: the 37-year-old former world champion plans to try his hand at poker after leaving boxing behind. It appears he'll be sponsored by Grosvenor Casinos, a U.K.-based company that operates 55 casinos and runs the regional Grosvenor U.K. Poker Tour, with an eye toward competing in the tour's flagship Goliath event next year.
"I'm a complete novice so it's a huge ask, but I am looking forward to the challenge and getting my teeth into something new before taking on Goliath," he told the Daily Mail.
Haye the Boxer
In the ring, Haye spent most of his career as a cruiserweight, the division just under heavyweight. There, Haye compiled a sterling record as a pro starting in 2002, winning a slew of titles over fighters like Enzo Maccarinelli and Alexander Gurov.
After laying waste to much of the division with a 22-1 record, Haye then moved up to heavyweight. There, his results were a little more mixed.
Things started off well enough as he won the WBA title by decision over Nikolay Valuev. He then retained it in his next two bouts with knockout victories.
Haye then challenged star heavyweight Wladimir Klitschko for his pile of world titles in July 2011. Klitschko won the bout by unanimous decision.
Haye won his next three fights by stoppage but was then stopped twice himself, in May 2017 and May 2018, by Tony Bellew. After the 2018 loss, Haye announced he was finished with fighting, wrapping a career with a 28-4 record with 26 knockout victories. Daily Mail called him "one of the best pound-for-pound fighters Britain has ever produced."
Haye the Poker Player?
Many ultra-competitive people whose lives revolve around sports for decades find a natural transition to competing on the poker felt. Richard Seymour, Sergio Garcia and most recently Neymar Jr. are some of the high-level athletes to give poker a shot in recent years.
It seems, along with his new sponsor, Haye will attempt to join their ranks. However, he admitted he has zero experience and doesn't even know the rules of poker, so it will likely take some time before he finds his footing, if he winds up having any success at all.
What Haye does have is the help of some local coaches. Although poker fans may have to wonder a bit about the Mail labeling Joe Beevers, Jeff Kimber and Katie Swift "some of the best poker professionals on the circuit" — only Swift has even had a six-figure tournament year since 2010 — they'll likely accelerate Haye's learning considerably.
To his credit, Haye seems to embrace his status as a rookie and seems well aware of the challenge ahead.
"I'm such a novice so I have to focus on the fundamentals," he told talkSPORT. "It's about accepting the fact that I'll be pretty poor, that every single person I'm playing with is better than I am."
The plan is for Haye, in a year's time, to be ready to tackle the 2019 GUKPT Goliath. The tournament is a low-stakes event with a £120 buy-in and a heap of starting flights that awards a hefty £100,000 guaranteed first-place prize. Florian Duta just locked up this year's event along with £101,450 in prize money over the weekend in field of about 7,500.
"The next 12 months will be exciting, but I am also acutely aware that they will also be extremely challenging," Haye said.