James Obst Leaving Poker for Tennis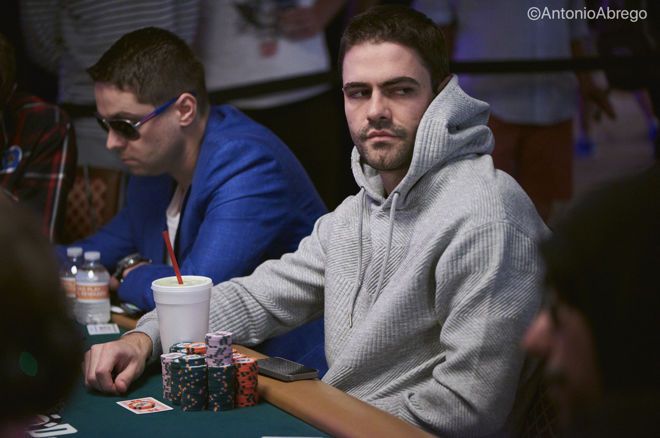 WSOP bracelet winner and tournament crusher James Obst, known online as "Andy McLEOD," recently made a surprising announcement: he plans to leave poker in order to play professional tennis and compete in Wimbledon.
Obst's announcement arrived after another deep run in the Main Event. On Day 6, after nimbly navigating the 7,874-player field, Obst got all-in preflop with two aces against Michael Dyer's two tens. The board came out
, Dyer won a monster pot, and Obst was eliminated in 46th place about an hour later.
"Running deep in the Main Event plays funny tricks on your mind," Obst wrote in a lengthy tweet. "Despite disappointing results, it's been an extremely enjoyable and fulfilling experience throughout. So much so that it's left me regretting not integrating myself more within the community previously."
"I never even conceived the possibility of sharing this publicly," he added, "but after feeling all of the support and interest in the last couple of days, I realise that if I all but disappeared from poker that some people would want to know why."
The poker community's response was swift and supportive. Vanessa Selbst, Todd Brunson, Shannon Shorr, Ryan LaPlante, Andrew Lichtenburger, Adam Levy, and dozens of others wished Obst well.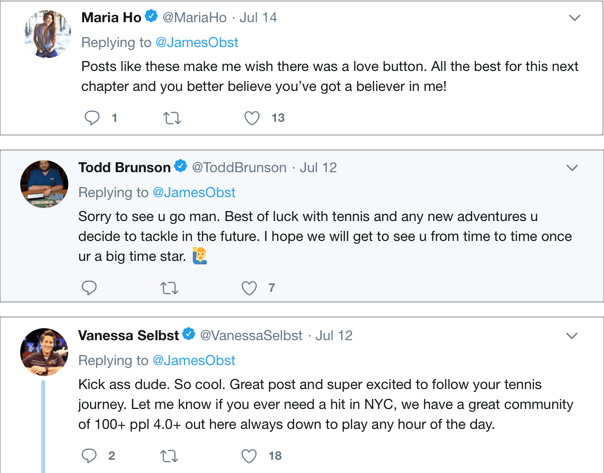 Curious or concerned readers shouldn't worry about a complete disappearance. Obst told PokerNews that he isn't "quitting" poker, but merely committing to a schedule that has already involved playing less and less. He plans to play on rare occasion.
From Tennis to Poker
Obst certainly isn't alone among poker players in his appreciation for tennis. Gus Hansen, David Benyamine, and Ryan Daut have passionate connections to the game. Patrik Antonius and Brandon Adams played a prop bet match in 2011. Zach Jiganti attended the Bollettieri Tennis Academy as a teenager and played Division One tennis at Texas Tech University.
"it's been an extremely enjoyable and fulfilling experience throughout."
Jiganti has written eloquently about tennis and poker. In particular, he highlights the importance of self-awareness. During a hand, he writes, "I try to adopt the mindset that I struggled to describe years ago when questioned about my love for heads-up poker: the distancing of my actions and internal thought process in order to fully experience myself as being-perceived. As this being-perceived implies a perceiver, the more thorough the understanding of the perceiver, the more successful the prediction (and subsequently, manipulation) of what he'll choose to do in the future. I see how I'm seen, embrace who I'm seen by, then exploit. Perhaps obviously appreciated, but less often deeply understood."
It's no surprise that Jiganti (and the others mentioned above) enjoys heads-up poker, a format in which decisions are lobbed back and forth like a cross-court volley. Tennis requires similar skills. Hitting thousands of strokes, honing one's mind and body, developing the ability to do by feel what can't be consciously achieved by thought—this process is probably familiar to anyone who's played serious poker or, for that matter, any game that demands unconscious competence.
From the Main Event to Center Court?
"The most powerful part of my transformation is if I'm ultimately proven delusional and never get close, I'm OK with people seeing that."
As someone who has faced devastating health problems since his teens, Obst concedes that he's facing an uphill battle to turn tennis pro. But now that most of these health problems are manageable, he can take practical steps to improve and perhaps lean on the example of his favorite player, Stan Wawrinka.
A country-tough pro from rural Switzerland, Wawrinka didn't break through on the tour until he won the 2014 Australia Open at the somewhat advanced age of 28. "He always possessed superb fighting qualities in matches," Obst said in a 2015 interview, "but often appeared troubled by personal issues that wouldn't allow him to be in the right headspace to produce his best consistently. Despite his mesmerizing shot-making that was always there, no one predicted that he had what it took to break out in the way he has."
"It's a fulfilling path to go down, and worrying about what people think is no longer a priority."
Now, coming on the heels of Wimbledon and the WSOP, the 27-year-old Australian faces a number of questions. Where should he live and train? What will his daily schedule look like? How will his health hold up?
Maybe, as Obst suggested in his tweet, none of these questions matter as much as a willingness to go all-in.
"The most powerful part of my transformation is if I'm ultimately proven delusional and never get close, I'm OK with people seeing that," he said. "It's a fulfilling path to go down, and worrying about what people think is no longer a priority."
James Obst Stats
| | |
| --- | --- |
| Total Live Earnings: | $2,888,355 |
| All-Time Money List Ranking: | 476th |
| Global Poker Index Ranking: | 426th |
James Obst's Biggest Cashes
| Year | Event | Buy-in | Tournament | Position | Prize |
| --- | --- | --- | --- | --- | --- |
| 2016 | WSOP | $10,000 | Main Event | 13th | $427,930 |
| 2017 | WSOP | $10,000 | Razz Championship | 1st | $265,138 |
| 2016 | WSOP | $10,000 | H.O.R.S.E. Championship | 2nd | $261,354 |
| 2011 | Aussie Millions | A$100,500 | $100,000 Challenge | 5th | $197,804 |
| 2018 | WSOP | $10,000 | Main Event | 46th | $156,265 |
| 2010 | APPT | A$15,300 | APPT Sydney High Roller | 1st | $148,300 |
| 2010 | ANZPT | A$2,700 | Main Event | 2nd | $120,330 |
| 2014 | WSOP | $50,000 | The Poker Players Championship | 10th | $115,447 |
| 2014 | WSOP | $10,000 | Seven Card Stud | 3rd | $103,895 |