Top Five Hands of the $1 Million Big One for One Drop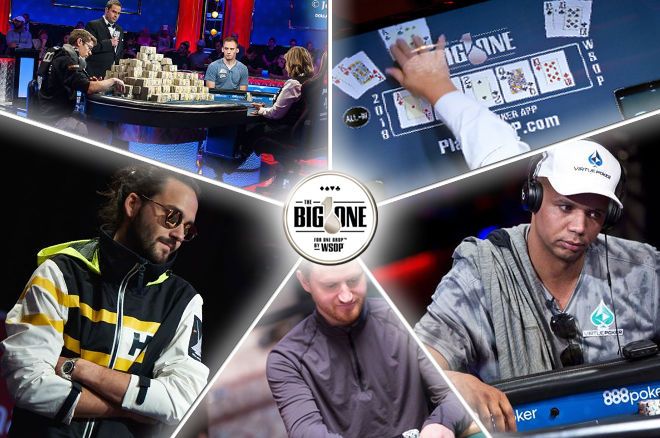 The biggest tournament of the year is a wrap, and PokerNews takes a look at five of the most exciting and critical hands that went down during the $1 million buy-in WSOP Big One for One Drop.
#5 Hand of One Drop: Ivey Doubles Through Bonomo
With 11 players remaining, blinds were 100K/200K and Bonomo already had a sizable lead over the field. Playing five-handed, Phil Ivey and Bonomo tangled and Ivey came out on top.
Preflop, Ivey opened the cutoff to 500,000 with
and Bonomo flatted on the button with
. They went heads up to a flop of
and Ivey continued for 500,000. Bonomo called and they saw the
, a bad turn for Bonomo as it gave him top pair, top kicker but left him well behind the aces of Ivey. Ivey bet 1.4 million and Bonomo called again.
Ivey then checked the
river, inducing a shove from Bonomo. Ivey had a decision for his remaining 5.12 million, and after using three time extensions, he made the call. Bonomo confidently tabled his cards, only to see the bad news and give up a chunk of his stack to Ivey, who eventually busted in eighth place at the hands of Bonomo.
Bullets for @PhilIvey and a double through @JustinBonomo! Watch the @WSOP $1,000,000 Big One for @OneDrop_All_In pl… https://t.co/OJja6PqTnY

— PokerGO (@PokerGO)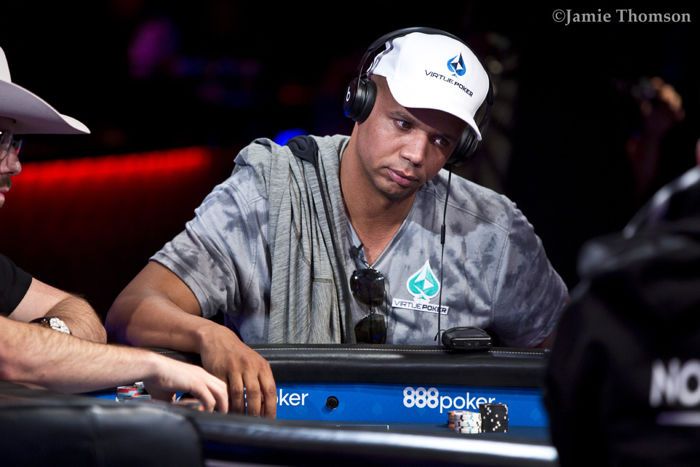 In just the third level of the day, blinds were 8K/16K with a 16K ante, and David Peters had around 2.2 million, down from the 5 million-chip starting stack. After Adrian Mateos raised to 40,000, Peters called from the blinds and then checked the
flop.
Mateos continued for 40,000 and Peters check-raised to 160,000. Mateos called and they went to the turn. Both players checked the
turn that put three spades aboard, and the river brought the
to put a pair on the board. Peters checked and Mateos bet 150,000. Peters met his bet with a check-raise all in for 1,978,000.
Mateos tanked before calling with
for the turned second-nut flush to win the hand. Peters broke the ice, becoming the first player out, while showing that he came to play in the $1 million buy-in Big One.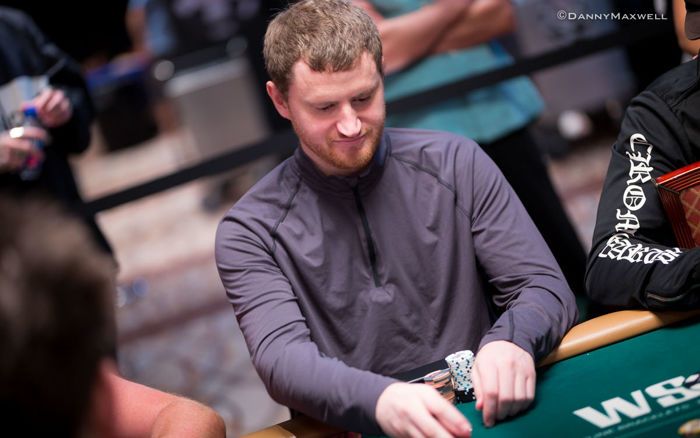 With 13 left on Day 2 in Level 14, blinds were 100K/200K and action folded to Bonomo in the small blind. He bumped it up to 500K with
and Matthew Siegal three-bet to 2.5 million in the big blind with
. Bonomo called and they went to the flop.
On the
flop, Bonomo checked and Siegal quickly moved in for his remaining 4.82 million. Bonomo used two time extensions before committing the chips with his open-ended straight draw and backdoor diamonds.
The screen showed Siegal as a 70% favorite to win the hand, but the deck had other plans. The
came immediately on the turn to pair Siegal, but give Bonomo Broadway to lock up the hand. The
was insignificant and Siegal was eliminated as Bonomo soared up the counts.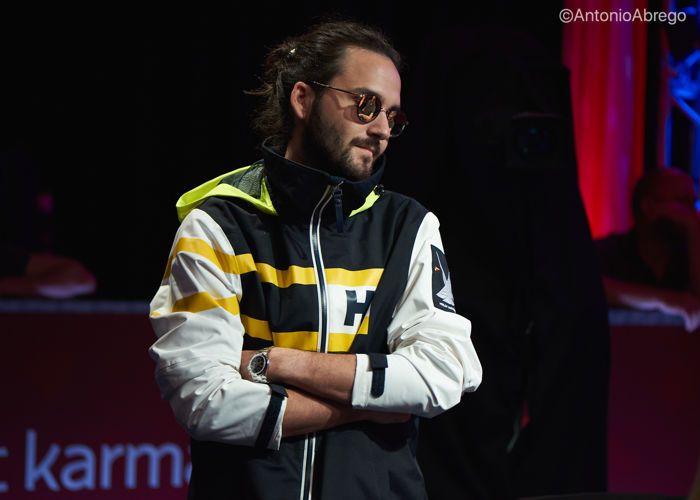 Holz held the lead during heads up with Bonomo when they played a big one that turned the tides in Bonomo's favor. With blinds at 500K/1M, Holz opened for 2.8 million on the button and Bonomo bumped it up to 9.5 million. Holz called and they saw a flop of
.
Bonomo led 5 million and Holz called. On the
turn, Bonomo checked, Holz fired 11.5 million, and Bonomo called. The river was the
and Bonomo checked again. Holz took the bait and moved all in, met by a quick call by Bonomo.
Holz had to table his
air-ball while Bonomo's
for two pair earned him the pot, along with a nearly 4.5-1 chip lead.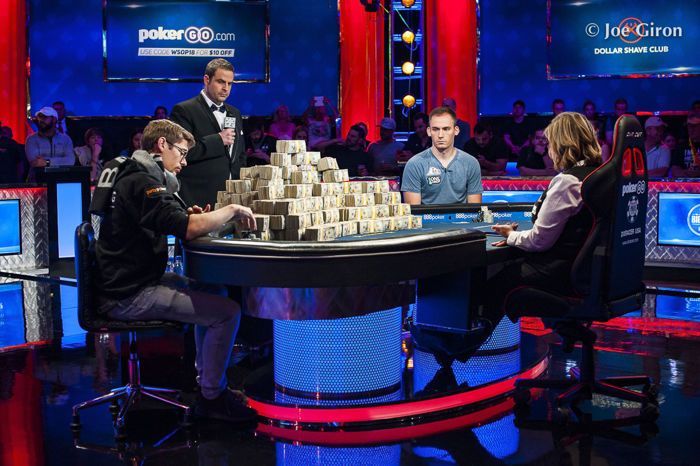 In a bit of a strange hand that developed into a huge, decisive pot, play was in the money with five left. The first two payouts for fifth and fourth would be $2 million and $2.84 million.
A short-stacked Byron Kaverman moved all in for 8.025 million under the gun and after several moments, Holz called in the next position. Action folded to Rick Salomon in the big blind and in the video footage, you can see him lift his cards up to look at them, set them down, and move in for 26.9 million.
Before Holz got a chance to act, tournament director Jack Effel was called to the table and it was determined that one of Salomon's cards possibly flashed and therefore should be exposed. It was the
. Holz exhaled and said, "That makes it better."
The decision was for most of his chips, and he used four time-extensions before he called, immediately asking Salomon if he had aces. Salomon shook his head and Holz found himself poised to eliminate two players if he could hold.
One of the most dramatic runouts in a most extreme situation, the flop brought
to favor Salomon with top two. Kaverman was drawing to runners and Holz needed one of two remaining tens or runner straight outs.
The
was a juicy card, bringing flush possibilities for Kaverman and four extra outs for Holz. Holz needed a jack or a ten to score the double knock-out and he found the
to send Salomon out in fifth and Kaverman out in fourth, laddering the final three up to a $4 million guaranteed payout. Watch the drama unfold in the PokerGO clip below.
The biggest hand in Big One history!? @CrownUpGuy scores a double knockout to take the @OneDrop_All_In chip lead.… https://t.co/HGSToscj8c

— Poker Central (@PokerCentral)