How Will Brexit Affect Poker?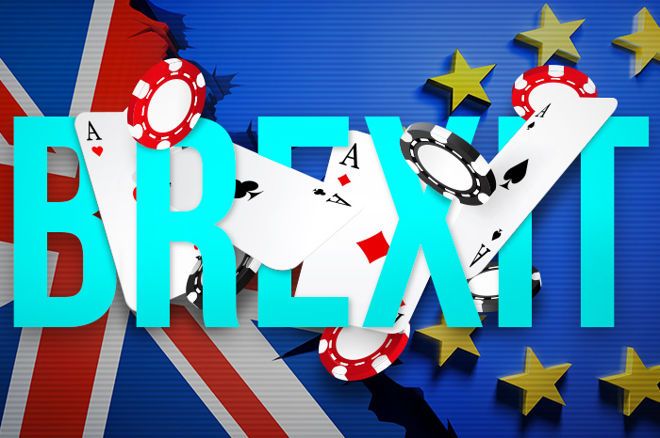 In 2016, a national referendum pitted a single yet highly divisive question to citizens of the United Kingdom. Would they like to remain in the European Union or should the U.K. Leave?
Britain quickly decided that it wasn't sure at all. Right up until the British Exit vote — shortened to the odious abbreviation of Brexit — politicians on either side persuaded an unsure public until the day of the referendum arrived, June 23. One of the tightest votes in British political history gave the Team Leave a victory over Team Remain. Britain was out, even if 48 percent of the country disagreed with the call.
It could be a very costly coinflip.
That was over two years ago, but with Britain on the brink of their official exit from the European Union, all manner of crucial factors to a poker players life could — or could not — be affected.
We sat down with British poker player Neil Channing to pick through the bones of what Brexit will mean for poker players, fans, and tournament organizers. Channing, an active follower of political trends in modern Britain and the wider world, is all too aware of the impact of political minutiae on poker, having lived through economic change, recessions and, of course, Black Friday.
"Operators may think that it's more hassle and less attractive to run their events in the U.K."
"In terms of online [poker], the effect will be more on the firms than the players," he said. "Most players probably don't currently know exactly where the companies are licensed and based. Companies will have to consider moving themselves to the EU so property prices in Malta probably go up and maybe Gibraltar becomes less popular. However, the Isle of Man and the Channel Islands have always been out of the EU so maybe the effects will not be huge.
"A no-deal Brexit might make Malta seem like a better option or possibly Ireland. Contingency plans are in place and most of the operators have people in all these places already."
There are plenty of authorities who reside if not in the U.K, then close by. From the United Kingdom mainland itself to independent states such as Gibraltar (the Gibraltar Regulatory Authority) and the Isle of Man (The Gambling Supervision Commission) and even Alderney, there are a number of online gambling licensees on or around U.K. shores.
The problems don't arise purely for online sites such as PokerStars, partypoker or 888Poker to name three of the largest operators. Live poker will expect to feel an impact, although Channing, once an on-site bookmaker at Britain's biggest racecourses, feels that smaller races may run most successfully.
"In terms of live poker, it's possible operators may think that it's more hassle and less attractive to run their events in the U.K. London has been less attractive in recent years for really big field events just because finding a venue with enough space is tough, so this can't really help the resurgence of a big 'EPT London' kind of event, but I guess the smaller tours like Unibet, the GUKPT and the Sky Poker Tour will just crack on as they appeal mostly to a domestic market. Party[poker] and Stars have all kinds of events around the world that they can push the U.K. players towards so maybe the main loser in terms of U.K. venues will be Dusk Till Dawn."
If the Nottingham casino, one of the largest in Europe, may suffer, what could be more worrying than the pounding handed to the British currency of sterling over the last few days, weeks and months on the stock exchange. The exchange rate has been near catastrophic in its plummet.
"The pound tanking obviously means foreign players get more pounds for their Euros or dollars, so it makes visiting the U.K. and the expenses cheaper and it doesn't look like the currency will be bouncing back to early 2016 levels any time soon," Channing said. "From an operator point-of-view, I don't think that is a big factor, though, as the value of the currency is not a major factor in choosing a country to visit, they are more thinking about the regulatory regime and the tax rates. The recent increase in tax for online gambling in the U.K. is more significant than anything to do with Brexit."
---
---
British poker players online have had a great ride when it comes to taxation for some time. But as Channing explains, there are two types of player who might be affected.
"In terms of travel there are two kinds of player coming here," he said. "For those who pop here for a weekend to play an event in Nottingham or London, it may become more of a pain. Maybe they will need visas or some kind of equivalent to ESTA and that might involve a fee. Given how disorganized and lazy poker players can be that could easily discourage players from coming here just for a one-off event."
Anyone who has filled in the kind of form, associated with poker travel on long haul flights, will be familiar with the truth of that statement. But what of the second type of player?
These are the migrant professionals, players hailing from from France, Spain, Portugal, Scandinavia and Greece who have moved to the U.K. for more favorable gambling taxation situations. Many have lived in the U.K. for upwards of 10 years.
"The recent increase in tax for online gambling in the UK is more significant than anything to do with Brexit."
"Their countries often have rules that just make it impossible to be a professional gambler as they pay tax on every winning session or event and they can't get any allowance for losses made," Channing said. "Those people moved here with ease due to freedom of movement but so far there has been very little clarity from the Home Office in terms of the status of EU nationals living here. Given that these people are poker players, who probably haven't done the paperwork needed to prove they have been here for a while and who generally won't have changed their nationality, I would guess they may have to leave and that could be the end of their poker career unless they switch to a third country."
So much confusion surrounds the regulatory and tax permutations that the poker world has yet to really understand what situation it will face when the U.K. eventually drags itself out of the European Union. Brexit has prompted much thought among political commentators but very little in the poker industry. Is everyone hoping it's a gigantic bluff? Or should everyone be digging into the statistics and making contingency plans?
From the regulation of the game to taxes, online liquidity to live tournament operators, exactly how the United Kingdom leave the EU could be crucial to the future of poker. Players will be hoping that it's a case of cashing out chips rather than a stop-loss in Brussels.