Peter Mancini Leads Final Seven in Seneca Fall Poker Classic Main Event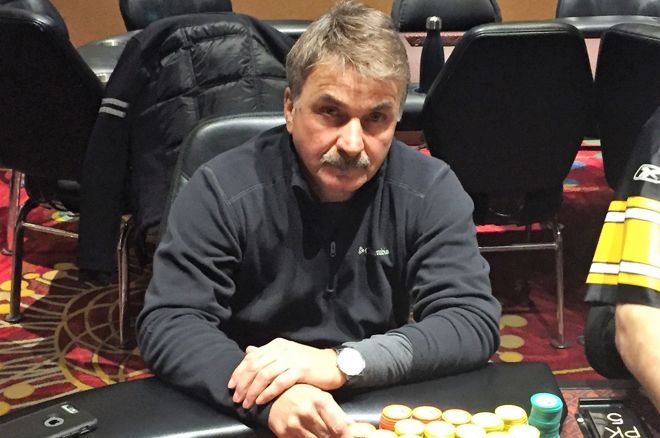 Day 2 of the Fall Poker Classic $1,000 Main Event had 45 players return to play, out of the 249 total entries that were accumulated over three Day 1 flights. At the end of the day, just seven remain and the person carrying over the biggest stack into the final day is Canadian Peter Mancini (lead photo) with a massive 2,010,000 in chips.
Mancini hovered around average for the better part of the day; it would not be until the final 11 that he built his stack. He sent Kevin Boesel out of the tournament in back-to-back hands. Those two hands shot his stack up to a million just in time for the unofficial final table of ten players.
During the very first hand of the unofficial final table Mancini would eliminate Jeremy Hoeltke with his cowboys and also find a full double up through, at the time chipleader, Maximilian Droege, catapulting him over the two million mark in just a matter of hands.
Alex Visbisky will be coming into the final day with 1,367,000 in chips, looking to improve on his sixth place finish from last year. He started the day with 166,000 in chips, won a few pots early in the day and started to really stack up his chips after eliminating Day 1a chipleader Barry Kruger. Visbisky used that pot to leverage his chips around, taking down several small pots with the heavy amount of pressure that he applies during each hand he plays.
The only player to finish at the top of their flight and make the final day is Vadim Rozin with 1,359,000 in chips. The Canadian shot into the chip lead early on Day 2 and seemed like he could not be stopped as he was the first to hit several chip count milestones throughout the day. A few bad hands brought him back down to a million, but he managed to fight his way back near the top of the leaderboard, heading into the final day third in chips.
The rest of the players to round out the final seven include Seneca regular Chris Meyers (910,000), well-known pro Jason James (708,000), St. Louis native Tim Vance (665,000), and coming in as the short-stack is Canadian Victor Adams (451,000).
Seneca Fall Poker Classic Main Event Final Table Line Up
| Seat | Player | Country | Chip Count |
| --- | --- | --- | --- |
| 1 | Chris Meyers | United States | 910,000 |
| 2 | Alex Visbisky | United States | 1,367,000 |
| 3 | Jason James | Canada | 708,000 |
| 4 | Vadim Rozin | Canada | 1,359,000 |
| 5 | Victor Adams | Canada | 451,000 |
| 6 | Tim Vance | United States | 665,000 |
| 7 | Peter Mancini | Canada | 2,010,000 |
There were some well-known players to make Day 2 who failed to make the money. That list includes Lue Huang, Blake Napierala, and the 2017 Fall Poker Classic champion Dan Wagner.
Some notables to make the money but not the final day include Day 2 chipleader Amandeep "AJ" Taheem (26th - $1,670), Budwey Salhab (25th - $1,670), David Olshan (23rd - $1,846), Veerab Zakarian (22nd - $1,846), Jason "Big Bird" Sagle (21st - $2,198), Barry Kruger (13th - $3,077), Mario Mansour (12th - $4,176), and Maximilian Droege (8th - $6,154).
The final seven players will return to play Monday the 19th at noon local time. The final day will begin on Level 23 and the blinds starting at 10,000/20,000 with a 20,000 big blind ante. The play will not end until just one player remains and is deemed champion of the 2018 Fall Poker Classic.
The PokerNews reporting team will be bringing you all of the live coverage of the Seneca Fall Poker Classic Main Event.