Pair of Qualifiers Win Way onto Poker After Dark 888poker Week for $1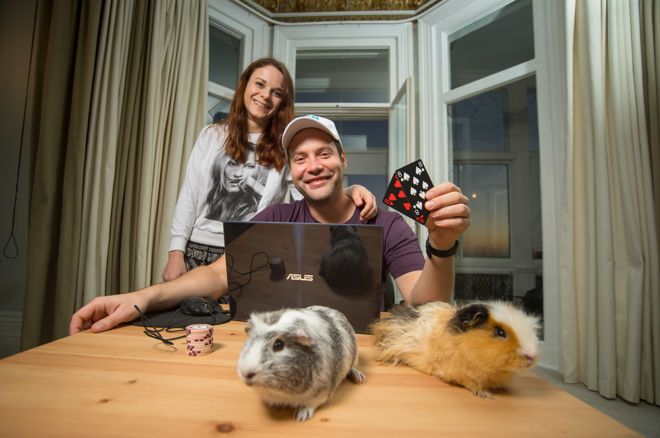 Next week, PokerGO Studios will play host to Poker After Dark: 888poker Week, which consists of a pair of $10,000 buy-in Sit & Go tournaments each featuring an online qualifier squaring off against six poker professionals.
The poker pros are 888poker Ambassador Chris Moorman, Maria Ho, Jennifer Tilly, Bill Klein, Kelly Minkin and Eli Elezra. The two SnGs, which will award $50,000 to the winner and $20,000 to the runner-up, will take place on Monday, November 5 and Tuesday, November 6 respectively.
In mid-October, 888poker hosted two special $1 buy-in winner-take-all tournaments with the winner of each claiming a $14,000 prize package including a seat in the Poker After Dark game and a personal tour of Las Vegas by Moorman.
"I've watched all of the PAD episodes over the years so to actually get to be on the show is really exciting," Moorman told PokerNews. "I love that an 888 qualifier is getting the chance to mix it with the pros. It's sick that they get the opportunity to win $50K from just a $1 original investment and get to experience the bright lights of Vegas at the same time. As for my chances of winning, I'm quietly confident but at the end of the day you always need the cards to cooperate a little bit."
Over 500 combined players tried their luck in both tournaments – meaning there was approximately $27,500 in overlays – but only two were lucky enough to win in 24-year-old warehouseman Peter Martin and 34-year-old Otto Richard (latter pictured above).
Playing Live for the First Time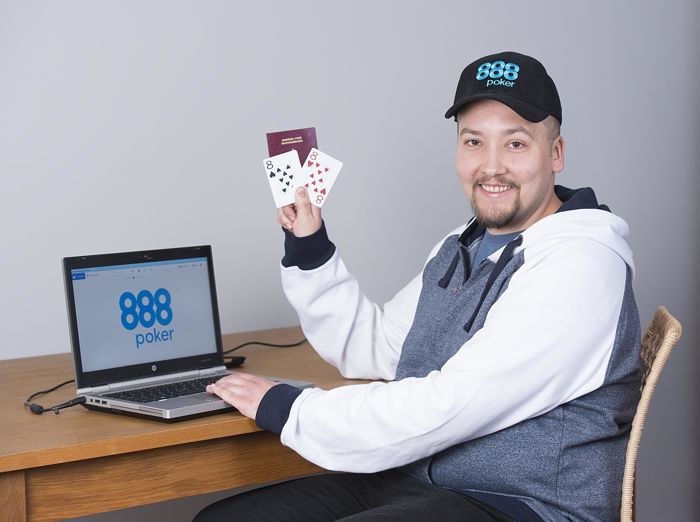 Peter Martin is far from a poker pro. He likes to play online where he's won roughly $5,000 over 1,200 small-stakes games on 888poker. His love for the game came when he was a teenager, which is when his father, Peter Snr, not only introduced him to the game but regaled him with tales of high-stakes games from their native Hungary.
Martin: "I was like the cat who had got the cream. It was an incredible feeling."
Playing within his means, Martin put up $1 and now finds himself headed to Las Vegas for a six-day trip of a lifetime. Not only that, it marks Martin's first time playing poker outside of home games and on his computer.
"I have been playing online poker for a few years but for the past five months I have been taking it more seriously," said Martin. "I saw this incredible opportunity promoted on 888poker and was determined to give it a go … There were two tournaments being held with a winner going to Las Vegas from each. I missed the first one but was determined to play the second and I thought I could win it. I just had a feeling. I even told a friend at work that I would do it."
The Hungarian-born Martin, who immigrated to England a decade ago, battled in a field of hundreds of contenders, all the while with a feeling he was being cheered on by his late grandfather, Bela, a poker aficionado in his own right. Four hours later he was the last player standing.
"My winning hand was a pair of eights," he said while also revealing he immediately went running to his 25-year-old girlfriend Ildicko. "I didn't want to wake her up because she is four months pregnant - but I couldn't stop myself. I knew she would be incredibly pleased for me. I was like the cat who had got the cream. It was an incredible feeling."
He continued: "I have never been to Las Vegas before. I have never even played poker live. Up till now I have only played on 888poker online. Now, to play against some of the best players in the world is amazing. I honestly believe I can win the tournament. I may not be anywhere near as experienced as them and they have all won unbelievable amounts of money playing poker. But I am going to be an unknown quantity to them and I think I play the game in an unconventional style."
Whatever happens, Martin is excited to have the experience of a lifetime.

Free $88 + 100% up to $888 / Bonus code : NEW888 or Play with £20 Free for UK customers
Editor's rating:

9.5
Available:
Bonus info
The world's third largest online poker site and one that is dedicated to recreational players. Bonus code: NEW888. T&C's apply.
Key features
Plentiful cash game traffic
A superb tournament schedule for all bankroll sizes
Many ongoing promotions
Deposit options
Skrill, VISA, MasterCard, FirePay, NETELLER, Wire Transfer...
Bye-Bye Guinea Pigs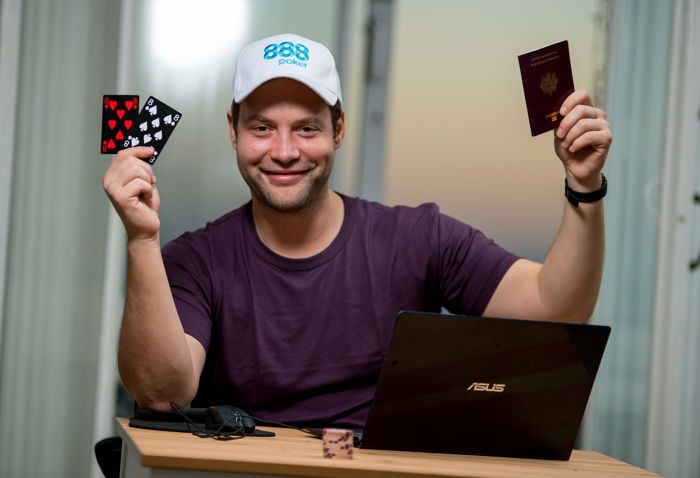 The other player to put up a buck and win his way to Vegas was 34-year-old Otto Richard from Hove, East Sussex. He won't be going alone either as he plans to take his 30-year-old girlfriend, Anna Westall, along for the ride, though they'll have to leave their six-month-old guinea pigs, GusGus and DumDum, at home.
"When GusGus and DumDum are sitting with me while I play poker online they always make me smile," said Richard. "I am sure they bring me good luck. Going to Vegas will be the first time we have left them, so we will have to get them a guinea pig sitter while we are away."
Instead of having his guinea pigs staring him down while playing poker, he'll now have to contend with six sharks.
Richard: "It takes a lot of concentration to play long tournaments whether it is online or live. You have to be mentally prepared."
"I can't wait to sit down and pit my skills against these players," he claimed. "It's a once-in-a-lifetime experience. I am going to love every minute of it - as long as I don't get knocked out first hand! The great thing about poker is that there is also a little bit of lady luck thrown into the mix. So, anything can happen."
Richard's foray into poker began 12 years ago when he was working as a copywriter in Paris. He tested his skills both online and at a local club in the city, which is where he won his first tournament for €48,280. In 2015, he also finished fourth in a tournament in Bristol for £21,000, and in September 2017 won the Winamax Poker Open Dublin Event #11: €550 WPO Main Event for a career-high €92,000.
"I love the strategy of the game and the challenge," he explained. "It takes a lot of concentration to play long tournaments whether it is online or live. You have to be mentally prepared."
Be sure to tune into PokerGO next week to see how both Peter Martin and Otto Richard fare on Poker After Dark: 888poker Week.
Everybody needs an account at one of these online poker rooms! They're the biggest, the best, and we get you the best poker bonuses. Check out our online poker section for details on all the online poker rooms around.