Stones Gambling Hall to Host Run It Up Poker Festival Dec. 5-9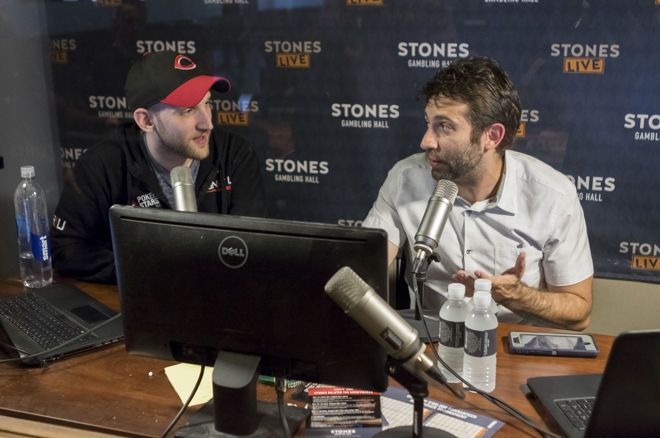 Jason Somerville and his Run It Up team recently announced that Stones Gambling Hall in Citrus Heights, California will be hosting their popular live poker festival, with Run It Up Stones to take place Dec. 5-9.
The biannual Reno event draws Somerville's Run It Up Twitch fans from across the U.S. as well as the globe. The tour is also generally loaded with Twitch streaming personalities and reality TV celebs that have included Survivor stars Tyson Apostle and "Boston Rob" Mariano, among others.
With the tour's emphasis on low to mid-stakes events featuring some of the more fun variants of the game, the RIU Reno clientele consists of a mix of serious and recreational players, most looking to have a good time and socialize while playing poker. With Stones' own emphasis on catering to recreational players and trying out new things, bringing Run It Up to the Northern California cardroom seemed a good fit.
Stones and Somerville Connection
Somerville's connection to Stones began with him paying the room a visit to help fine-tune their StonesLive stream set-up. For Stones Gambling Hall's Social Media Manager and Tournament Director Justin Kuraitis, teaming up with Somerville to amp up their stream quality was a no brainer… The real challenge was getting Somerville through the door.
"I know we're the little dog… I've had to really play on persistence to get some of the big names to Stones.
"I know we're the little dog… I've had to really play on persistence to get some of the big names to Stones."
"I think what [Somerville] does for the game as an ambassador is amazing, so after being told nicely 'no' from Jason multiple times, we had this really great opportunity with StonesLive where our management wanted to invest in it and build it and grow it," Kuraitis continued. "For a long time, StonesLive was an office divider and a plastic wall with commentators."
Part of that investment included building a new state-of-the-art commentary booth, and also bringing in Somerville and his production team to do hands-on training with the Stones production and commentary team. They also helped with tweaking camera angles, operating procedures and the like, all aimed at optimizing their stream quality.
That initial partnership took place in the spring during the Stones biannual "Classic" series, and Kuraitis said Somerville praised Stones for their positivity and enthusiasm. After that, Somerville returned for the PokerStars Moneymaker PSPC Tour that kicked off at Stones back in August, and the partnership was strengthened.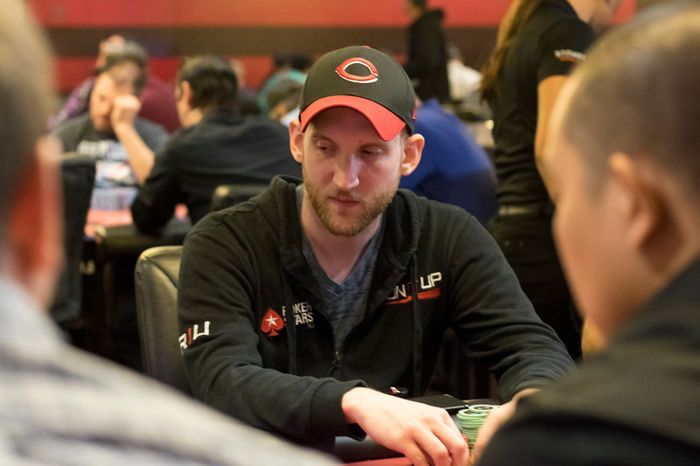 Run It Up Stones Seed Planted and Watered
Kuraitis stayed in touch with Somerville and eventually mentioned in passing the idea of a Run It Up Stones. Somerville, who in three years of hosting Run It Up had never taken his blossoming tour outside of Reno, responded positively.
Kuraitis ran with that approval, keen on making the Run It Up dream a reality for Stones, and it was an easy sell to the casino's management team. With all parties on board, wheels were in motion and the schedule was soon formulated.
As a new stop and the first Run It Up event to take place away from the Peppermill Reno, they decided to make it a more compact schedule with six events packed into five days from Dec. 5-9. Rather than have RIU Stones stand on its own, Stones decided to sandwich it between one of their most charitable events and one of their strongest events.
"For me, having the whole event rolled together is just kind of mind-blowing."
The fourth annual "Chip in for Charity" event to raise money for local kids in the foster system was already set for Dec. 4-5. With the timing of the charity event taking place just before the Run It Up series, Somerville assured Kuraitis that his team would arrive early to help rally support for the Lilliput event.
"It's really cool because we usually raise between $5,000 and $6,000 for them," Kuraitis said. "And I think with Jason being involved, we're probably going to be closer to the $10K mark, which is going to be an awesome Christmas for the kids here."
The charity event will roll right into RIU Stones, which will then be followed by a six-day $100,000 guaranteed Quantum tournament that kicks off on Monday, Dec. 10 and wraps Sunday, Dec. 16.
"For me, having the whole event rolled together is just kind of mind-blowing," Kuraitis continued. "I hope Northern California poker players respond the same way, because I think this is an incredible series of events coming up."
Run It Up Stones Schedule Highlights
After the first Lilliput charity event takes place Dec. 4, Run It Up Stones will officially kick off on Wednesday, Dec. 5 at 5:30 p.m. with a Welcome Party hosted by Somerville and poker vlogger/Team RIU member Andrew Neeme. That will lead into the final Lilliput charity event taking place that evening. For a $75 buy-in, players get 10,000 chips and play to 20-minute blinds. Participants can donate to Lilliput charity by purchasing bonus chips at $5 per 1,000 chips, up to 5,000 chips.
Thursday, Dec. 6 starts the RIU poker events, each with a signature RIU gold trophy reserved for the winner. The first event on the menu is a $1,080 buy-in Thursday Thrilla with $500 bounties and a $50,000 guarantee. A $200 satellite will precede the Thrilla, with a $115 Main Event satellite that evening.
Friday, Dec. 7 will mark the first of two flights of the $600 RIU Main Event that comes with a $100,000 guarantee. Day 1B will follow on Dec. 8 with Day 2 qualifiers returning to play it out on Sunday, Dec. 9. Each afternoon on Dec. 7-9 will also be smaller events including a $230 PLO/NLH Mix, a $330 Win the Button Knockout, a $550 6-max PLO Hi Championship and a $230 Last Chance Turbo NLH.
There will also be four days of streaming bliss on runitup.tv during the series, including streamed cash games on the evenings of Dec. 7 and 8. Find the full schedule below.
2018 Run It Up Stones Schedule
| Date | Time (PST) | Event | Guarantee |
| --- | --- | --- | --- |
| Wed. Dec 5 | 5:30 p.m. | RIU Stones Welcome Party | |
| | 6:30 p.m. | $75 Chip In for Charity | |
| Thurs. Dec 6 | 10 a.m. | $200 Thursday Thrilla Satellite (1 in 6) | 5 Seats |
| | 2 p.m. | $1,080 Thursday Thrilla Knockout ($500 Bounties)* | $50,000 |
| | 7 p.m. | $115 Main Event Satellite (1 in 6) | 10 Seats |
| Fri. Dec 7 | 10 a.m. | $600 Main Event 1A* | $100,000 |
| | 3 p.m. | $230 PLO/NLH Mix | $10,000 |
| | 6:30 p.m. | Cash Game Live Streams* | |
| Sat. Dec 8 | 10 a.m. | $600 Main Event 1B* | $100,000 |
| | 3 p.m. | $330 Win the Button Knockout ($100 Bounties) | $20,000 |
| | 6:30 p.m. | Cash Game Live Streams* | |
| Sun. Dec 9 | 11 a.m. | Main Event Day 2 (Qualifiers only)* | |
| | 3:30 p.m. | $550 6-max PLO Hi Championship | $10,000 |
| | 7:30 p.m. | $230 Last Chance Turbo NLHE | $10,000 |
*Featured table to be streamed live on RunItUp.tv
Stones Quantum Tournament to Follow Run It Up
The Stones Quantum event that kicks after the conclusion of RIU Stones features nine starting flights with buy-ins of $120 or $240, with the additional option of buying straight into Day 2 for $900. See below for a detailed breakdown of the Quantum dates and flights.
| Date | Time | Flight | Buy-in | Chips |
| --- | --- | --- | --- | --- |
| Mon. Dec 10 | 10 a.m. | Quantum 1A (10% advance) | $120 | 10,000 |
| Tues. Dec 11 | 10 a.m. | Quantum 1B (10% advance) | $120 | 10,000 |
| | 6 p.m. | Quantum 1C (10% advance) | $120 | 10,000 |
| Wed. Dec 12 | 10 a.m. | Quantum 1D (10% advance) | $120 | 10,000 |
| | 6 p.m. | Quantum 1E (10% advance) | $120 | 10,000 |
| Thurs. Dec 13 | 10 a.m. | Quantum 1F (10% advance) | $120 | 10,000 |
| | 6 p.m. | Quantum 1G (10% advance) | $120 | 10,000 |
| Fri. Dec 14 | 10 a.m. | Quantum 1H (20% advance) | $240 | 20,000 |
| Sat. Dec 15 | 10 a.m. | Quantum 1I (20% advance) | $240 | 20,000 |
| Sun. Dec 16 | 11 a.m. | Quantum Day 2 | $900 | 100,000 |
Images courtesy of Mark Honbo