Iliya Iliev Leads Final 30 to Day 2 of PokerStars Prague €1,100 EPT National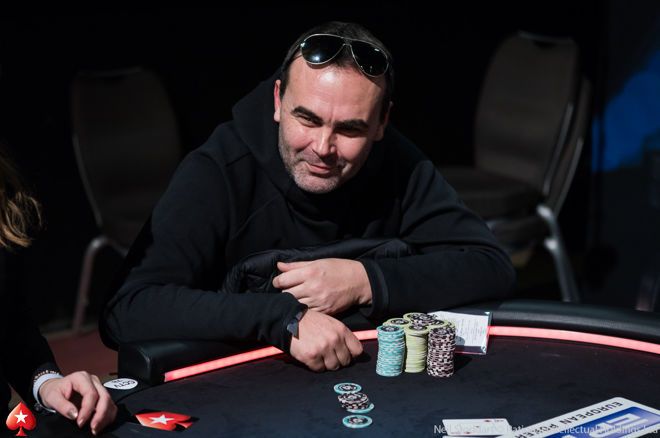 Day 3 of the €1,100 EPT National at the PokerStars European Poker Tour Prague held at the beautiful Hilton Prague is in the books. Iliya Iliev from Bulgaria has the chip lead with 8,820,000.
Iliev is closely followed by Preben Stokkan with 7,700,000 and Jean-Noel Thorel with 5,900,000. The day started with 373 players left out of the 2,486 that entered the tournament. After a little over nine one-hour levels of play, there were only 30 players left to advance to Day 3 to battle it out for the first-place prize of €382,750.
PokerStars Prague €1,100 EPT National Day 3 Action
The day started at 12 p.m. local time with 373 players and plenty of eliminations. They played 16 minutes in level 17 (3,000-6,000, big blind ante 6,000) before advancing to level 18 (4,000/8,000, big blind ante 8,000). After only 1.5 hours of play, there were already over 150 players that exited the tournament.
A couple of the first players to exit the tournament in the first level were Boubekeur Benhalima (339th - €1,720), Antoine Labat (323rd - €1,820), Kees van Brugge (300th - €1,820), and Ari Engel (232nd - €2,040).
The tournament didn't seem to slow down at any point and the eliminations kept on coming. Parker Talbot (214th - €2,300) was one of the next players to exit the tournament. Talbot lost a big pot and he was left with just six big blinds. He lost those with queen-ten against pocket aces after the board ran out ten-king-jack-deuce-seven.
Plenty of others didn't make it to the dinner break. Martin Kabrhel (175th - €2,570), Dimitar Danchev (172nd - €2,570), Vojtech Ruzicka (166th - €2,570), Sebastian Malec (134th - €2,900), Sofia Lovgren (115th - €3,480), Martin Finger (93rd, €4,090), Jan-Eric Schwippert (85th - €4,090), and Platinum Pass winner Mihai Manole (78th - €4,090) all busted out before the 75-minute dinner break after level 23.
Dramatic Finish to Day 3
The day was supposed to end after ten one-hour levels but the players were busting at an incredible rate. The tournament staff announced that they would play down to the end of level 27 or until there were 32 players left in the tournament. In what seemed like the last hand of the tournament, it was Harpreet Padda who eliminated two players.
He saw Andreas Vlachos move all in and then he saw Laurence Fleury rejam all in. Padda had pocket nines and he called. Vlachos was playing ace-eight and Fleury had pocket sevens. Padda was in an excellent position to send two players home and he did just that after a clean board was dealt.
On another table, there was another elimination as Aleksander Da Silva Boski busted. That meant that Day 3 would start with just 30 players instead of 32.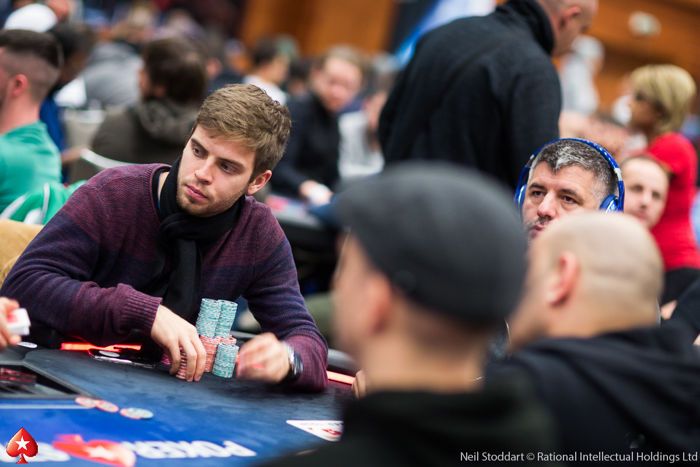 Chip leader Iliev had a nice rush in the levels after the dinner break. ''I'm very tired,'' said Iliev when asked about his day. ''For two days I didn't see a single pocket pair. Then today there were three big pots. I had aces in back-to-back hands and then in the next two hands, queens - twice!" Iliev will start in pole position on Day 3.
Stokkan is in second place and he has been grinding steadily for the entire Day 2. Thorel closes the top 3 and he had a great last level of the day as well. They will battle it out for the first-place prize of €382,750 while they are all guaranteed to take home at least €8,930.
Day 3 will start at 12 p.m. local time on Tuesday, December 11. There are still 53 minutes and 24 seconds left in level 27 (30,000-60,000, big blind ante 60,000) when they kick off the tournament. PokerNews will be present from start to finish to provide event coverage.
Milko van Winden has been a part of the poker media corps since 2017. Starting out as [I]PokerNews[/I] contributor and live reporter, Milko is now the Digital Media Manager at [i]PokerNews[/i].