The Muck: Heated Twitter Debate Follows Aaron Massey's Request for No Congrats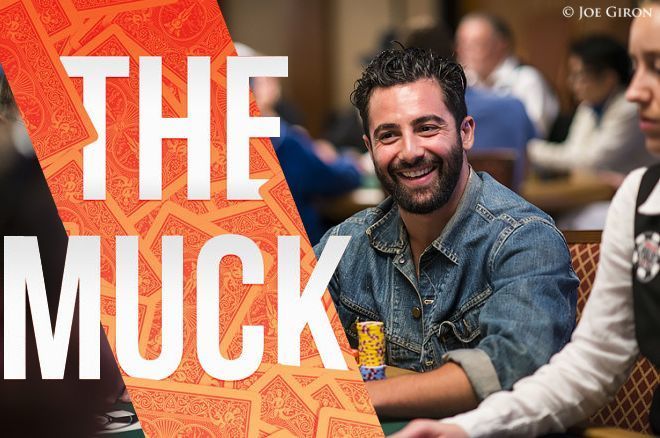 Tournament poker players know the disappointment that can come with finishing short of victory, even when the result comes with a nice payday or respectable ROI. But the question of whether or not tournament staff working events should offer up their congrats for deep runs that don't end in a win has been brought up for debate.
Chicago-based mid-stakes tournament grinder Aaron Massey took to Twitter on Wednesday to express his disapproval for messages of "congratulations" coming from WSOP staff following players' eliminations, and, of course debate in the poker Twitterverse ensued.
Hey @WSOP please train your staff not to say "Congratulations" when someone busts. If they cash for a loss, cash fo… https://t.co/Xhgc63dxyd

— Aaron Massey (@nevermissmassey)
A quick gander at Massey's Hendon Mob page would indicate that the tweet was likely prompted by his most recent Circuit cash which came on Tuesday — a 21st-place finish in a $400 Turbo NLH at the Rio Las Vegas that earned him $700. If he fired at least two bullets, he cashed for a loss and most would agree 21st in an event such as this is not much to celebrate, especially for an accomplished pro with over $3.7 million in live earnings to his credit.
Still, many felt Massey's comment was out of line, though it did get over 100 likes and the support of Matt Salsberg.
@nevermissmassey @WSOP I voiced this during wsop last year, should only congratulate the winner. It's actually rude.

— Salty (@msalsberg)
Others suggested poker players should perhaps not complain about positive comments coming from members of staff who help keep poker players in action.
@msalsberg @nevermissmassey @WSOP So....let's all make sure to not clap or congratulate anyone at the FT of the ME… https://t.co/Rx0FzTAZ95

— Miranda MillerTipton (@mkm1832)
As part of his defense, Salsberg suggested that there are exceptions, like when the cash is for a hefty sum.
@mkm1832 @nevermissmassey @WSOP First place or 500k plus score imo. Everything else runs the risk of a needle.

— Salty (@msalsberg)
@msalsberg @mkm1832 @nevermissmassey @WSOP Okay but if there is ever a time to give people a benefit of the doubt,… https://t.co/hLfJmE9Sga

— Rada (@RadaWilinofsky)
@BenWilinofsky @RadaWilinofsky @mkm1832 @nevermissmassey @WSOP Good run is a much better thing to say than congratu… https://t.co/O7QORT6Hf4

— Salty (@msalsberg)
Some fellow poker players found Massey's comment overly sensitive and unreasonable, and openly expressed their opposition to the original tweet.
@msalsberg @BenWilinofsky @RadaWilinofsky @mkm1832 @nevermissmassey @WSOP If poker hasn't thickened your skin enoug… https://t.co/N67CL9Rqyu

— Darryll Fish (@DarryllFish)
Massey responded less than kindly to that one. Salsberg also fired back, saying it doesn't tilt him but he'd prefer use of different language, while Uncle Ron provided some comedic relief.
@msalsberg @DarryllFish @BenWilinofsky @RadaWilinofsky @mkm1832 @nevermissmassey @WSOP Congratulations on yur friendship Darryll and Matt!

— Uncle Ron (@UncleRonAA)
A couple of other pros also spoke out against Massey's tweet, one of them a rather unlikely source according to some.
Pussy ass entitled snowflakes who can't take a congrats for any place other than first in a tournament. Please gro… https://t.co/yodgGuczJr

— Allen Cunningham (@AllenCunningham)
I get it, but c'mon. Poker is insanely volatile, emotionally draining & mentally taxing. You're upset at an onlooke… https://t.co/IiY0N7iNHT

— matt berkey (@berkey11)
Massey fired shots right back at Berkey, taking the conversation a bit off the rails.
@berkey11 Maybe your right, maybe your wrong. Maybe you tattooed dots on your head so u don't look bald. Maybe u pu… https://t.co/oPsdi0zGfM

— Aaron Massey (@nevermissmassey)
That prompted Berkey's question, "Who hurt you?" and all of the above provided many in the poker community plenty to discuss, even if little consensus emerged on the appropriate language to be used by tournament staff at poker events.